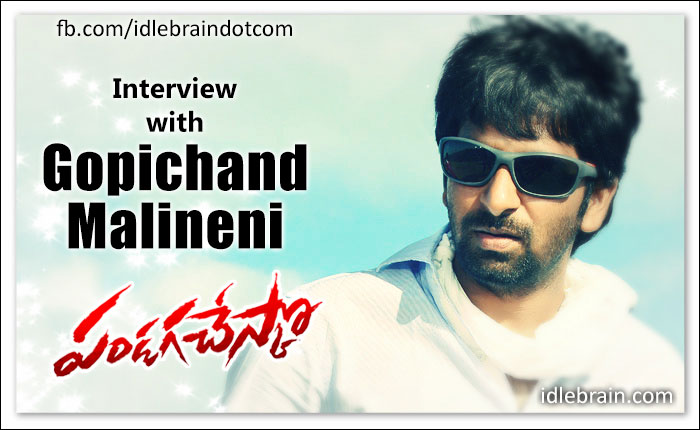 28 May 2015
Hyderabad
Gopichand Malineni has delivered two hits with Ravi Teja in the form of Don Seenu and Balupu. Now he is all set to repeat the magic with energetic hero Ram. Pandaga Chesko is hitting screen on 29 May. Here are excerpts of an exclusive interview -

Tell us about the success of your last movie Balupu?
It was the biggest hit in Ravi Teja's career. He had a few disappointing films before Balupu and it was a challenge for me to come up with an universal entertainer.
If you look at the career and results of your first three films, how do you assess it?
My first movie Don Seenu had entertainment throughout except for the last 30 minutes. Audiences expected an entertaining climax, but the content turned out to be very serious towards climax. Though it was a good hit, an entertaining climax would have got a greater draw at box office.
My second movie was Body Guard. It's a remake and I had several restrictions in the script since I had to stick to original. Basically, it's a love story with a bit of action. There is not much of entertainment. Hence it didnt work at box office.
I learnt my mistakes from earlier films and made sure that there is entertainment in Balupu throughout. That's the reason why we made Brahmanandam do Jumping Japang steps in climax fight. Initially a few people were apprehensive about having it during shoot. But I was completely convinced that it was going to work.
Tell us about how Pandaga Chesko movie happened?
I gave dates to producer Paruchuri Prasad during the shoot of Balupu. Ram wanted to do a film right from Don Seenu days. I was doing a script for Allu Arjun - Dil Raju combination film. It was a family entertainer. Meanwhile Paruchuri Prasad delivered Shadow and he was in urgent need to make an entertainer. He has asked me to start the project asap. After taking permission from Dil Raju, I went to Paruchuri Prasad.
I needed a good script in minimal time. That's when VV Vinayak has suggested a story written by Veligonda Srinivas. I listened to the story and liked the idea. We took the raw story (Me, Kona Venkat, Veligonda Srinivas and Anil Ravipudi) and developed into full-fledged script. In 3 months, we had the perfect script.
What's the reason behind delay in production?
We had pooja ceremony on May 17 and started to shoot the film on 1st June. We were affected by two big strikes in Telugu film industry. We also had a cast containing 30 people. It became difficult to get back the dates due to strike. However, the total number of working days is just 92 which is fair for a big budget film.
What's the basic storyline of the film?
Hero is an NRI who returns to India to unite his family which is split due to misunderstandings.
The basic plot looks similar to Govindudu Andari Vaadele?
The screenplay is fresh with unexpected scenes. There is entertainment orientation to the whole film. After watching this movie, one will come to know that the story has nothing to do with GAV.
How differently did you handle this movie compared to your earlier films?
I had always banked on entertainment and commercial elements. This film will have better entertainment than my earlier movies. The new aspect I dealt successfully for the first time is family emotions. I did succeed in getting emotions work in this movie.
Ram had two big hits in his career in the form of Ready and Kandireega. How different is he going to be in this movie?
Ready is known for comedy and Kandireega is known for commercial elements. This film carries both ingredients which made those films become big hits. You will see a stylish new look for Ram in this movie as we hired Baski who is instrumental in Prabhas having great looks in Mirchi movie.
Tell us about Brahmanandam role?
Brahmanandam plays the role of Weekend Venkat Rao, who waits entire week to get over so that he can enjoy the weekend. He has a screen time of 45 minutes. There is a romantic angle to him. He is absolutely hilarious in this movie.
Tell us about your next movie?
I am currently in discussion with a big hero. Will announce the details soon.