November 23, 2008
Avakai Biryani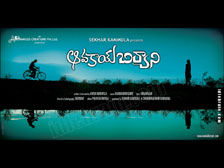 Now that's an interesting title to draw Biryani aficionados to a movie and in particular to hyderabadi's. It was sufficient enough to draw regular movie buffs to theater's and when it comes from Shekar Kammula's Camp the excitement just gets to the next level.
Given the fact that Shekar is now well established in Tollywood, and his experience with experimenting new subjects you always expect a good movie from his camp office. Anish Kuruvulla the director of this movie, is the same guy who plays the role of friend of Anand in the movie Anand (who says…Asalu roopa Anand mundu Cheema..Anand Enugu..hahaha)
After a Hectic week I thought I need to take a break from my regular schedule and which movie else gives you the feel of watching a good movie than Amigo's Production. So I created the similar excitement in a couple of friends and managed to bring them to the theatre for the movie with a pomis ethat after the movie we shall have biryaani .
Though I already read Jeevi's review on the movie, I wanted to give my take on the movie. When people deliver a success others start expecting little more than that and you need to fight to stand up to their expectations. I guess now that's the thought of Jeevi
Aavakayi biryaani is all about a middle class girl who makes her living by selling home made pickle (Maa oori Aavakayi),who dreams about making big in life by opening a restaurant on the high way. She meets up with Akbar an Autodriver struggling to clear his BCOM to get a well settled job.
The movie touchs issues like hindu-muslim sentiment, education in a village, exploitation of villagers by a few influential people.
The movie brings in a fresh feel away from noisy roads of city in the backdrop of devarakonda – vikarabad stretch.
I think Anish did a wonderful job to recreate the magic of a pakka village background movie with the tenderness of Innocence. Kudos Anish!!!! I haven't seen his debutant movie "Confessions of a film director"(iam not sure if that's the exact name…shall give it a try).
As far as the acting is concerned…Kamal has done a neat job with very good histrionics and Bindu as a perfect Padaharanala Telugu Aadapaduchu was Dazzling in langa voni's and Sarees.
I consider the movie is a paisa wasool and a movie to be seen whole heartedly to enjoy the fragrance of fresh feel.
Hope there every menu in Hyderabad will have a special dish called Aavakayi Biryani…..
Regards,
Vamsi Krishna
[email protected]
More My Movie experiences:
Kotha Bangaru Lokam by Vamsi Krishna
Kotha Bangaru Lokam by S
Ashta Chemma by Deepthi
Ashta Chemma by Lalitha Spoorthi
Sarkar Raj by Pradeep
Jalsa by Lalitha Spoorthi
Gamyam by Sridhar
Gamyam by Sreekanth D
Gamyam by Sanjay
Halla Bol by Purnesh
Taare Zameen Par by Ashok Varma
Taare Zameen Par by Raja Simha
Happy Days by Krishna Sastry
Chirutha by Phani Kumar
Chak De India by Ravi
Yamadonga by Lalitha
Chak De India by Shyam
AMAV by Darsakudu
5 in March by Sashidhar
Okkadunnadu by Anand
Black Friday by Ratnakar
Desamuduru by Krishna Prasad
Guru by It's opinion
Dhoom 2 by Lalitha Spoorthi
Dhoom 2 by ASK
Don - Syam
Boss - Anand
Boss - Hrithik
Stalin - Bala
Bommarillu - Nandini
Bommarillu - Darsakudu
Bommarillu - Vasu
Bommarillu - Harsha Prakash
Bommarillu - Lalitha Spoorthi
LRMB - Shravan
Bommarillu - Anirudh
LRMB - Srinivas
LRMB - Darsakudu
LRMB - S Sridhar
Bommarillu - Shridevi
Bommarillu - Vasudev
Bommarillu - Roopa
Sriram - Godavari
Sarath - Bangaram
Bala - Pokiri
Srinadh - Allari Pidugu
Sudheer Allari Pidugu
Anu - Athadu
Shyam Krishna - Iqbal
Purnesh - Grahanam
Sudhindra - Super
Vijay - Aparichitudu
Madhav - Aparichitudu
Hazaraon Kwaishein Aisi
Swades
Shyam - Black
Sai - Anand
Rohit - Anand & Veer Zaara
Jaya Prakash - 7GBC
Raj - Anand
Purnesh - Anand
Purnesh - The Village
Sriram - Gudumba Shankar
Purnesh - Gharshana
Purnesh - Lakshya
Purnesh - Yuva
Leenesh - Yuva
Kis - Lakshmi Narasimha
Indian Pride - Tagore
Raj - Boys
Phani - Gangotri
Phani - Khadgam
Vikram - CKR
BKR - Indra (Singapore)
Ram - Indra (Dubai)
Ranjeet - Idiot
Rahul - Indra
King Koduri - Indra
Srilakshmi Katragadda - Mitr: My Friend