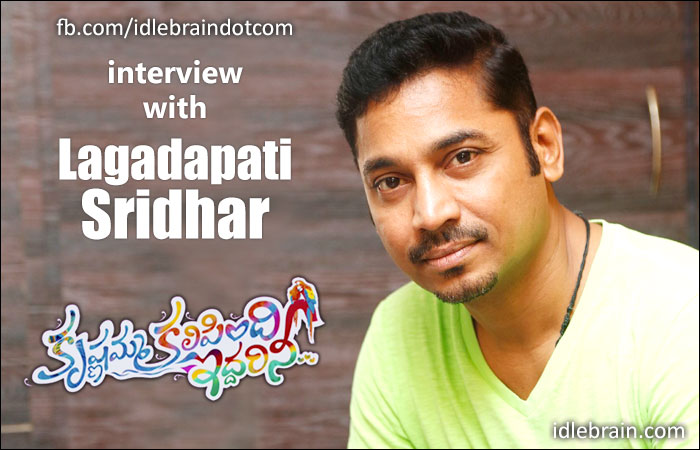 14 June 2015
Hyderabad
Lagadapati Sridhar is a passionate producer. It's been 10 years since he came to film industry. His latest movie Krishnamma Kalipindi Iddarini (KKI) is releasing on 19 June. Here are the excerpts of an exclusive interview on the occasion of his birthday on 14 June -
Your debut film Evadi Gola Vaadidi was released 10 years back. Tell us about your decade-long journey as a producer?
Evadi Gola Vaadidi was released on 21 January 2005. That's the reason why we wanted to release Krishnamma Kalipindi Iddarini (KKI) on 21 January 2014. It didn't workout as we have cricket coming up in later months. I am a content man and am happy by making movies I understand. EVV had several flops before EGV and we trusted his ability to deliver a hit and he gave us a silver jubilee film. My goal was fulfilled with my first movie. I re-introduced Lawrance as hero/director with Style film which became a big success in Telugu. I am happy that his market now is 100 crores for Ganga film. It's me who introduced Sundeep Kishan with Sneha Geetham. I am happy that is commercially established as a dependable star.
Tell us about KKI?
Director Chandru came to my office one day. He said that he has a story for me. He made another guy narrate me a story. It was pathetic. When I gave him my feedback, he said that he too didn't like the story, but expected it to suit Telugu tastes. Then he said that he has made a film titled Charminar and gave me a CD of Charminar. He has also said that he will preview me his film Charminar much ahead of others. I wasn't interested.
When I was going on a long drive, I listened to the songs of Charminar. They are so good that I could grasp the storyline and travel through it. I called him and told that movie was going to be a super hit. He invited me to Bangalore and held a preview. After watching the first half, I told him that I would buy rights for all other languages. After second half is over, he said that he didn't have money to release the film. I paid him 25 lacs and took remake rights for all other languages. I also held a press meet and predicted that Charminar would become a classic blockbuster. When I predicted that the actor Prem Kumar reminded me of Kamal Haasan, they didn't believe me. Prem Kumar has won filmfare award for his performance.
In order to retain the soul in Telugu version, I have asked Chandru to direct Telugu version. We have also retained cinematographer and music director. Music director Hari Gowra is from Tanuku and he made his debut in Kannada with Charminar. He is making his Telugu debut with KKI. We have casted Prema Katha Chitram pair Sudheer Babu and Nanditha. We have modified the premise of the film to suit Krishna river. I believe that love and nature coexists. That's the reason why we titled Krishnamma Kalipindi Inddarini as the title.
I am a kind of guy who makes movies on things I understand. I never believed in love till I saw films of Chandru. Now I understand the meaning of love. KKI is a timeless tale of love. Love is the most dominating emotion in human beings. I have also coined expansion for LOVE as Lots Of Varying Emotions.
Tell us Sudheer Babu's work in KKI?
The story of the film spans over 15 years. Sudheer's character timeline is marked with three ages - 16, 21 and 26. Sudheer has given perfect variations as per the age and maturity level of character. He will be the highlight of the movie. Sudheer will be worthy legacy of Superstar after the release of KKI.
What's the budget of KKI?
I have started the film with an estimated budget of 5 crores. We ended up spending 2 crores more. 1 crore is wasted and another crore adds to the quality of film. The total run time of the movie is 2 hours and 5 minutes. It's very difficult to narrate such a love story in just 2 hours and Chandru achieved it.
Your earlier film Sikandar was a failure at box office. What were the implications?
Linguswamy is a friend. There was a huge demand from distributors for the movie. I just acted as a trader for Sikandar. I watched the movie few days after the release. Distributors have suffered losses and I am compensating them with KKI. KKI is a film i spearheaded the entire making. KKI is going to be an honest film.
Your son Vikram Sahidev made a smashing debut with Race Gurram and his second film Patas is also a hit. What are your plans for him?
One can't become big in film industry unless he is genuinely motivated from inside. Money can't buy success and stardom in film industry. He is talented and he proved lucky too with Race Gurram and Patas. His 3rd film is going to be KKI. He will be making his debut in Kannada as hero with Goli Soda remake. I am planning to produce the Telugu version of the film.
You have seen KKI. What's your gut feel?
If you have watched Maine Pyar Kiya, Titanic and Cinderella, you must have felt a strong love emotion. You will experience similar emotion when you watch KKI. It's a honest film, yet will score very high commercially. It proves that you are a complete person in the world when you win love!
Any innovative publicity campaigns?
I am advertising and publicizing KKI very aggressively. I am also giving out a whatsapp number to take feedback from audiences about the film.
What are your future projects?
My next big aim is to produce a Bollywood film. If KKI becomes hit in Telugu, I will plan to remake it in Hindi.