January 3, 2009
Sasirekha Parinayam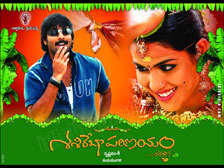 As a fan of Krishna Vamsi right from the Gulabi days i was awaiting the release of Sasirekha Parinayam which has a very classy title and the very talented Genelia playing the lead role.
I always admired Krishna Vamsi's characterization of the heroine's , be it Mahalakshmi of Ninne Pelladatha or Vasundhara of Murari you just can't help but fall in love with the character. Kudos to Krishna Vamsi for creating Sasirekha ...Mahalakshmi allari, amayakathvamu, mondithanamu... Vasundhara teluguthanamu, chilipithanamu,.. and add to the the very independent SitaMahaLakshmi of Shekar Kammula's Godavari...that is Sasirekha.
We might have watched many movies with a storyline of a Girl running away from home meeting a Boy and falling in love but what sets Sasirekha Parinayam apart is the telugu nativity, Sasirekha's characterization, very beautifully picturized scenes between the lead pair, natural flow of screenplay without a lot of drama and last but not the least no heavy fights.
Genelia is absolutely a delight to watch on the screen, and i think she is the most talented among her peers. There are many cute moments and interesting dialogs. Sasirekha's dialog about what's expected from a girl when she gets married is pretty impressive, and Anand(Tarun)'s dialog about what kind of marriage he wants is very sweet.
I really enjoyed watching the movie and my heartiest congratulations to Krishna Vamsi for making this beautiful telugu movie.
Niharika Reddy
[email protected]
More My Movie experiences:
Nachavule by Vamsi Krishna
Neninthe by movie lover
Avakai Biryani by Vamsi Krishna
Kotha Bangaru Lokam by Vamsi Krishna
Kotha Bangaru Lokam by S
Ashta Chemma by Deepthi
Ashta Chemma by Lalitha Spoorthi
Sarkar Raj by Pradeep
Jalsa by Lalitha Spoorthi
Gamyam by Sridhar
Gamyam by Sreekanth D
Gamyam by Sanjay
Halla Bol by Purnesh
Taare Zameen Par by Ashok Varma
Taare Zameen Par by Raja Simha
Happy Days by Krishna Sastry
Chirutha by Phani Kumar
Chak De India by Ravi
Yamadonga by Lalitha
Chak De India by Shyam
AMAV by Darsakudu
5 in March by Sashidhar
Okkadunnadu by Anand
Black Friday by Ratnakar
Desamuduru by Krishna Prasad
Guru by It's opinion
Dhoom 2 by Lalitha Spoorthi
Dhoom 2 by ASK
Don - Syam
Boss - Anand
Boss - Hrithik
Stalin - Bala
Bommarillu - Nandini
Bommarillu - Darsakudu
Bommarillu - Vasu
Bommarillu - Harsha Prakash
Bommarillu - Lalitha Spoorthi
LRMB - Shravan
Bommarillu - Anirudh
LRMB - Srinivas
LRMB - Darsakudu
LRMB - S Sridhar
Bommarillu - Shridevi
Bommarillu - Vasudev
Bommarillu - Roopa
Sriram - Godavari
Sarath - Bangaram
Bala - Pokiri
Srinadh - Allari Pidugu
Sudheer Allari Pidugu
Anu - Athadu
Shyam Krishna - Iqbal
Purnesh - Grahanam
Sudhindra - Super
Vijay - Aparichitudu
Madhav - Aparichitudu
Hazaraon Kwaishein Aisi
Swades
Shyam - Black
Sai - Anand
Rohit - Anand & Veer Zaara
Jaya Prakash - 7GBC
Raj - Anand
Purnesh - Anand
Purnesh - The Village
Sriram - Gudumba Shankar
Purnesh - Gharshana
Purnesh - Lakshya
Purnesh - Yuva
Leenesh - Yuva
Kis - Lakshmi Narasimha
Indian Pride - Tagore
Raj - Boys
Phani - Gangotri
Phani - Khadgam
Vikram - CKR
BKR - Indra (Singapore)
Ram - Indra (Dubai)
Ranjeet - Idiot
Rahul - Indra
King Koduri - Indra
Srilakshmi Katragadda - Mitr: My Friend