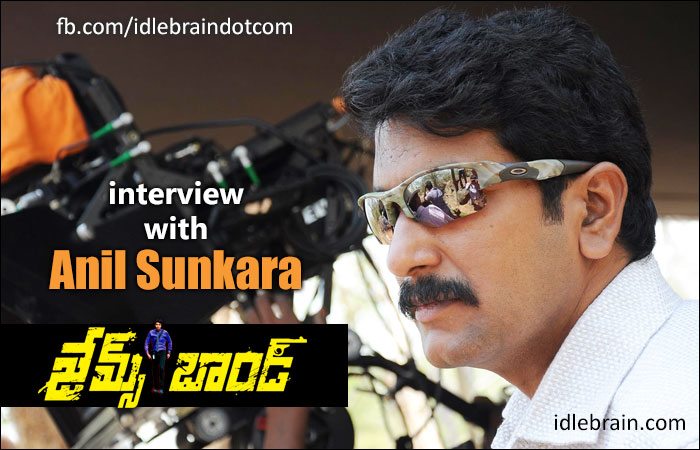 23 July 2015
Hyderabad
Anil Sunkara is an NRI who came to film industry because of his passion for cinema. And he has completed producing 10 films out of which many are successful films. After the disappointing Action 3D, Anil Sunkara is all set to serve the movie lovers with an entertainer James Bond which is releasing on 24 July. Here are excerpts of an exclusive interview -
What went wrong with your directorial debut Action 3D?
It was a mistake to do a freemake like Action 3D. Allari Naresh's character is not funny like the character of Raju Sundaram. We have included 3D in the title of the film, but 90% theaters played it were 2D theaters.
Tell us about James Bond film?
I wanted to do a fun entertainer with Allari Naresh. We had the script ready even before Action 3D happened. But we had to wait for the right heroine. We have approached a couple of famous heroines, but couldn't rein them in. Since heroine of the film plays don character, we need an actress with broad framework and strength. That's when we saw Potugadu and locked in Sakshi Chowdary. It's a pretty difficult character for a heroine. Sakshi took it as a challenge and worked hard for this movie.
James Bond is about how a faint hearted software engineer marries a don unexpectedly. The comedy generated aftermath will entertain movie lovers. The characterization of Naresh is going to be of his type, but the entire film is set-up in a new backdrop.
Tell us about debutant director Sai Kishore Macha?
I knew him from the days when he worked for Sreenu Vaitla for Dubai Seenu. He has worked for Namo Venkatesa and Dookudu also. Later he has worked for 14 reels banner for a couple of years. I wanted him to director a movie before Dookudu. But, he has asked more time to perfect himself. When he gave the idea of James Bond, I gave an immediate go-ahead.
You have produced 10 films so far. Tell us about your journey as filmmaker?
James Bond is my 10th film as a producer. I have learned a lot during this period. If I can look at the shooting location, I can fairly imagine how the scene will appear on the screen. During the shoot of my first film Bindaas, I was asked for 300 junior artists for a wedding scene, but I okayed only 100 artists. I realized the mistake when I watched that scene on the screen where it paled out. I learned about controlling budget without damaging quality over a period of time.
What are the changes in industry trends?
When I started producing films, Telugu cinema's highest budget was 40 crores. Now it's limitless. Thanks to Baahubali. The making style has changed. New marketing strategies have emerged. The quality of computer graphics in films has gone to new heights.
James Bond is the first significant Telugu film that is releasing after Baahubali storm. Baahubali is still going strong. Are you getting a good release?
Yes. We have got a good release everywhere except for Bangalore where we are finding it hard to get a multiplex. There are no Telugu movies after Baahubali and now is the time to release James Bond. James Bond is fun.
You have entered into the field of education?
I have done my masters in USA and realised what is missing in Indian schools. I wanted to provide quality education. I own a few engineering colleges and it was more like a charity. I invest all the profits of college into improvement of the college and it's system. A TV is one such effort with an intention to cater to the education field. I have started Best Brains along with my family members to provide quality education.
You have seen James Bond. What's your gut feel?
James Bond is a gunshot hit. Allari Naresh needs a hit after Sudigaadu and James Bond is the one. That's why we gave 'allari is back' caption for this movie.
What are your future films?
Currently we are making a love story with Nani as hero in Hanu Raghavapudi direction on 14 Reels banner. We will also be producing another film with Sundeep Kishan as hero.
When can we expect a huge film from you?
We will be making an official announcement for a huge project with a huge hero with whom we have worked in the past!!