January 7, 2009
Sasirekha Parinayam - Stole My Heart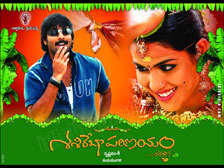 I would first like to congratulate Krishna Vamsi on the success of the movie " Sasirekha Parinayam " and also wish Idlebrain on finishing its 9th Birthday recently. I have been a great fan of Idlebrain since 7 years and have been visiting the site DAILY since then either to know the Filmnagar news , to read reviews , watch functions etc .
Well , Now first i want to speak about Krishna Vamsi . Am just nobody to speak about him 'coz he has reached the toppp with his direction talent and am just his fan . I have been seeing all his movies number of times right from his first movie and the movies which interested me a lot were almost all like Ninne Pelladutha , Murari , Khadgam , Gulabi , Chakram , the beautiful and superb movieeeeeeeeeeeeeee CHANDAMAMA and now the latest Sasirekha Parinayam .
I was brought up totally in hyderabad but born in Nizamabad ( Telangana ) but i rarely visit that place and i have never been to villages but after i have seen these many movies of his , i feel like visiting those places 'coz thats the way he mesmerises the audience with his taking and the way he shows the beauties and sceneries of the villages and am proud that am from Andhra Pradesh .
Let me not bore you all but coming to the point , I have watched Sasirekha Parinayam today and it stole my heart , i never felt the same before for any film , me being a hardcore fan of movies and have watched almost all movies and am up to date when it comes to movies and i wish to watch this movie atleast 4-5 more times in next 2 weeks ( sorry am not exaggerating ) because its like i need to get into the movie fully until i feel am totally engrossed in the movie with those characters . I dont know about others but i watch movies with utmost concentration to learn something out of them , what actually is a movie , how is it made , how are the characters chosen and so on .
This movie had the perfect characteriazation right from the scratch . Krishna vamsi is such a director who brings out the inner personality of any person in their characterization and that too makes them act with an ease so that they are comfortable and also the person who is watching it too . Tarun after a long time has chosen a movie which suits his personality & mannerisms , Genelia is obviously the perfect fit in that role and everybody else right from Ahuti prasad , Paruchuri , subba raju , MS narayana , sivaji raja , Abhi , Raghu babu , Suthi velu , and finally last but not the least Tulasi after a long gap .
The story is also perfect and there is no delinquency in the subject or the story so that anyone can point out for a mistake . Its very difficult for any director to make a movie of 2 and a half hours which will bring interest in the audience to wait for the next frame to know what's gonna happen when its a story made for sequences which happen in 2 or 3 days and that too a film based on a Journey and that too bring love in between the hero and heroine characters and that too ( hmmm tired ) interesting and meaningful and in which any pair can see them in those characters ( Lead Pair ) & get involved into those characters & which makes the audience fall in love with those characters and with a blend of comedy in between and lively expressions from all the characters . I was just waiting to see what will happen in the next frame even when i thought i know the story based on the story already happened and felt very happy after watching the movie and making me write this mail . I don't know ehther me writing this mail is meaningful or not or will reach Krishna Vamsi or not but hope he understands that there is a fan of his ( Die Hard Fan ) .
Vamshi Muthyapu
[email protected]
More My Movie experiences:
Sasirekha Parinayam by Niharika Reddy
Nachavule by Vamsi Krishna
Neninthe by movie lover
Avakai Biryani by Vamsi Krishna
Kotha Bangaru Lokam by Vamsi Krishna
Kotha Bangaru Lokam by S
Ashta Chemma by Deepthi
Ashta Chemma by Lalitha Spoorthi
Sarkar Raj by Pradeep
Jalsa by Lalitha Spoorthi
Gamyam by Sridhar
Gamyam by Sreekanth D
Gamyam by Sanjay
Halla Bol by Purnesh
Taare Zameen Par by Ashok Varma
Taare Zameen Par by Raja Simha
Happy Days by Krishna Sastry
Chirutha by Phani Kumar
Chak De India by Ravi
Yamadonga by Lalitha
Chak De India by Shyam
AMAV by Darsakudu
5 in March by Sashidhar
Okkadunnadu by Anand
Black Friday by Ratnakar
Desamuduru by Krishna Prasad
Guru by It's opinion
Dhoom 2 by Lalitha Spoorthi
Dhoom 2 by ASK
Don - Syam
Boss - Anand
Boss - Hrithik
Stalin - Bala
Bommarillu - Nandini
Bommarillu - Darsakudu
Bommarillu - Vasu
Bommarillu - Harsha Prakash
Bommarillu - Lalitha Spoorthi
LRMB - Shravan
Bommarillu - Anirudh
LRMB - Srinivas
LRMB - Darsakudu
LRMB - S Sridhar
Bommarillu - Shridevi
Bommarillu - Vasudev
Bommarillu - Roopa
Sriram - Godavari
Sarath - Bangaram
Bala - Pokiri
Srinadh - Allari Pidugu
Sudheer Allari Pidugu
Anu - Athadu
Shyam Krishna - Iqbal
Purnesh - Grahanam
Sudhindra - Super
Vijay - Aparichitudu
Madhav - Aparichitudu
Hazaraon Kwaishein Aisi
Swades
Shyam - Black
Sai - Anand
Rohit - Anand & Veer Zaara
Jaya Prakash - 7GBC
Raj - Anand
Purnesh - Anand
Purnesh - The Village
Sriram - Gudumba Shankar
Purnesh - Gharshana
Purnesh - Lakshya
Purnesh - Yuva
Leenesh - Yuva
Kis - Lakshmi Narasimha
Indian Pride - Tagore
Raj - Boys
Phani - Gangotri
Phani - Khadgam
Vikram - CKR
BKR - Indra (Singapore)
Ram - Indra (Dubai)
Ranjeet - Idiot
Rahul - Indra
King Koduri - Indra
Srilakshmi Katragadda - Mitr: My Friend