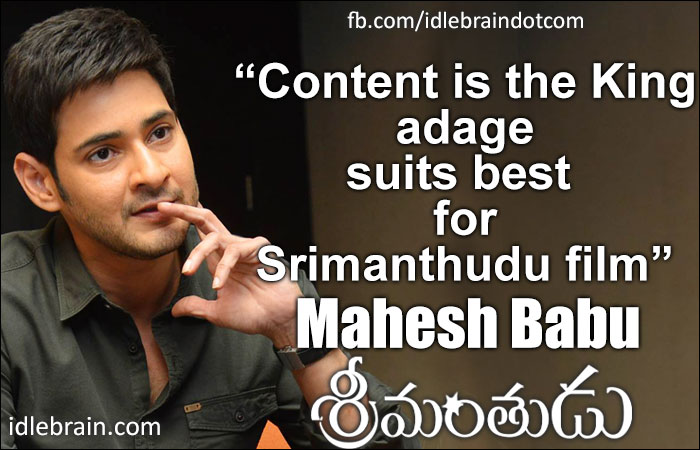 01 August 2015
Hyderabad
Mahesh Babu an actor of conscience and a star of purpose. It's pretty easy to select formulaic and safe projects and deliver hits. But, he makes sure that there is one '1 Nenokkadine' for every 'Dookudu'. He keeps choosing different scripts despite having enormous risk. His latest film Srimanthudu is releasing on 7 August. Here is an exclusive interview with Mahesh Babu by idlebrain.com -
You are probably the only star who takes risk to do different scripts like Khaleja, SVSC, 1 Nenokkadine and Srimanthudu at the height of one's commercial career?
I love to do different stories and I don't let my stardom come in the way of script selection. If some of those films doesn't do well, I admit my mistake. And I continue doing different films.
You have become quite emotional in music launch of Srimanthudu regarding your previous film's disappointment?
Yes. But, it was not a planned one. It was an instant emotion on the stage. Fans show us unconditional love and the least thing I can do is to express certain things.
Khaleja and 1 Nenokkadine films generated mixed response of box office, but went onto become classics?
It's an irony! 1 Nenokkadine is a brilliant film. But had a confusing screenplay. If we had taken more time and edited the film properly, it would have worked well at box office. We should have promoted the film as a psychological thriller right from the beginning. The expectations with which audiences came to the theater were different from what we had delivered.
For Khaleja, there was an unusual gap of 3 years and it didn't match audiences' expectations. We promoted Khaleja as an action film through trailers.
Tell us about Srimanthudu?
'Content is the King' adage suits best for Srimanthudu film. Content is biggest than the star. There are no punch dialogues and no mass dialogues. All dialogues are driven by the situational strength. I am happy that the dialogues like 'ninnu dattata teesukunnanu' and 'lavaipothamu' got instant acceptance. Director Siva has written dialogues based on the situations.
Songs of Srimanthudu offer a lot of variation?
I should thank Devi Sri Prasad for giving us such a variation in the album. He has also made sure that lyrics are clearly heard in the songs. There is a lyrical value in songs. I am glad that I have worked with Raju Sundaram master after a gap of 3 years (Dookudu was the last one). A couple of songs were choreographed by Bosco Caesar and Dinesh master.
I see two new aspects for the publicity of Srimanthudu. 1. The basic theme of the film is rightly established in the teaser released on May 31. 2. For the first time, I am observing aggressive publicity for a Mahesh Babu film?
It was a conscious and collective decision taken by the entire team. Telling audiences the content and flavor is very important. If they understand the basic concept of the film before release, they will savour it positively when they watch it.
Baahubali has stormed and rocked Indian box office. Will the new-found market help films of big heroes?
Baahubali is once-in-a-lifetime film made with a budget of 250 crores by a visionary director. I can see that the market's limit is stretched. But, films are big stars may make 5 crores more due to the avenues opened by Baahubali. A blockbuster from me collects around 72 crores of share. Srimanthudu might collect 77/78 crores, if it becomes a blockbuster.
You have announced a film with Rajamouli. Can we expect it to a game-changer?
KL Narayana, Rajamouli and I have decided to do a film together. It's too early to tell the genre and other details. I eagerly look forward to it.
Telugu movie lovers in USA have always appreciated your films. What does Srimanthudu has in store for them?
I want to thank NRIs for encouraging my films. My flop films too did well in USA. I am not sure if they liked them or not, but they surely watched them. I hope that they love Srimanthudu as the concept of village adoption becomes more relevant to NRIs. It's about roots!