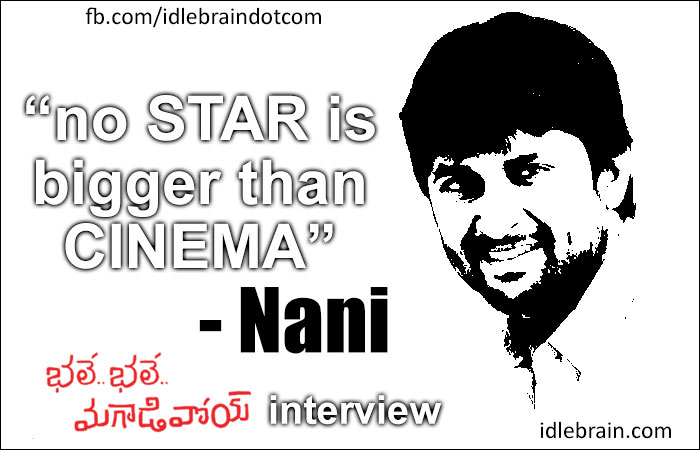 20 September 2015
Hyderabad
Nani who made a promising debut with Ashta Chemma had a nice streak till Yeto Vellipoyindi Manasu. When everybody thought Nani was going through a glorious phase, he had a big break with no releases for an entire year (2013). Then he had two flops. Yevade Subramanyam with good content gave him hope and Bhale Bhale Magadivoy became a turning point in his career by collecting over 1.3 Million dollars in USA. Here is an exclusive interview with a humble star Nani -
You had two releases on the same day (Yevade Subramanyam and Jendra Pai Kapiraju). How do you analyze the results?
It's a bad experience for any actor to have two of his own films releasing on the same day. If 10 people are watch my film, they might split into 5 each. NV Prasad has cautioned me of it before release. But, both the producers had their valid reasons for releasing them on the same day. On the day of release, both films opened to houseful theaters and Yevade Subramanyam has opened to superior talk. NV Prasad has called me again and told me that I have passed as a hero. I feel that if I had only one release, the collections would have been far better for any of these two films. Yevade Subramanyam character had two shades and I played two roles in Jenda Pai Kapiraju. My biggest satisfaction on that day was that if anybody watches two films they will find 4 shades of me. Yevade Subramanyam gave me renewed energy.
How did Bhale Bhale Magadivoy happen?
Maruthi likes me a lot. I saw his film Prema Katha Chithram and loved it though I am not a fan of horror films. Whenever somebody narrates me a script, I imagine myself in lead character and try to view it from audience's perspective. I got hold of my characterization and the body language I should apply for it. But at the same time, if the film is not done well it's a risky proposition. Vamsi (UV Creations) has been my friend for a long time and I was supposed to do a project for him. Geetha Arts also chipped in. In earlier films, I had to involve till the film is released. For the first time in my career, I just did what an actor is supposed to do. I did my job and went home with a peace of mind that release is going to be smooth.
Though I liked the idea and characterization in the first narration, we (me and Vamsi) didn't like the second half. Maruthi reworked on it and gave a narration a month later and we loved it.
Did you do any homework for playing a character with mind diversion?
No. As I told you earlier, I play the scenes narrated to me in my mind and see how best I can fit in. Forgetfulness is a fun element in the film and I had to slightly modify my body language.
What's most easiest scene and difficult scene you had done in BBM?
Going to BBM shoot is like going to a playground and play your favorite sport. The only scene which is special to me is the dining table episode during pre-climax. The callsheet time was for 9 pm to 5 am. Maruthi has planned entire episode in bits and wanted to shoot it over 8 hours as they were highly emotional scenes. After reading the scene, I have realized that the emotion can't be sustained for an actor if this episode is shot in bits and pieces. I told Maruthi that I would do it at a stretch. He has hesitated as it was a lengthy scene with over dialogues written in 2 pages. I tried to to do it as one scene. The total length of the scene is around 4 and half minutes. We have started it at 9:45 pm and finished at 9:50 pm. Everybody has clapped for it once it's done. Maruthi was sitting behind monitor. He got up and came near to me. He has a layer of water in his eyes. He shouted 'pack-up' with utmost satisfaction. I can say that this is my most satisfying scene in my career. I had done a lengthy interval episode for Yeto Vellipoyindi Manasu, but the camera had a panoramic view. In BBM, it was more like a close up and into-your-face kind of shot.
I had ligament tear to my leg during the shooting of climax. There is only one scene left after fracture. The last dialogue 'marchipoyanu' with Ajay was shot with me sitting on a stool (a bust shot was taken to give an impression that I delivered that dialogue in a standing position).
What's the best compliment you received for BBM?
Vijay Saradhi Jeedigunta (father of actor Varun Sandesh) has posted something on his Facebook wall, which thrilled me a lot. On top of it, he has dubbed famous fight scene from Athadu with his voice over on me.
"ఆడు భలే భలే మగాడు రా...
ఎవడన్నా... పంచ్ డైలాగులు బాగా చెబుతాడు..
లేపోతే డాన్సులు, ఫైటులు.. బాగా చేస్తాడు..
ఈడేంట్రా.. చాలా శ్రధ్ధగా నటిస్తాడు.. ఏదో ఒక కారెక్టర్ లో దూరినట్టు.. పాత్ర లో జీవిస్తున్నట్టు.. చాలా జాగ్రత్తగా... పద్ధతి గా యాక్ట్ చేసాడ్రా... ఆడు భలే భలే మగాడు రా... బుజ్జీ ...
Congrats to Nani ( Actor Nani) for giving us another memorable character without memory.. 'Lucky' to have an actor like him in TFI. My Voice on Athadu Visual.. So No BGM... With sincere Apologies to Tanikella Bharani garu & Trivikram Srinivas garu
https://www.facebook.com/vjeedigunta/videos/10155964664150048/?pnref=story (click for FB video)"
Allu Arvind's compliment that I am one of the finest actors of this generation is a memorable one.
What do you think is the reason for an extraordinary response to BBM in USA as it's collected over $1 million?
My previous films had a decent run and I have generated good will among audiences in USA. My films Ashta Chemma, Ala Modalaindi, Yeto Vellipoyindi Manasu and Yevade Subramanyam did do well in USA, though not in this magnitude. Telugu people in USA love entertaining films. Since BBM is a clean entertainer, it helped families to watch the film. Good reviews created an impact. BBM has passed all the parameters that requires a film to become a blockbuster in USA.
Tell us about your next film?
My next film is being produced by 14 Reels banner in the direction of Hanu Raghavapudi. 40% of shoot is complete and film will be ready by Nov/Dec. It will have a realistic feel and has Ananthapur/Hindupur backdrop. It will be a full package for movie lovers.
How do you respond to successes and failures?
I am not the kind of guy who gets overjoyous with successes and goes into depression with failures. I get disappointing if I didn't do justice as an actor to my films.
Were there any instances where you felt that you fell short of being good?
Yes. In 'Ride' movie, I thought I was pretty loud in the scene with priest. In 'Paisa' movie, I was very dramatic in the episode with Charan Raj towards end of the movie.
How do you select script?
My most momentous time for any film is the first day morning show. I love watching my films in a public theater along with the crowds. The cheers and whistles for a good movie is what thrills me. Whenever I listen to a script, I keep morning show crowds in my mind and judge if they are going to cheer for it. I also feel that no star is bigger than the cinema. That's motto I stick to till the end of my career!