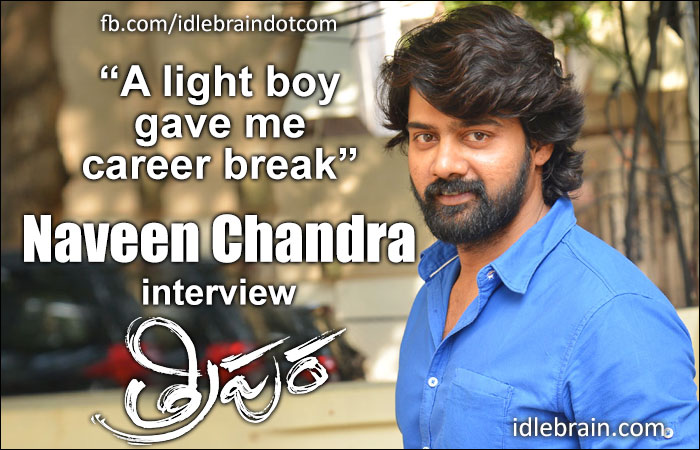 02 November 2015
Hyderabad
Naveen Chandra who made a dashing entry with Andala Rakshasi is yet to find a box office success. He is pinning his hopes on Tripura and LoL. Here is an exclusive interview -
Background:
I have done diploma in Mechanical Engineering and joined as 2D animator. I had been interested in acting films since childhood. I wanted to earn decent money so that I can use it while trying for films. I also did odd jobs like lab assistant while working as 2D animator. I have attended dances class while preparing for acting. After making some money, I left the job in 2006 and started trying for films. I have created a portfolio containing photos and videos. I went to offices and gave it to them. A light boy in Annapurna studios has asked me to give my portfolio to him so that he could pass it on to producers. I didn't take him seriously. After repeated requested, I gave him one set of my portfolio.
I got a call from Chennai in 2008 and they said that they cast me as hero. They booked flight tickets and I went to Chennai. I asked him how they selected. I came to know that the light boy of Annapurna Studios has given my portfolio to them. That film was shot and completed, but never released. Meanwhile, I was signed for another Tamil film which was also an unreleased one. My position was back to square one.
I grew my beard and started search for roles again in Hyderabad. Hanu Raghavapudi was looking for a guy with rugged personality. Writer Lakshmi Bhoopal has shown my photo with beard to him. That's how I was cast in Andala Rakshasi and the shoot began in 2011. It was released in 2012. Sai Korrapati has given unprecedented publicity for that movie. It didn't work at box office though all of us who worked for it got tremendous recognition. After that I have done a few films and they failed. Producer Chinna Babu is a friend of Hanu and it was Hanu who recommended me for Tripura.
Success has become elusive for you. How do you analyse it?
I did mistakes while selecting scripts. I was looking at my character than looking at the universal appeal of the film while signing a film. I guess Tripura and LoL will turn around my career. Tripura is a well-packaged film. I play the role of psychiatrist with many shades like lover and cheater.
What do you think are good and bad for you as an actor?
Good thing is that I do films that I love. I don't overtry. Bad thing is that I am typecast is beard roles. I should come out of it.
What are your further commitments?
I am waiting for Tripura and LoL to release. I will sign films after release of these two films. I don't want to repeat earlier mistakes.