13 May 2012
My Movie - Gabbar Singh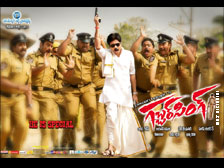 Disclaimer: I have not watched Dabangg movie. And this article will be excessively biased because I am a hard core fan of Powerstar Pawan Kalyan.
For me and millions of Pawan Kalyan's fans, it has been a painfully long wait for over 11 years. The last time we saw our favorite star unleash his hurricane prowess at the BO was on 27th April 2001 in the form of Kushi. I watched this movie 42 times and it remains one of my most favorite movies ever in Telugu. From 2001 until now, Pawan Kalyan acted in 9 movies; majority of these movies were commercially safe ventures at the box office. But considering his mind boggling craze, they were viewed as flops or below average from a fan's standpoint. Even a commercially successful Jalsa did not fully satiate the hunger of fans.
That wait ended and how!
Pawan Kalyan as Gabbar Singh reiterates why he has the BEST CRAZE and CULT FOLLOWING amongst Telugu film audience irrespective of hits and flops. He is beyond the number game. I am not saying this because Gabbar Singh has garnered excellent reviews. Even if this movie were to be a huge disaster, the subsequent 50 movies will generate the same pre-release hype and hoopla. Any other hero would have disappeared into oblivion if 3 to 4 movies of their bomb at the BO. That explains the difference b/w Pawan Kalyan and the rest of the lot. That's why Pawan Kalyan is a phenomenon personified…
"One man show" is the apt word for Powerstar's performance. He scorches the screen with his high energy performance. Be it dances, dialog delivery or fights, Pawan Kalyan makes you sit up and watch each and every minute of his screen presence. His entry is downed by a deafening applause. One of Pawan Kalyan's biggest strengths is his comedy timing and he unleashes this virtue to the maximum in Gabbar Singh. His one liners and dialog delivery are a treat to the ears. Pawan's dances exude lazy elegance – especially in the first song. The scenes involving Pawan Kalyan and Ali are hilarious. The references of Ee peta ku nene mestri (Mutha Mestri), Ee mera jahan (Kushi) and Gallo telinattu (Jalsa) evoked tremendous audience response. All the other actors/actresses chipped in. But in reality, it's a one man show of Pawan Kalyan.
Director Harish Shankar proved the result of a director making a movie with his favorite actor. He extracted an energetic and spirited performance from Pawan Kalyan. Harish sets an excellent pace and tempo in the first half. On the downside, the pace goes down in the second half. The climax seemed very abrupt. The main deficit in the movie is the lack of a powerful villain characterization, making the movie a one sided one. However the movie touches various threads - mother and son, love, son and step father/brother and ofcourse excellent comedy partially making up for the void.

Songs and background scores are apt however the re-recording for action scenes was loud. Production values are rich.

Overall, Gabbar Singh is a movie that Pawan Kalyan fans have been waiting. He thoroughly entertains in this film. There is a tremendous confidence in the body language of Pawan Kalyan which was missing in his recent releases. The openings for the movie in the USA are tremendous. The premiere show and Friday shows have been housefuls. Only time and masses will decide its overall standing as one of the biggest commercial hits of Telugu films.
Sreekanth Devarakonda
devarakonda at hotmail com
More My Movie experiences:
Love Failure by Lalitha
Sri Ramarajyam by Santosh
Sri Ramarajyam by Sandeep
Sri Ramarajyam by Srini C
Sri Ramarajyam by Sreekanth
Sri Ramarajyam by Kumar
Sri Ramarajyam by Sarada
Sri Ramarajyam by Sarath
Sri Ramarajyam by Kiran
Gaganam by fan
Ala Modalaindi by Lalli
Ala Modalaindi by Deepthi
AOD by King Koduru
Rakta Charitra 2 by Sreekanth
Rakta Charitra 2 by Mahesh
Orange by Dayakar
Rakta Charitra 1 by Sreekanth
Robo by Sreekanth
Maryada Ramanna by Kumar
Inception by Kumar
Bheemili by Nani's sister
Raavan by Lalitha Spoorthi
Vedam by Praveen
Vedam by Ratnakar
Vedam by Laya
Vedam by Naveen Soma
Vedam by Pavan
Vedam by Deepak
Vedam by Manohar
Vedam by Sridhar A
Vedam by Sarath Chandra
Vedam by Murthy
Vedam by Kumar
Vedam by Santosh
Vedam by Sreekanth D
Prasthanam by Ravi
Prasthanam by Suresh
Prasthanam by Amarnath
Prasthanam by Krishna Chaitanya
Prasthanam by Che
Prasthanam by Purnesh
Prasthanam by Kumar
YMC by Kumar
YMC by Mallik
YMC by Satya
YMC by Anurag Reddy
YMC by Ramskott
YMC by Dellcom
YMC by Ashok
YMC by Ramya
YMC by Sudheer
YMC by Laya
YMC by Survi
YMC by Rajeev
YMC by Pavan
YMC by Rohit
Inkosaari by Avanthi
Inkosaari by Sneha
YMC by Praveen
YMC by Rajani
YMC by Sujith
Inkosaari by Ganesh
Leader by Sreekanth D
Maya Bazar by Gopal
Mahatma by Kishore
Baanam by Stanley
Josh by Nathan
Magadheera by Ashok
Magadheera by Wannabe Director
Magadheera by Shanti
Magadheera by Anitha
Magadheera by SS
Oy by Prathna
99 by Bala Thirumalasetty
Veedokkade by Srinivas
Delhi 6 by Vamsi
KIKK by Sweta
Luck by Chance by Srini
KIKK by Lalitha Spoorthi
Arundhati by Naveen
Arundhati by Srini
Arundhati by Bharat
Sasirekha Parinayam by Santhi Venkat
Sasirekha Parinayam by Vamshi Muthapu
Sasirekha Parinayam by Niharika Reddy
Nachavule by Vamsi Krishna
Neninthe by movie lover
Avakai Biryani by Vamsi Krishna
Kotha Bangaru Lokam by Vamsi Krishna
Kotha Bangaru Lokam by S
Ashta Chemma by Deepthi
Ashta Chemma by Lalitha Spoorthi
Sarkar Raj by Pradeep
Jalsa by Lalitha Spoorthi
Gamyam by Sridhar
Gamyam by Sreekanth D
Gamyam by Sanjay
Halla Bol by Purnesh
Taare Zameen Par by Ashok Varma
Taare Zameen Par by Raja Simha
Happy Days by Krishna Sastry
Chirutha by Phani Kumar
Chak De India by Ravi
Yamadonga by Lalitha
Chak De India by Shyam
AMAV by Darsakudu
5 in March by Sashidhar
Okkadunnadu by Anand
Black Friday by Ratnakar
Desamuduru by Krishna Prasad
Guru by It's opinion
Dhoom 2 by Lalitha Spoorthi
Dhoom 2 by ASK
Don - Syam
Boss - Anand
Boss - Hrithik
Stalin - Bala
Bommarillu - Nandini
Bommarillu - Darsakudu
Bommarillu - Vasu
Bommarillu - Harsha Prakash
Bommarillu - Lalitha Spoorthi
LRMB - Shravan
Bommarillu - Anirudh
LRMB - Srinivas
LRMB - Darsakudu
LRMB - S Sridhar
Bommarillu - Shridevi
Bommarillu - Vasudev
Bommarillu - Roopa
Sriram - Godavari
Sarath - Bangaram
Bala - Pokiri
Srinadh - Allari Pidugu
Sudheer Allari Pidugu
Anu - Athadu
Shyam Krishna - Iqbal
Purnesh - Grahanam
Sudhindra - Super
Vijay - Aparichitudu
Madhav - Aparichitudu
Hazaraon Kwaishein Aisi
Swades
Shyam - Black
Sai - Anand
Rohit - Anand & Veer Zaara
Jaya Prakash - 7GBC
Raj - Anand
Purnesh - Anand
Purnesh - The Village
Sriram - Gudumba Shankar
Purnesh - Gharshana
Purnesh - Lakshya
Purnesh - Yuva
Leenesh - Yuva
Kis - Lakshmi Narasimha
Indian Pride - Tagore
Raj - Boys
Phani - Gangotri
Phani - Khadgam
Vikram - CKR
BKR - Indra (Singapore)
Ram - Indra (Dubai)
Ranjeet - Idiot
Rahul - Indra
King Koduri - Indra
Srilakshmi Katragadda - Mitr: My Friend