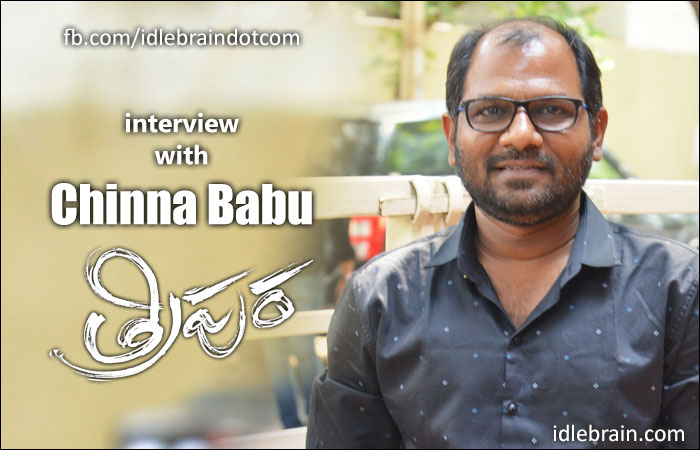 04 November 2015
Hyderabad
After doing movie satellite rights business, Chinna Babu is making his debut as straight Telugu film producer with Tripura which is releasing on 6 November. Here is an interview -
Background:
I have worked as production manager for Zee Telugu for 5 years. Then I entered the business of Satellite rights for movies. My first venture was Simha and we sold it off to MAA TV. Later I have bought and sold (buying from producer and later selling it for a profit to TV channel) around 30 movies. Since I have the ambition to become a producer, I have dubbed 3 films (Nakili, Soolam and Anwar) and released in Telugu. Though they were disappointments for audiences, I was safe commercially. I am in touch with budding film directors. Raaja Kiran narrated me the story of Tripura for 5 minutes and I liked it. It's about dreams. Later on, he narrated 3 more stories. But I preferred Tripura line.
Initially MAA TV wanted to fund the film. But it didn't work out as Star acquired MAA later. My friend Raja Sekhar came to my office to give his wedding card. He came to know about Tripura and asked me if he can chip in. I told him that the budget is of 5 crores and I was looking for a partner who can fund 3 crores. He has joined as partner in the film. Kona Venkat has initially rejected, but later listened to the story and wanted to work for it.
How is the business of the film?
We have shot the film in 55 working days and it cost us around 6 crores (including print and publicity). Initially we wanted to dub it in Tamil. After shooting the first schedule, we became so confident that we have decided to shoot two versions. We have roped in actors like Sriman and Pooja Ramachandran. Straight censor will be done in Tamil soon. We are planning to release the Tamil version as 'Tripura Sundari'
Tripura has generated a trade talk that it's going to be a minimum guarantee film. It's sold out for all areas. Abhishek Pictures that has acquired big films like Srimanthudu and Rudramadevi has come forward to buy Tripura for Nizam. It's a big boost. Tripura is going to release in more than 250 screens in Nizam, which is huge for a small film. I am in profits before the release of the film.
What are your future projects?
I will announce the details of my next film on 6 November (release date of Tripura)