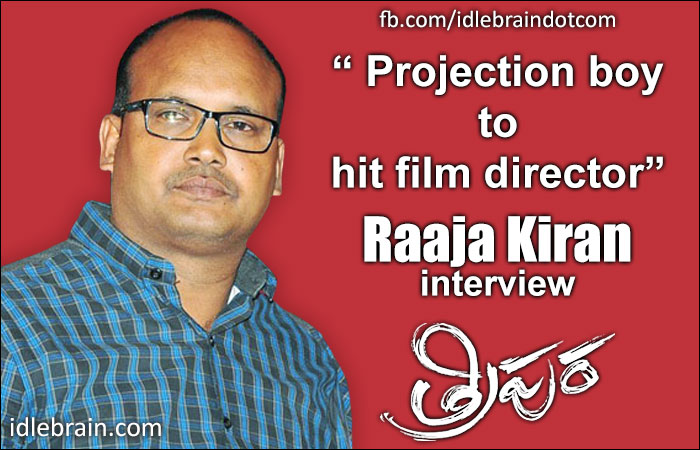 03 November 2015
Hyderabad
Raaja Kiran has humble beginnings and started his career as a projection boy. And after two decades his directorial debut Geethanjali is a commercial hit. Here is an exclusive interview -
Raaja Kiran
I am interested in singing and movies since childhood. I have worked as an assistant operator in projection room of a theater for a few years. I am from Kaikaluru. I started a photo studio to earn my living by taking photographs. Most of my family members are singers who perform with orchestra at functions. I used to be the photographer for Maganti Babu (film producer and politician). He used to tell me that my photos have cinema quality. I asked him if he can give me a chance in movies. He recommended me to EVV in 1998. EVV Srinu explained me how it works and suggested to try to become director. It's he who inspired me to aim for direction instead or singing/photography.
I started searching for job. Sunkara Madhu Murali has recruited me as assistant production manager for Alludu Garu Vacharu. When they give work like xeroxing script, I used to make a seperate one for myself and started understanding how script is written and how it's executed while filming. By looking at my passion, Madhu Murali has promised me that he will put me in direction department. As promised, I was the assistant director for Choosoddam Randi. Ramesh - Gopi (dialogue writers) helped me to become an associate director for Ninnu Choodalani (NTR's debut as hero) in VR Pratap direction. They lied to him by saying I am an experienced associate and worked for several films. I managed to live up to the expectations of an associate director.
I started trying for a direction chance. In 2004, I got an opportunity to direct a film for Usha Kiron Movies. But, they suggested some changes in second half, which I didn't feel good for film. I started doing TV programs and TV serials for a living.
I loved Om Shanthi Om film. I thought that it will be a good story for a Telugu film. That's how Geethanjali concept formed. I added a new narrative style with an assistant director narrating story to the producer. Those three/fours scenes in that film are inspired my own experiences with producers. I approached PVP and they liked the script. They referred me to Kona Venkat. That meeting changed my life. PVP has postponed the project. Kona Venkat sensed potential in script and took it up to produce it. Initially there is no ghost in movie, but felt that audiences might feel cheated. Hence changed the climax to introduce ghost. Made with a budget of 4.5 cr, Geethanjali went on to collect a theatrical share of 10 crores.
I started getting offers after Geethanjali. But producers are suggesting changes to scripts. Hence, I had to return cheques though I am in need of money. I met producer Chinna Babu. He was contemplating of buying satellite rights of Tamil dubbed film Chandrakala. I suggested after watching the film that he should buy. He made profits through that and rented an office for Tripura. Then investors joined in and Tripura happened.
What's Tripura film is all about?
Tripura is about dreams. Dreams of Tripura turn into reality and nobody believes her. Tripura plays the role of a just married housewife. Naveen Chandra is the hero and villain of the movie. Kona Venkat and Veligonda Srinivas worked on the script. It's a better story than Geethanjali. Tripura will get me recognition as director.
Saptagiri, JP and Shakalaka Shankar has very good entertaining roles. I never miss entertainment in my movies. There is soul in the movie and it will be engaging throughout.
Swathi's character has three variation. She is an actress who gives first priority to story. I like eyes of Naveen Chandra. He plays a character that is both hero and villain.
What are the economics of Tripura?
It's costing us around 5.75 to 6 cr. There will be a lot of CG work towards climax.
Don't you fear getting typecast as horror film director?
I personally like thrillers, not horror films. Audiences are asking for horror entertainers now. My next film will be a thriller in commercial format.
Each and every director has a format while scripting films. What's your format?
I have to lock the audience with in 15 minutes of the movie. The interval should be so exciting that he/she should think about second half story during the interval. I need to surprise audience with the climax. These are the things I primarily use to format screenplay.
Tell me about your family?
I have four children and one of them is an adopted one. I found a months-old baby girl and adopted her though I had two kids by that time. I have 2 boys and 2 girls now.
What are your future projects?
I waited for 20 years after rejecting Usha Kiron Movies offer. I don't mind struggling than accepting an unconvincing film for the sake of money. I will wait and give a good commercial film soon.