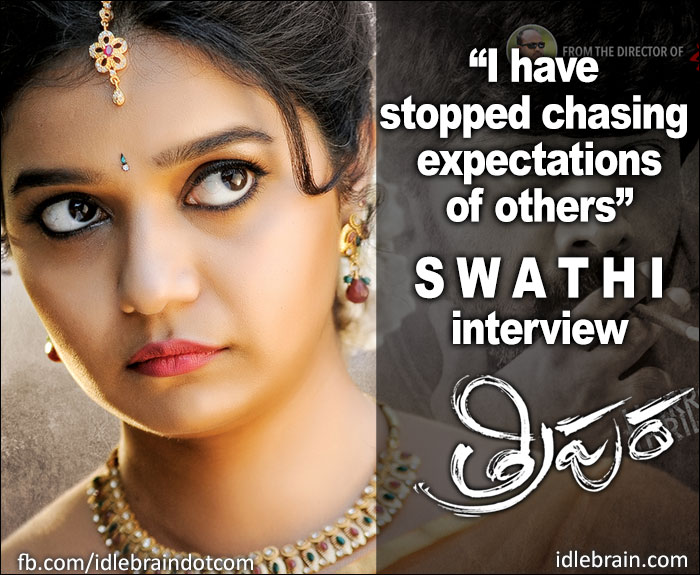 05 November 2015
Hyderabad
From being a bubbly hostess of Colors, Swathi has come a long way now. She has acted in handful of hit films in Telugu, Tamil and Malayalam. Her latest film Tripura is releasing on 6 November. Here are the excerpts of an interview -
You have made TV debut as hostess at the age of 17 and it's been 30 years. You are still finding interesting scripts coming to you?
I remember interviewing Arti Agarwal when I was hosting Colors program. She was the superstar then. Now the happening lady is Rakul Preet Singh. It's pretty hard to survive for an actress for over 13 years. I am glad that I did it and am still able to get interesting scripts coming my way in three languages.
Tell us about Tripura?
Tripura is a nice story to enact. I got the bubbly girl image due to colors program and I had been typecast in that kind of roles in most of my films. I play a housewife and I actually play my age, that's 30. It's a village girl character. I have a new look for this film and I gained over 6 kgs to look like a married housewife. Tripura is my first commercial script. It's a suspense thriller.
You are gladly admitting your age?
Yes. Life is better now. I have stopped chasing the expectations of others and started living for myself. I realised it after I did Malayalam film Double Barrel. I am calm and happy now. I make efforts to enjoy the present. I find happiness in everything I do. I see a lot of humanity wherever I travel. I went to Osaka, Japan recently and realized how quickly they got back to life after Tsunami hit them.
Recently, a guy in social media commented to me that I was looking like 'Aunty'. There is nothing wrong if he says that I put on weight. But why people make the word 'aunty' so unpopular. Everybody have aunties at their home.
You had a different role in Karthikeya too?
Yes. When director told me that I have a different role, I thought he was faking. But he is such a nice writer and director. He has created good characters in Karthikeya film. Only a Telugu girl can play that character to perfection. Nikhil took a lot of care about project and DoP Kathik made the film look good.
When are you getting married?
I am looking for the suitable guy. I am willing to get married. I am like an Alice in Wonderland.