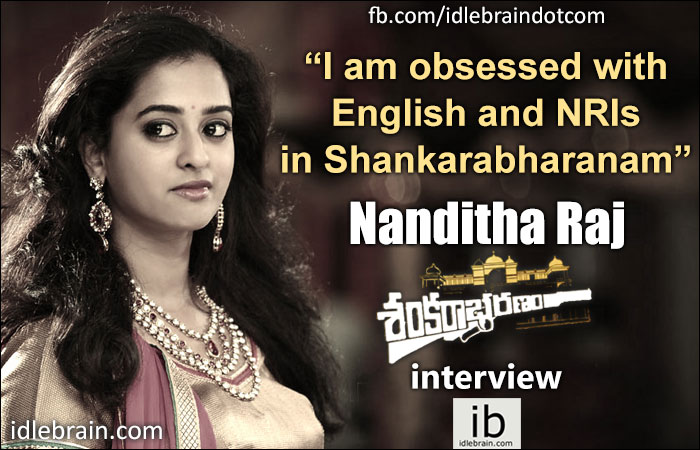 03 December 2015
Hyderabad
Nanditha had a disappointing debut. But she followed it up with a careful selection scripts. Her Prema Katha Chitram was a big hit and her performance as possessed girl was talked about much. Her latest film Shankarabharanam is releasing on 4 December. Here are the excerpts of an exclusive interview with Nanditha -
Background:
My dad is an army officer (colonel) and my mother is a legal advisor for corporates. Due to my father's profession, we had to stay in North India. We shifted to Hyderabad during my 10th class. After given intermediate exams, I happened to see the casting call of Neeku Naaku Dash Dash by Teja. I had applied for it out of enthusiasm. I went to auditions and signed for it. Teja was a tough task master. He used to scold me badly. I couldn't take it and I used to cry. He has moulded me and I owe it to him.
Three months after the release of Neeku Naku Dash Dash, Maruthi has called me and narrated a couple of lines about the story. He has that four friends go to a farm house and the girl gets possessed over there. It was a challenging character.The script is written in such a way that my character dominates the proceedings from interval to climax. I was nervous about acting as a possessed girl. But my shots as possessed girl were okayed in the first attempt. Prema Katha Chithram has given me a solid kickstart to my career.
Then I worked for a Malayali film titled London Bridge. I also signed Lovers film. Krishnamma Kalipindi Iddarini has got me a lot of recognition as actress. My latest film Shankarabharanam is due for the release on 4 December. I am currently doing a film titled Savithri in direction of Pavan Sadineni.
Tell us about your character in Shankarabharanam?
I played a Bihari girl called 'Happy'. Like most women from Bihar, my character is not feminine and is a pretty dominating one. She dreams of speaking good English and wants to marry NRI as she is fascinated with USA.
How is Nikhil as a co-star?
All the heroes I worked so far are pretty reserved. But, Nikhil is very enthusiastic and he is a bundle of energy.
Are you missing your education as you entered films after completing intermediate?
I did my B. Com in St. Francis and I am currently doing distance learning from Symbiosis, Pune from where my brother did his MBA.
How did your parents react to your decision to become an actress?
They encouraged me. I always tell them what I do and I maintain transparency. They trust me. My mom accompanied me and helps me out in my career also.
Is Savithri a heroine-oriented film?
No. It's not a woman-centric film. But, the story revolves around Savithri character. It's a light hearted and chirpy film.
How do you select your films and what kind of films you want to do?
I do films based on scripts. The team is also important. However good the script is, it should be properly brought onto the screen by the team. I liked to choose characters that have weight and uniqueness attached to it.
Whats your gut feel on Shankarabharanam?
I have a bad judgment. I am confused and I haven't seen the film yet. Shankarabharanam script has every element that audiences want - comedy, family drama, action and beautiful songs.
Any plans for wedding?
I am too young to think about wedding. I am focussed on my career, hence no place for boyfriend in my life at this point of time.