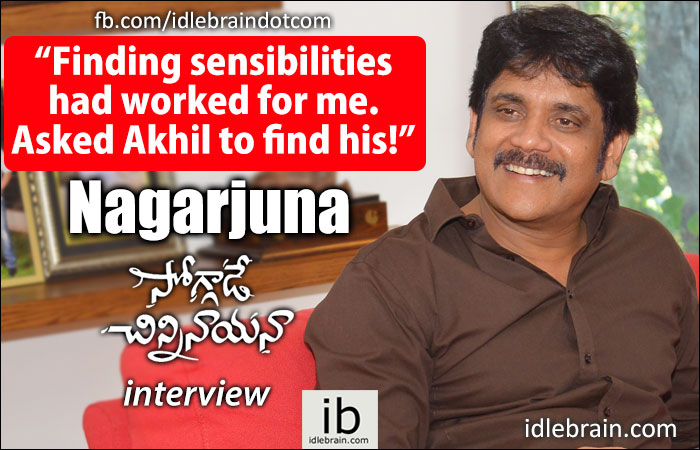 14 January 2016
Hyderabad
Nagarjuna Akkineni has been reiterating that he act in films only if the script interests him and only if he enjoys the process of making those films. Manam is an example of what he actually meant. Soggade Chinni Nayana is releasing on 15 January. Nagarjuna talks very openly about himself and his sons in this open-minded and honest interview -
Soggade Chinni Nayana (SCN) was the fourth film to be announced for Sankranthi race after other three were announced?
We didn't officially announce it first. But the distributors knew it for the past 2 months as we booked the theaters 2 months back. We have sold east and west. We are releasing on our own for Nizam, Krishna and Vizag.
Initially we planned to release SCN for Dasara, but had to change mind as Akhil was planned to be launched for Dasara. We were ready with first copy in November. But MEK season 2 preparation was started. SCN was supposed to be ready much earlier. Shruti Haasan has backed out from Oopiri project suddenly for the reasons unknown to me. I was sitting idle for two months while replacement took place. After watching final copy of SCN, I was not satisfied with a few scenes and we went for reshoot for five days.
Producers feel shy to admit about reshoot as they think it sends wrong signals to distributors?
Reshoots are done for the betterment of the film. I fail to understand why negativity is spread around when we reshoot. Manam film was also reshot. It became a huge hit.
When I interviewed last time (post-Manam), you said that you will select scripts only if you enjoy doing them?
Yes. I am sticking to it. Both Soggade Chinni Nayana and Oopiri are lovable scripts.
Don't you think Oopiri subject (a remake of French film Intouchables) is of art film type?
No. It is a huge commercial blockbuster and collected over 250 millions dollars. It's highly revered in France. When we went to Paris to shoot Oopiri, we requested a popular restaurant for a shoot permit. But they refused. When we had coffee over there, they casually asked us which film we are shooting. When we said that it's a remake of Intouchables, they gave us permission to shoot in restaurant free of cost.
One of the characters you played in CN is of a spirit. Don't you think it's risky for a big actor to do that role?
No. Though it's a spirit, it's a positive one and entertains us. To prepare the audiences, we narrated story in latest trailer that Bangarraju is a spirit. There is a connection to temple and a snake. We have also shown those visuals in the trailer. It's an entertainer. I have thoroughly enjoyed the process of making of Soggade Chinni Nayana.
How is it like working with Ramya Krishna after a huge gap?
She is my long time friend. She possesses incredible screen presence. She has dubbed her voice in this movie. She was and is a brilliant actress.
How is Lavanya Tripathi?
We had a screen test before as there is a lot of age gap between us and she is a next generation actress. I have seen her earlier films and liked her work. I have selected her before she is cast in Bhale Bhale Magadivoy. The pairing of Seetha and Ramu is very good in the film. She gets into the skin of character effortlessly. All four characters are author-backed in the movie.
Annapurna Studios had always been producing path-breaking films and entertaining blockbuster with novel themes. But there was a huge gap between Manmadhudu and Manam in churning out such great films?
Mass was a hit in Annapurna banner. After a long gap, we had another hit in the form on Manam on Annapurna. I am proud of Rajanna though it didn't yield financial success. I liked the novelty and the way my character shaped up in Super film. Except for Bhai film, I am proud of all films I made on Annapurna banner. As I told you earlier, I will do only films that convince me as an actor and the films I enjoy doing.
SCN is releasing with 3 other films?
Yes. I didn't want to miss this season. I am confident that it will do well at box office. Sankranthi season can take more films. Five films are releasing in Tamilnadu.
You set a fine example in doing trendsetting, yet box office blockbusters like Shiva, Ninne Pelladatha & Annamayya?
I am not in race for numbers. I am happy if my film is hit. I am disappointed when my film flops. It's just human way to react like that. I try to come out of disappointment mood and try to work on better projects.
Tell us about Akhil?
It was Akhil who wanted to do a film with VV Vinayak. He has learnt a good lesson now. After the release of Akhil film, I told my son Akhil that you need not save to world in first film. I asked him why don't you save a girl, a friend or a family? I came to film industry at the age of 26. He came at the age of 21. I have told VV Vinayak that he has done a fabulous work while making the film. But the concept chosen for the story was wrong. I am in regular touch with Vinayak and Sudhakar now.
I asked Akhil to be patient. I told him to know his sensibilities. It took me 9 films to realise my sensibilities. I was instructed by people around me for 8 films to choose a script. Then I realised that it's not my sensibility. That's when I saw Mani Rathnam's Mouna Ragam. Films used to be screened just for morning shows during that time. Mouna Raagam ran for an year with morning shows in a theater. I liked Mani Rathnam and went to his home. I use to wait outside his house and say good morning once in every 3 days when he comes out for morning walk at 6:30 am. I did it for one month. Then I asked him to direct me for a Telugu film. He said that he doesn't know Telugu. I convinced him that his visuals have language and it's universal. That's how Geetanjali was made. Geetanjali is my sensibility.
Lot of people might think that story of Shiva is the reason for me to give direction offer to Ram Gopal Varma. No. I offered him film because I liked his sensibilities. During the shooting of Collector Gari Abbai, I was sitting with RGV at night looking at stars. We had a beautiful conversation about stars, planets and galaxies. That celestial conversation made me give direction offer to RGV as I found both of us have same sensibilities.
I gave the same advice to Akhil after the release of Akhil film. I asked him to find his sensibilities. I asked him to see himself as audience and decide what works for him. I asked him to evaluate himself and to find his own sensibility.
I liked the way Naga Chaitanya is selecting scripts?
Yes. He has found his sensibilities. He need not be a 40-crore hero now. He is enjoying the process of filmmaking. Naga Chaitanya came to me and said that he wants to act in Premam remake. It was a film that many producers rejected because they thought it won't work in Telugu. I watched Premam later and I loved it. Sahasam Swasaga Saagipo is supposed to release in this month, but got delayed due to some issues that happened to Simbu in the last month.
Chiranjeevi is a mega star. I am in awe of him. But, it doesn't mean that I have to be like him. I learnt what I am good at and excelled in it. I never tried to be somebody else.
Tell us about Oopiri film?
Only 6 days of shoot is left. I haven't seen a single frame of the film yet. I told both Vamsi and PVP that we will watch once editing is done and go for reshoot if there is a betterment needed.
You have done 90+ films so far. When can we expect 100th film?
My 100th film will be just another film. I will put the same (passionate) efforts I had for Soggade Chinni Nayana.
What is your next commitment?
After the shoot of Oopiri, I want to take break for a couple of months and work on scripts for Naga Chaitanya and Akhil. K Raghavendra Rao said that he has an interesting script for me. Let's see how it goes!!