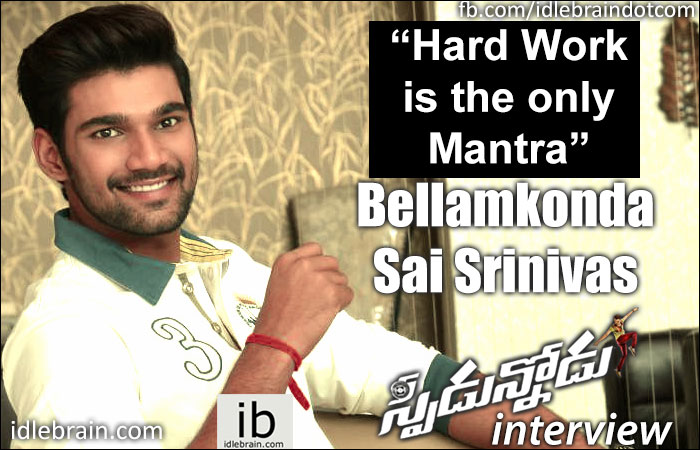 5 February 2016
Hyderabad
In an honest interview, Bellamkonda Sai Srinivas talks about how he prepared to become a hero and his future plans. Here is an exclusive interview -
When did you decide to become an actor and what were the preparations you had?
Acting was never in my mind till I completed my 10th class. It was VV Vinayak who felt that I have a potential in me to become an actor. He has offered to launch me as hero. My father was genuinely surprised and asked Vinayak if he really wanted to launch me. VV Vinayak was sure. That's when the bug of acting has bitten me.
I was interested in dances since my schooldays. I use to dance and choreograph in school as I was genuinely interested in dances. I was in English medium and my second language was Hindi. My father's only request was to learn to read Telugu. I started learning to read Telugu after I decided to get into films. I have taken classes in dances and fights.
Though dances and fights are essential, my concentration has always been on acting. That's why I have joined Lee Strasberg Theater and Film institute in West Hollywood. It was one year course. I stayed in LA for six more months. I stayed in Oakwood Apartments in LA and all the tenants in those apartments are from film and theater industry working in various capacities. It was like a dream world. I made sure that I didn't befriend any Indian. I moved around with passionate film students from other countries so that I understood cultures and philosophies. I used to watch around 3 films everyday in Netflix. Universal Studios used to be in walking distance from my apartment. I used to hangout in Universal Studios most of the time. I have also learnt more about dancing in LA Dance Academy.
I am a bright student and used to get excellent marks. Due to my passion for dancing, my knees got affected. I had to do a knee surgery even before I entered films. I am not afraid of injuries in future and I prefer giving my 100%.
Your second film was supposed to be directed by Boyapati Sreenu. What happened?
Boyapati Sreenu has worked on the script and both of us were not completely satisfied. He has committed a project with Allu Arjun much before Son of Sathyamurthy was signed. Hence we have decided to take a break and do a film each. I will be working in Boyapati Sreenu's next project after Sarainodu. This film will be produced by Abhishek Pictures.
Tell us about Speedunnodu?
Bheemaneni Srinivasa Rao met me five days after the release of Alludu Sreenu and narrated me the subject of Tamil film Sundarapandian. We took time and started working on it after Boyapati Sreenu project got differed. It took time as Bheemaneni has adapted the script by keeping Ravi Teja in mind. Hence, he has to modify it to suit me. Kannada version has young hero Yash and we also took the help of Kannada version as well.
Tell us about Speedunnodu?
It's a film of friendship and has a novel element. I got personally connected with it as I am also guy who goes to any extent for friends. I have a group of 10 friends from childhood and none of them have film background. These are the only guys I keep in touch with now. I have given by 100% for the film.
What was the feedback you have got after Alludu Sreenu?
I got the feedback that I am good at dances and fights. They felt that I need to improve in performance. Whenever somebody criticize me, I take it positively. I take it as a challenge and win over them by improving myself. I have this habit since my childhood. I take criticism positively and work hard to improve my work.
You are very sensible as a person and very unlikely compared to your father who is very massy?
I agree. My father came to this position from nothing. He has to fight his way up and it was full of hardships. I have seen ups and downs of my father as a kid. He has set a smooth platform for me. My first priority is always to make my dad feel proud of me. In order to do that, I put my heart and soul to work hard. Hard work is the only mantra to succeed. I am willing to work hard consistently forever!
What are your future projects?
My film with Boyapati Sreenu will start after he completes Sarainodu. This film will be produced by Abhishek who is a leading distributor.