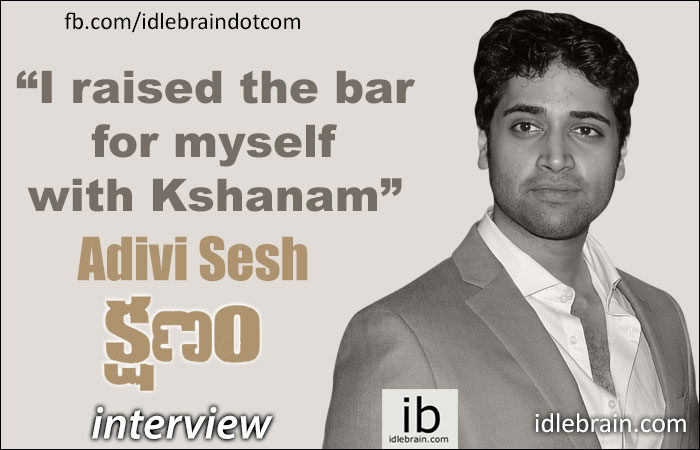 25 February 2016
Hyderabad
Sesh Adivi who made his debut with Karma is slowing consolidating his position as an actor and as main lead with each movie. Made with a compact budget of 1.1 crore, Sesh's latest film Kshanam has created right buzz prior to release. Here is an exclusive interview with this promising actor -
You have done eight films so far (excluding a guest role in Size Zero) and Kshanam is your ninth film. How do you analyse your journey so far?
I feel respected. I have put my efforts in right way and worked hard. I have realised the importance of right casting. Screen presence and body language should suit the character. Dustin Hoffman is a wrong choice for Predator and Arnold Schwarzenegger is a wrong choice for The Graduate.
What do public recognize you for when you go out?
If I go to coffee shops they recognise me by the work I had done for films like Run Raja Run and Dongata. If I go to streets, I am recognized by my work for Panja and Baahubali.
Tell us about Kshanam?
The basic story idea is mine. While driving through Whisper Valley in Hyderabad, I happened to see a few school going kids asking for a lift. What if they get in the wrong car? That idea scared me off. I gave them lift and took them to their school.
What if a girl goes missing? What happens to the universe around her? Adah Sharma plays the role of mom whose daughter goes missing. She falls in love with hero during college time and gets on with life by marrying some other guy. She calls him over phone when her kid goes missing. If you watch theatrical trailer, there is some intriguing stuff that rises curiosity about the film.
Ravikanth and me developed the script.
Is there any inspiration for Kshanam?
After watching theatrical trailer, lots of people started speculating that this film might be inspired by films like Flight Plan, Kahani, Ugly, Following etc. But I am proud to say that we stuck with the original form of storytelling and this film is not inspired by any other movie.
Tell us about the numbers. Heard that Kshanam is made of 1 crore rupees budget?
Yes. The cost of the film is around 1.1 crore rupees. I met PVP at gym and pitched the story of Kshanam. He got interested and his partner Niranjan Reddy (Matinee Entertainment) invested half of the budget. Our aim was to make the movie in a reasonable budget without compromise on quality and look. PVP has made sure that the film got terrific presence. PVP told me that it's pretty easy to make big budget films work. But if films like Kshanam work, it will be a proud moment for the any production house.
We have shot the film in 90 working days. The total runtime of the film came to around 1 hour and 50 minutes. We are going for a limited release because of the nature of content.
You shot a part of film in USA with that kind of budget?
I worked just as an actor with no creative interference. Ravikanth has done a fabulous job of directing the movie. I would like to tell how we made it happen regarding USA shoot. Ravikanth didn't have USA visa and he had to direct Kshanam in USA using skype/facetime. We shot it for 7 days in USA and that part has 15-minute footage in the final version.
Tell me about your experience of watching Kshanam as an audience?
Kshanam is a suspense drama with a strong romantic angle (deep love). It's an honest film in terms of thought process, emotions and purpose. I have raised the bar for myself with Kshanam.
Tell us about your next film?
My next film will be directed by my brother Sai Kiran Adivi. It's going to be a sweet comedy.