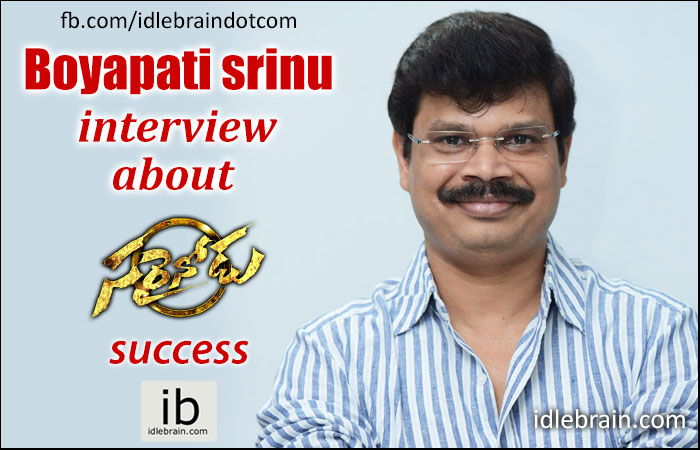 25 April 2016
Hyderabad
Director Boyapati Sreenu is a master in making mass action entertainers. At the same time, he incorporates elements for family audience too. After delivering super hit with Legend, Boyapati had waited for two years to do Sarainodu with Allu Arjun. Interestingly, he roped in young hero Aadhi Pinisetty to essay the antagonist. The film Sareainodu is unstoppable at box office, doing remarkable business in mass and class centers. Here are Boyapati's views about the film.
Allu Arjun's physique, mannerisms and diction – What's the care you took?
I usually take extra care on character designing - physical appearance and character behavior. Allu Arjun took sufficient time of three to four months to shape up his physique. He is a military dropout in the film, so his body language will be same throughout. He will be seen with same body language even in songs.
How are you enjoying Sarrainodu success?
I made this film based on every commercial calculation. There is heroism, family elements, comedy, strong emotions, family bonding, beautiful heroines, marvelous action. This is a complete package. Audience in all the areas are enjoying the film thoroughly.
What's reason for choosing Aadhi as villain?
When I announced Jagapathi Babu as baddie for Legend, few felt like he may not fit for the role, due to the soft hero image. After the release, they said I was correct. Likewise, for the negative role in Sarainodu, we considered Madhavan and Vivek Oberoi. However, owing to busy schedules, they couldn't allot call sheets. Then Aadhi came in my mind. When I put the proposal at Allu Aravind gaaru, he called and asked Aadhi to listen the script. I narrated the story for 20 minutes. And Aadhi immediately gave nod to work in the film. What's more, he thanked me for giving the opportunity.
Aadhi's in Sarainodu or Jagapathi Babu's in Legend – Which role is powerful?
Japathi Babu's is loud in Legend whereas Aadhi is silent but violent in Sarainodu. In fact, silent is more violent. According to me, Aadhi's role in Sarainodu is more powerful than, Jagapathi Babu's in Legend.
Why there's no hero, villain conflict in first half?
Allu Arjun is a young hero. In fact, films with young heroes will have certain limitations. So, there is no conflict between the hero and the villain in first half. Nonetheless, when it comes to big star heroes like Balakrishna, Chiranjeevi, Pawan Kalyan etc, there will be no waiting. If situations demand, hero will go and beat villains. For Allu Arjun, I need to follow the contemporary touch.
Why did you pick Thaman over DSP for Sarainodu? Was Legend success meet controversial incident the reason for you going for other composer?
See, we both are very good friends. He misunderstood me on that particular day. When we went to watch the film together, he tried to convince me. But, I stopped him and told him, let's not discuss the issue anymore because we know each other very well. My intention was not to lose relationship with anyone. The only reason was he was busy with other projects, so I had to look for other options. I tried Anirudh who was also busy then with other commitments. So, we opted to go for Thaman has given wonderful music. Moreover Bunny did five films in a row with DSP, he too wanted a change.
You enjoy making mass and commercial films. Post Legend there were reports like you will be making a soft and romantic entertainer for image makeover? Why that didn't happen and why did you do another mass film Sarainodu?
No, I don't agree. Sarainodu is not completely oora mass film like my previous films. This is more stylish and has many elements for family audience. I included the dialogue 'oora mass' in the trailer as to prepare audience but I made Sarainodu as a perfect entertainer. I cutback the action, mass elements and positioned them at right places with emotions driven into them. I have plans of experimenting but looking for right subject and right time.
Why did you choose Tamil actors like Deva Darshini, Jaya Prakash, Aadhi… Is that you are releasing the film in Tamil?
No, I did zero them (Aadhi, Jaya Prakash, Deva Darshini and Vidyulekha Raman) just for offering freshness. There is no business aspect in it.
Why did you rope Anjali for item song, when she is busy as heroine?
I approached Anjali for Radhika Apte's role in Legend but she couldn't do due to prior commitments. For the item song 'Blockbuster' in Sarainodu, we thought of bringing in Anushka. But, Anushka gained weight for Size Zero. So, we picked Anjali. In fact, I told her importance of the song and she accepted immediately.
Why aren't you doing Balakrishna's 100th film?
I take ample of time to prepare scripts. I cannot be on a run to do with half baked scripts. Meanwhile, he got a good subject. I will definitely do a film with him sometime soon.
Do you have any story for Balakrishna's 100th film?
I have but I needed some time to prepare it into a full length script. I take minimum 4 months time to prepare myself for next.
Are you helping Balayya Babu in his 100th film scripting?
I don't involve in anyone's scripts. In fact, I don't even listen to them. When, Balayya Babu asked me to oversee his other films scripts, I straightaway told him, I am not interested. In fact, who am I to judge others subjects. Every writer and director has their own style. I cannot disturb it.
What's the subject for your next film with Bellamkonda Sreenivas?
I am trying a different subject. He is in a weak phase with two flops. So, I need to prepare a winning script to provide him a hit. Though I got many offers with star heroes, my blood has a character. I promised to do a film with Bellamkonda Sreenivas and I have to fulfill it. Now that I got hits on my back, I cannot break my word.
What's the budget for Bellamkonda film? Will you compromise on budget with hero's market value?
No way. I will never ever compromise on budget. Irrespective of hero, my films will have budget according to the span in my stories. Abhishek Pictures promised me a very good budget for this venture.
Do you have plans of making multi starrers?
I definitely have. I am already committed to do few films. After Sreenu's, I have a film with Balakrishna gaaru and then Chiranjeevi gaaru is also interested to work with me. So, I need some more time to think about multi starrers.
Are you interested in remakes?
I won't do remakes. I don't feel kick in them. I like designing my own scripts, stories, scenes.
Will you continue doing films with Mega heroes?
Story is foremost important factor for me. If I feel my story is apt for any of the mega family heroes, I will definitely approach them.
Do you have any idea of floating production house because many other directors are doing business?
I am not at all interested to produce films. I am happy and comfortable directing films, not any other things.