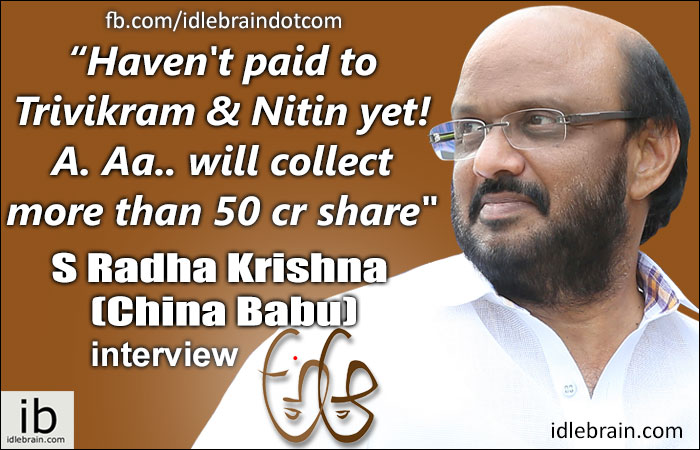 03 June 2016
Hyderabad
S Radha Krishna had a bitter experience when he tried his hand at film production around 25 years ago. He understood the process and realised how to minimise losses to enter again with Julayi film. He is such a comfortable and trustworthy producer that Trivikram has made Haarika & Hassine banner his home banner. Here is an exclusive interview with S Radha Krishna about success of A. Aa.. film -

Background:
I am born and brought up in Tenali. I worked in marketing of Insurance for 25 years. When i was a passionate youngster, I produced a film titled Atmakatha under the direction of the legendary director V Madhusudhana Rao in 1988. It was a remake of Mahesh Bhatt's Bollywood film Janam. Mohan, Sarath Babu, Kushboo and Jayasudha have acted in that film. We didn't have any experience and it didn't work at box office. I was fascinated the way producers like Aswini Dutt used to get respect. After Atma Katha production, I have realised that movies are not my cup of tea.

After 25 years and after doing some research, I decided to enter into production without losing much money. I have partnered with Danayya and produced films like Julayi, Cameraman Gangatho Rambabu and Nayak. Through Danayya, I understood how projects are materialised. S/O Sathyamurthy is my first project as solo producer and A.. Aa.. is the second one.

When I entered into production in 1988, there used to be respect and value for producers. Now, the value and respect for the producer is zero.

Tell us about secret of luring Trivikram to work continuously for you. Is it money?
There is a huge misconception that we paid more than Trivikram's market rate to get his dates. That's completely false. We haven't paid the remunerations of Trivikram and Nithin yet. Trivikram is doing continuously to us because he is comfortable working with us. He had a few bad experiences in a couple of banners in the past. He trusts us and we trust him. I have done 3 films with Trivikram so far. Trivikram's next film will also be produced by me. Our wavelengths matched. There no issues during the releases. For both of our projects, s/o Sathyamurthy and A.. Aaa.., we took clearance letter 48 hours before release, which is very comforting factor for any producer.

Tell us about financials and production of A.. Aaa..?
During his resurrection phase, Nithin has concentrated on scripts, but budgets were always limited. We have produced and promoted A.. Aaa.. at par with a big star film. The promotion for A.. Aaa.. is no way lesser than any of huge star summer releases this year. We have almost invested double of Nithin's market for A.. Aaa… The budget of A Aa is around 40 crores. With the thumping openings, we are hopeful of the film collecting more than 50 crores.

We have hired Bollywood cinematographer Nataraja Subramanian (Jab We Met fame) and imported equipment from Mumbai. Whatever we spent was mostly for production of the film. We had a fantastic logistics team that was able to send 100 welders and 70 painters in a short notice and acquired loads of pumpkins (Pumpkins cost 3 and half lakhs for Polachi episodes). Due to such a beautiful coordination, we did complete Pollachi schedule a day ahead.

Our teaser has helped in registering title of the film strongly in the minds of views. We had deliberately stayed away from screening theatrical trailer in theaters fearing high expectations on the film.

Tell us about box office response of A Aa?
It's critical to get good morning show response on day 2 which happens to be a working day (Friday). It almost full in all single screens in Hyderabad. A theater like Aradhana which is cut off due to flyover gives us a fair idea about craze of the film. It has collected over 31k for 2nd day's morning show (35k is the revenue for houseful capacity). If you take Ameerpet - KPHB strip - Sathyam, Gokul, Sreeramulu, Lakshmikala, Arjun, Bramarambha, Cinepolis and PVR Forum - all these theaters are full for 2nd day's morning show.

Though it was not a holiday in AP yesterday, a place like Ganapavaram has generated a revenue Rs. 90,000 and second show revenue was more than first show's.

Exhibitors are hugely optimistic about A.. Aa… revenues. In places like Narasarao Pet and Ongole, the exhibitors opted only for single theater though they had opportunity to recover investment quickly by releasing in multiple theaters. They are looking for 50 days with all shows full in a single theater. Srinivasa Mahal theater in Tirupati is least prefered due to various factors. It is the 2nd theaters for A Aa.. and went for all fulls. Each full show generates rs. 59000.

The town share for Guntur on the first day was Rs. 10 lacs. The multiplex share in Vijayawada on day 1 is 13 lacs which is phenomenal. In Nizam, A.. Aaa.. has collected a share of 2.3 crores on day 1. First day share in Nizam for any star hero is around 3 crores if you don't include advances and fixed hires.

We wanted to sell A Aa around 3 crores for Karnataka. But, the buyers offered much less as Nithin had around 45 lakhs market. We have released on our own and it's doing phenomenal business. Same is the case with Chennai release. We took the support of Stalin's office. The screen count in Chennai has been increased after 1st show.

Tell us about your next film?
I will continue making films with Trivikram. My next production is going to be directed by Trivikram again. Other details are awaited.