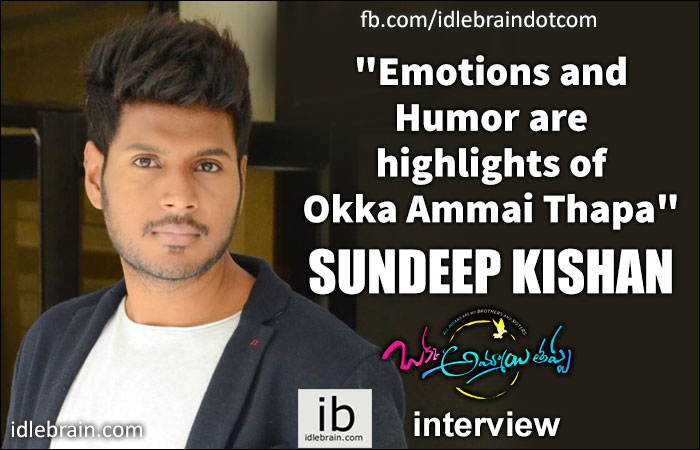 09 June 2016
Hyderabad
Sundeep Kishan has loads of passion to succeed. In his pursuit of success in the career he has chosen, he is trying for the best scripts. Okka Ammai Thappa is one such film with a nice script and a promising director. Here is an exclusive interview -
Tell us about last film Run?
It's unfortunate that the film didn't work. I agree that it wasn't a great film. But, it was a fabulous experience working with a producer like Anil Sunkara. I owe a lot to him. I have no regrets for Run.
Tell me about Okka Ammai Thappa. This script has gone to lot of heroes and producers?
Rajasimha narrated this script in December of 2012 in Narsipatnam. I fell in love with it. It took us four years to bring it to life as it's complicated from production point of view. It's very difficult to convince a producer to produce this movie. In between, Rajasimha tried it with other heroes and I worked for other films. Both of us kept coming back to each other as we are absolutely in love with the script. This is my most proudest film.
What's the story of Okka Ammai Thappa?
There is a major traffic jam on hitech city flyover and there is a bomb on the flyover. Krishna Vachan and Mango are on the flyover and they aren't aware of the bomb on flyover. The story is about how Krishna Vachan and Mango meet on flyover and how they abort the bomb explosion.
One wouldn't expect entertainment in such a subject. But, Rajasimha has mixed entertainment in such a script. He has dealt the emotions fantastically well.
Rajasimha has good track record as a writer. How is he as a director?
It was a fantastic experience working with him. He has fabulous sense of writing. He is the best commercial director I had worked with so far. He knows the pulse of audiences very well. He rewrote the script many times to make sure that there is no wastage during shoot time.
Nitya Menen is a fantastic actress. It's a challenge for any actor to match it with her. What about you?
She is a great actress to work with. We are so much involved in the script that we call each other by our character names. We were there each other for suggestion shots, so that we can get the best out of each other. If somebody likes my performance in Okka Ammai Thappa, I give 30% credit to Nitya Menen and 70% to the director. She gave me enough space and let me dominate towards the climax. She doesn't have much to do towards climax, yet she decided to work for this film as she loved the script and wanted to be a part of it. She is mad and passionate about films.
Despite being such a big name, why cinematographer Chota K Naidu prefers small films?
My uncle Chota K Naidu has worked for 4 of my films so far - Venkatadri Express, Beeruva, Tiger and Okka Ammai Thappa. All these films are my good films. All these films are directed by first timers. My uncle supports them in bringing out their vision on the screen with visuals. His ability to improvise helps us in controlling budget. There is a night shot in Okka Ammai Thappa. It's a close up shot on me with loads of cars in the background. The car suppliers suddenly increased hire. Uncle said that he doesn't need cars. He used some lights in backdrop to make them look like car headlights. It saved the day for us.
Regarding working for small films, I think he had made enough money and fame. Now he wants to work for satisfying his creative urge. Hence, he is choosing script based films. In the process, he is helping me in delivering good hits. Most of the directors he is working with are first time directors.
Music by Mickey
This is my second film with Mickey J Meyer. I love the tunes of the film. The highlight of the film is going to be rerecording by Mickey. He understood the vision of director well to complement the film with perfect rerecording.
Most straining film
Physically, Okka Ammai Thappa is the most straining film. I have put too much love into it. All of us working for OAT for the love of art. Nobody tried to exploit money. Everybody has cut down their remuneration because all of us felt it's a script that's deserved to be made.
Trying to be socially responsible
I always try to do characters that are socially responsible. I try doing characters with no smoking/drinking habits. I make a conscious effort not to abuse on screen. And I am trying to do righteous characters.
Why do you think Okka Ammai Thappa will work?
Because of fantastic emotions and humor. I feel that high concept films have better chances of becoming big hits compared to commercial films if made well. I am also aware of the disadvantage of concept films is that if not made well, it sinks without trace at box office. The humor of Okka Ammai Thappa will make sure that it reaches larger section of audiences.

Tell me about your future films?
I am doing a couple of Tamil films. One is gearing up for release. My next Telugu film is Nakshatra which is going to be directed by Krishna Vamsi. It's like a dream come true. This film will have enviable starcast to work with. The shooting of the film will start in a week.