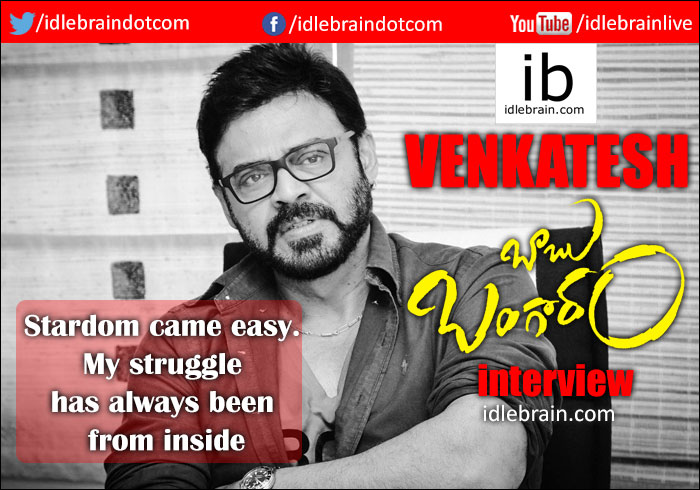 10 August 2016
Hyderabad
Venkatesh's Babu Bangaram in the direction of Maruthi is releasing on 12 August. In this casual interview, Venkatesh talks about his films, his orientation towards women centric subjects -
You had done different commercial films like Drushyam and Gopala Gopala as your last two outings. You are doing a mainstream commercial film Babu Bangaram now?
It happened naturally. I am looking at different kinds of subjects. Maruthi prepared the subject of Radha and it didn't take off. He was continuously looking for a subject for me. He saw something natural and stylish in me when I am outside. He wanted that me to be portrayed as Krishna Prasad in terms of looks and body language in the film. If the right subject demands for me to have commercial orientation, I don't mind doing films like Babu Bangaram.
Tell me about your character in Babu Bangaram?
I play the role of a guy who has lot of empathy in his genes. He is soft-natured and always empathise with people in difficulties. He joins police force. One has to be tough when one is a cop. The conflict is between the personal character (empathy (jaali)) and professional character (toughness). After some time, he finds a balance and try to be tough without losing his basic essence of empathy.
Maruthi is known for middle class orientation and entertainment?
Yes. He made sure that the film caters to everybody. There is entertainment, emotion and family elements. And he has shown me in a stylish way.
Tell us about Nayantara?
Heroine is from a big family with three sisters. She supports them. Hero who has a thing for people going through hardships starts reacting to her. Nayantara has been choosing quality scripts for the past two years. I am happy that she did the role of heroine in this film. She told us in advance while signing the project that she wouldn't be coming for promotions. She has become slim and looking very fresh in this movie.
Why is there such a big gap between Gopala Gopala and Babu Bangaram?
I am never a time-bound guy. I look at life beyond cinema. Over the years, I have discovered a liking to spiritual teachings of all the great masters. I spend a lot of time being alone and in meditating. I am sincere about my profession as an actor. But, I feel I am much more of a human being. It's been a cake walk for me outside right from entering into industry to being a successful star. My struggle has always been from inside.
Top 4 actors of 2000's are reinventing themselves now. How do you feel about it?
I am happy that it's happening. Though we had experience in film industry for over 30 years, none of us did justice to full potential as we tried to take commercial path as we grew big as stars. I feel that it's the directors who has to come with different scripts and challenge us. We did try different scripts once in a while, but we didn't take enough risks. The upcoming educated directors are coming up with the right mix.
I am amazed by the way Clint Eastwood and Woody Allen reinvented himself in their 80's and delivering good films as directors and as actors.
I am happy that multilingual films are being made now. I have many friends in different film industries like Bollywood. Salman feels that I should act in a film along with him. I want to reinvent my look and want to expand horizons.
Rana has made it big with Baahubali
I am glad that he has found a space in a film like Baahubali. He is doing another period film in Tamil. It's an interesting script. His film Ghazi (submarine backdrop) has come out really well. Lets hope that these film will give him the right niche. Apart from being a passionate movie lover, Rana is friendly with everyone. His networking skills are amazing. Whenever I go other states, people keep talking and asking about Rana.
Next project?
My next film will be a Telugu remake of 'Saala Khadoos' (Irudhi Suttru in Tamil). It will be directed by Sudha Kongara who directed the original. It will also have Ritika Singh who played the boxer role in the original. Ritika is an extraordinary actress. We are not tampering with the original script, but are taking out the womanising angle which I think is unnecessary and tacky.
Tell us about Aadallu Meeku Joharlu?
I asked Kishore Tirumala why he is still betting on me with these kinds of subjets. He reminds me of the expressions and entertainment value in Nuvvu Naaku Nachav and Mallishwari. He said that he will recreate such stuff with a woman centric subject.
I think you are the only star of your generation to give such importance to women oriented subjects?
That's because I became actor by accident, not by design. If I had aspired and trained to become an actor, my approach would have been a routine one. I listen to the story and go ahead with it if I like a story. When I did Pelli Chesukundam and Pavitra Bandham, people are dead against me doing those films. When I was in college, I saw many girls who are affected and we took care of it. Hero getting married to a raped woman is supposed to be a taboo. The first poster we released for Pavitra Bandham has me touching the feet of heroine. Fans got freaked out and protested at it. But I insisted on having that poster. When we titled VV Vinayak film as Lakshmi, I heard similar comments.
USA has become a major territory for Telugu films?
I lived in USA. I travel there every year. I can see number of people increasing every year. When I studied there in 80's, the number was very limited. Now it has become a mass market. In some pockets of USA, the passion for Telugu cinema is frenzy. It's more than here in India. It's good for Telugu cinema business. But, I keep telling them to see the world. I told a few people that they should go out with others and make full use of the land of opportunity. I ask some of them not to stick to groups and not to have caste feeling. I didn't know about my caste till my first film was released as I grew up in Chennai and my father never told me about it. After seeing the fan mail from some of the fans after my first film was released, I came to know how caste is playing a big role in our society. Caste has both good and bad things going for it. We have to respect it!