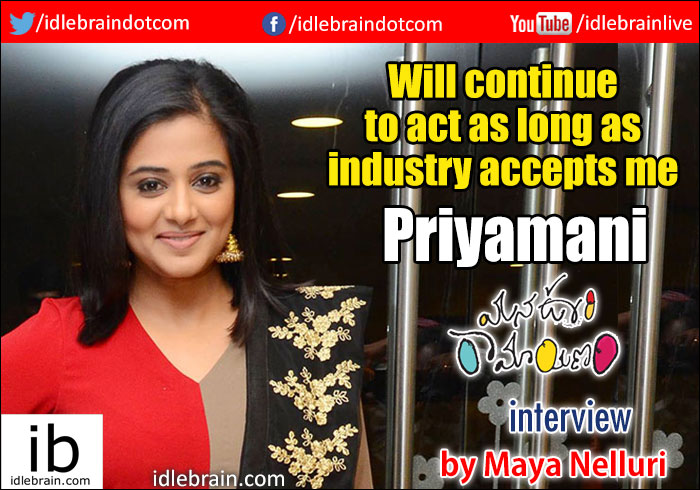 3 October 2016
Hyderabad
The talented Priyamani has come out on the other side of a thirteen year acting career more confident than ever. And she certainly looks it in the latest promos of her many upcoming films. We are going to concentrate on the Tollywood side – Mana Oori Ramayanam where she stars alongside actor Prakash Raj. There is also the topic of her impending nuptials and her career post marriage – she discusses both in depth as we tried to fathom the brilliance with which she stood her ground against her trolls.
Looking back
Looking back at her career Priyamani said, "I am most proud of the fact that I joined the film industry. My grandmother was the one to give me permission to do so after seeing my ads on television. My parents were initially hesitant but once my grandmother supported the move, my parents quickly jumped on board. They have both been extremely supportive during my career and have been with me always."
Being multi-lingual
Once she entered the industry she made sure to make her mark in not just one or two but five languages – Telugu, Tamil, Malayalam, Kannada and Hindi. So how does she manage to juggle the many industries and which does she prefer? "Language has never been a problem for me. The only difference is the director or hero. There are cultural differences between the industries in terms of how they deal with the topics but I am comfortable working with all of them." She has also been part of many critically acclaimed films, was that a conscious decision? "If we look back, my commercial films did well but somewhere down the line it is important to prove yourself as an actor and that's where the other films come into play. As an actor you need to tap into aspects that haven't been tried before. At the moment I'm open to working on both kinds of cinema."
Co-stars & Directors
Over the past 13 years Priyamani has worked with a multitude of top actors and directors so we wondered who was her favourite? "I'm quite happy with all the people I've worked with and all of my co-stars are pretty good friends of mine. Even now when we meet up we laugh about the experiences. As for directors, it never really mattered to me if they were established or relatively new. For me it is about the script and my role. Of course if it is an established director we can rest assured that they are more than capable and you will be shown well. When it comes to working with new comers it is mainly about the gut feeling."
Mana Oori Ramayanam
As for her upcoming film and experience of working with the one-man-army of Mana Oori Ramayanam – Prakash Raj, she said "Prakash Raj sir's style of making is totally different. As a director he has taken a keen interest on all the characters of the film to make them relatable. Everyone can identify with these characters. He is fantastic to work with. I'm glad that he chose to work with me and I got to tick that off my bucket list." Speaking about the film itself she said, "I wouldn't say that it is a typical film with five songs and 10 fights; but it is a feel good film. The audience of today is also ready to welcome these types of new cinema and stories rather than the regular formula films. So it is definitely a good time to release the film and sir is seeing to it that it happens at the right time."
Wedding bells
The self-confessed open-book – Priyamani, announced her engagement to the world not too long ago. Ever since, rumour mills have been working full time to try and figure out the wedding date and also about her career prospects post it. Not one to mince her words, the actress made it quite clear that she will continue to act, as long as the industry accepts her. "My fiancé and I met four years ago when I was the brand ambassador for a cricket tournament called CCL (Celebrity Cricket League). He was one of the original masterminds and still takes care of their logistics. We kept in touch ever since and our friendship blossomed from there. At the moment we haven't set a date for the wedding but it's almost fixed for May or June of 2017. I'm not really into the big hullaballoo so you can be sure that there will be no big fat wedding." Might we add that it is quite refreshing to hear!
What about kids, are they in the near future? "Maybe and may not be. We haven't even spoken about it." But here's something you would all be interested to know. Priyamani has been very vocal about her support of PETA. She is herself an animal lover and thinks of pets as a responsibility equivalent to having children. She even has a dog named Mocha due to its brown colour, and a cat that has recently adopted her family – yes you read that right!
So will we get to see her onscreen post her marriage? "I would love to act as long as the industry will accept it. Once an actress gets married, it is a known fact that they don't get the same type of roles; but you never know, times are changing."
Rising above the trolls
With the announcement of her engagement came plenty of congratulations but there were also those who took it upon themselves to taint the event. The ever confident actress reacted to it with her trademark confidence, "In the digital age whatever you post reaches out to a lot of people. Obviously when it comes to followers they like you which is why they follow you. If you are true to yourself and you know what you stand for there is no need to worry about anything else. There are always people who want to see you go down so there are memes and trolls out there but they cannot affect you unless you let them." That's one piece of advice we can all agree will serve us well.
- Maya Nelluri