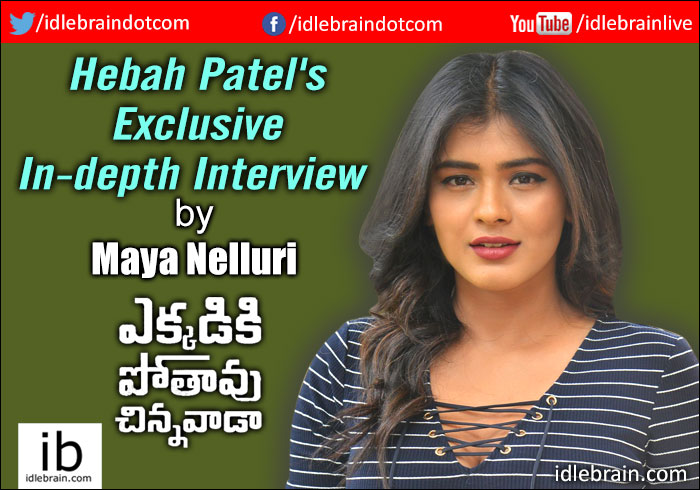 15 November 2016
Hyderabad
Amidst all the loving and hating of the rupee demonetisation process, it's business as usual this Friday for the team of Ekkadiki Pothavu Chinnavada (EPC). It releases in theatres with almost no new competition. The competition might however be found between the two beauties that are paired opposite Nikhil Siddhartha in the film. One of them is the gorgeous girl Hebah Patel of Kumari 21F fame. She gives us some much needed insights into her life and her character in EPC.
What is your role in EPC?
In the first half I play a simple village girl but in the second it is a total contrast. I play a dancer who's forgotten her previous life. It's nothing like anything I've done before and I've genuinely put in a lot of effort to get both the aspects of the role perfectly right.
How was it sharing the screen space with another actress?
I've done a film earlier where there was another actress and I'm doing another film right now with a similar situation. It doesn't really affect me because I am secure within myself. I feel that as long as you know yourself and are secure with it, these issues don't really matter.
You debuted in Telugu, Tamil and Kannada in the same year – 2014; how did that happen?
It was entirely by accident. When I was cast in the Tamil film Thirumanam Enum Nikkah they wanted me to start acting in 20 days so there really was no time to prepare. I pretty much learnt on the job. Both my Tamil and Telugu debut film shootings were done almost simultaneously but both got delayed so there was a period where I did not know what my next step would be. That's when I got the Kannada offer for Adyaksha so I took it. It was a total coincidence that they all released within months of each other.
How did you react to the responses of audiences to your various debuts?
The Tamil film did not do well so I was entirely heartbroken. It was my first project so I did not take its failure too well. On the other hand the Kannada film did exceptionally well. By the time I had my Telugu release Ala Ela I already went through the up-and-down so I stopped expecting anything. Still, I was confident about the script and it did well in the end.
Which city do you call home?
I was born and brought up in Bombay. Back then I wanted to be in front of the camera so I started with an ad. From that I got the offer for the Tamil film, and then the rest happened.
Which languages do you like working in?
I planned to take up South Indian projects over going for Bollywood because I felt the struggle is more manageable here. I don't have any bias for a particular language but I do feel more connected to Tollywood because I understand Telugu more and the audiences here have accepted me the most.
What are your upcoming projects? Will you be concentrating on any particular genre?
I have a few coming up. Nenu Na Boyfriend will be releasing earliest in December. As for genres I want to have a balance between commercial and unique cinema.
You've worked with Raj Tarun in two previous films and you are cast together again; why did you decide to take up this project?
The first time was dependent on the casting choices and we did not have much to do with the selections. The second time everyone thought we made a good pair and the main reason I've taken up the upcoming project is because of the script. I have a lot of faith in it. Apart from that I am most comfortable on camera with Raj Tarun so that also helps.
Who would you say are your best friends in the film industry?
There are two people, Vennela Kishore the actor and Richard Prasad who is a cinematographer.
What hidden talents do you have?
If I wasn't an actress I would've definitely been a stand-up comedian. I'd love to do it now but people might think I'm not getting any movies so I've changed careers; so I might wait until my acting career stalls and then do it (she laughs).
How do you deal with being in the public eye?
As for social media I'm not a fan of it. I'm there because I have to be and not because I want to be. I'm technically challenged. I am still using FB but I haven't used my Twitter account in months. As for being approached when I'm in public, I have to be a bit more careful when I go out for lunch or shopping. But if people did not approach me at all then I'd be more concerned (she says laughing).
Quick Quiz
Favourite movie: Home alone and Jab we met
Favourite show: Sex in the city and Orange is the new black
Favourite writer: Sidney Sheldon
Favourite musician: DSP
Favourite book: I can read and re-read anything written by Sidney Sheldon
- Maya Nelluri