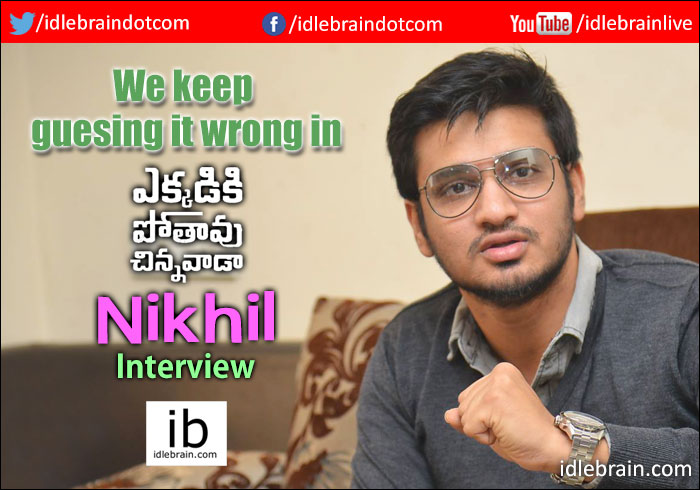 17 November 2016
Hyderabad
Nikhil who has done different yet box office hits like Swamy Ra Ra and Karthikeya is all set to entertain with another different film Ekkadiki Pothavu Chinnavada. This film is releasing on 18 November. Here are excerpts -
What went wrong with your previous film Shankarabharanam?
There were many reasons why I accepted that film. The reason why Shankarabharanam flopped at box office is because it disappointed the audiences. I have created a perception about my films that I do films with different content. Audiences rejected it because it had routine content that banks on run-of-the-mill entertainment. It was a bad choice. I don't regret doing that film because I have learnt a valuable lesson from it. I should give what audiences want - that is to do content based films with something variety in it. For superstars like Mahesh Babu and Pawan Kalyan, content might not matter to become a hit, but for me good/innovative content is needed to get success.
Tell me how Ekkadiki Pothavu Chinnavada project got materialized?
I met VI Anand around an year back. Anand's film Tiger was already released and got decent reviews. While narrating the story of Ekkadiki Pothavu Chinnavada (EPC), I was impressed the way he revealed the story by keeping us guessing till the climax. You keep guessing and your guesses go wrong. He is an intelligent guy and each logic in the film is explained properly. There is humor in the film and it's part of the narration and story. I thought that it's a kind of story that has high probability of success at script level itself.
Is it a horror film or a fantasy film?
There is a bad impression on horror comedies among the audiences as we have at least one such film releasing every week. Most of them are about a spirit in an old palatial mansion. We didn't want audiences to get such an impression about it as EPC has different story and different backdrop. That's why we promoted the movie as a thriller with a fantasy element.
For example, Vennela Kishore in this film is possessed by spirit. We were advised to take him to Kerala. While we travel to Kerala, we had to go through an adventure which will be fun to watch on screen. Though there are spirits in the film, it's not a horror comedy. There will be love, humor and emotions as well. It's a story driven film.
What's the significance of 21 grams dialogue and the bottle in the film?
It's a proven scientific fact that a person loses 21 grams when he/she dies. That aspect is used in this film. The bottle is very old/traditional way of holding spirits if you look at the old films and read old books. EPC movie starts with the bottle and ends with the bottle.
Tell us about heroines in the film?
Hebah Patel does a glamorous/wild role and Nanditha Swetha plays a homely girl. Both of them are in love with my character and both of them are fighting over for him. The title - Ekkadiki Pothavu Chinnavada - is also justified as they keep chasing my character. There is a highly glamorous scene by Hebah Patel towards interval and she just ripped it. Both are amazing heroines to work with.
Tell us about technical departments?
DoP Sai Sriram has taken the film to next level with his cinematography. He has selected kickass locations. Sekhar Chandra has given memorable melodies like Saripovu and Inthalo for my film Karthikeya. He gives an amazing background score. He has worked for over a month to do background music and re-recording.
What is your next film?
Shooting of my next release Keshava is underway. It's a crazy action film that is being directed by Sudheer Varma (Swamy Ra Ra fame). I will sport a different look with a slight beard. We plan to release it for February/March next year.
What is your gut feel about Ekkadiki Pothavu Chinnavada?
EPC is a well made film with good technicians and decent actors. There is a mood in the film right from the beginning. It is narrated interestingly. It should do well.