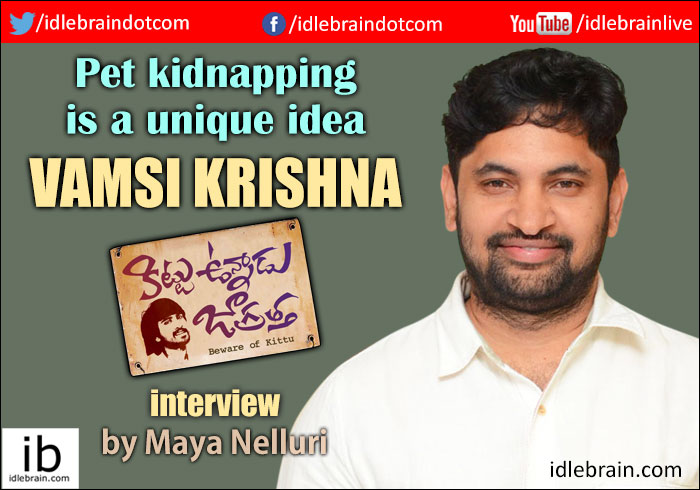 1 March 2017
Hyderabad
Vamsi Krishna is the perfect example of an all rounder in Tollywood. Although he's gained popularity as a director, he has years of experience in film editing as well as production, making him a force to reckon with. His latest film Kittu Unnadu Jagratha is all set to hit the theatres with an entirely unique concept. Read on to find out about Vamsi Krishna's journey into films and a lot more.
What was your childhood ambition?
My ambition was to become a cricketer and play for our country. I was always a sportsman.
So how did you end up getting into the film industry?
My father is from this field so you could say that it was in my blood. He was a producer and distributer who was associated with over 30 films. At that time films weren't my cup of tea but a series of events lead me here. I was meant to travel to Madhurai to pursue computer science but my father insisted that I stay with him. He believed that those formative years are very important in children's lives and wanted me at home. So I ended up joining Visual Communication in SRM College, Chennai.
To be frank, I don't like to waste time and for me what we were taught seemed too easy with no pressure. I didn't like it. So I sat down with my father and explained the situation. It was during that time that I realised that my destiny was in films and told him that I would like to either direct or become a cinematographer. My dad however decided that I should work in editing and got me a placement with Sreekar Prasad sir who is an eight time National Award winner. He was the top editor at the time. That's how I entered the film industry.
And what happened next?
When I got that placement I thought that I will just go for two days and tell my father that I wasn't interested in editing. But once I went to the office I was awestruck by all the awards displayed and the movies that were being worked on. It was the early stages of digital editing and the whole thing blew my mind. I saw Farhan Akhtar editing there and Sakhi being edited. That's when I realised that what comes to screens is ultimately decided on the editing table. For a year and half I would go to college in the morning and work from 4pm onwards. After that Sreekar sir asked me to help out in his Hyderabad branch because there was only one other person there. At that time four projects were going on, Okkadu with director Gunasekhar, Khadgam with Krishna Vamsi, and Nuvve Nuvve and Manmadhudu with Trivikram. I would assist and observe everything. These directors were at the top of their game and working with them helped me learn so much. Now when I think back I find that this time was so crucial for me. People now tell me that I have a lot of clarity as a director and that is mainly because of what I learnt from observing such directors. I have to thank my father and sir for that opportunity.
When did you move into direction?
One of my biggest advantages was that I knew Telugu and Tamil. On one occasion while I was helping with location scouting in Hyderabad, I came across Gautham Menon sir who wanted an assistant. I grabbed the offer with both hands. I worked with him from Gharshana to Ye Maaya Chesave. After this I wanted to venture out on my own as a director but from what I read about how Hollywood works, I learnt that many directors work in production houses in order to learn that aspect of film making. This is almost non-existent in Tollywood. I decided that it is very important to know how to budget so I wanted to learn that aspect as well. At that point Vishnu offered me a job and I took it. I worked with him for two years and then with Lakshmi for another three.
That's when Dongata happened?
Yes
Were there any life lessons you learnt from working on Dongata?
I am a college dropout so I aim to learn from real life every day. In this particular film, I was given a small budget. It was challenging to make my first project on a small budget but I did it comfortably. It was also a risky subject so a lot depended on the screenplay. Even with the risk I felt that it if I have a grip on the subject, it will work. I feel that people will accept any idea if it is presented properly.
What do you think makes a great film?
Emotion. Human beings are emotional regardless of which emotion they prefer – be it comedy, action, drama or others.
Who or what inspires you?
I watch a lot of videos of successful people because I like to learn from their experiences. I love to hear about people because I learn from listening. As for a particular person, I am inspired by Abdul Kalam because he had the ability to morph anything negative into a positive and going forward.
Now you have Kittu Unnadu Jagratha releasing, tell us about why you chose that story.
It is a crime comedy. The concept is very unique because it is about pet kidnapping and it has never been done before here. Don't you think just listening to the idea makes you smile; it has a comic aspect to it. I loved the innovativeness of the idea and decided to do it.
How do you choose your cast and crew?
The casting depends entirely on the script. Once I finish a script, I decide on who would fit the characters best. I try to get as much of a new flavour as possible while also casting seasoned actors. It helps with the balance on screen.
As for the technical side, I take cinematography, the art department, music and editing very seriously. I choose the technicians depending on the script and also my relationship with them. I believe that there has to be positive chemistry between the crew in order for the film to work. If the crew's chemistry doesn't work, you can see it on screen.
What are your upcoming projects?
I have two to three scripts but I will confirm my next project after the release. I can tell you now though that it will be in a different genre and it will take me to another level entirely.
- Maya Nelluri