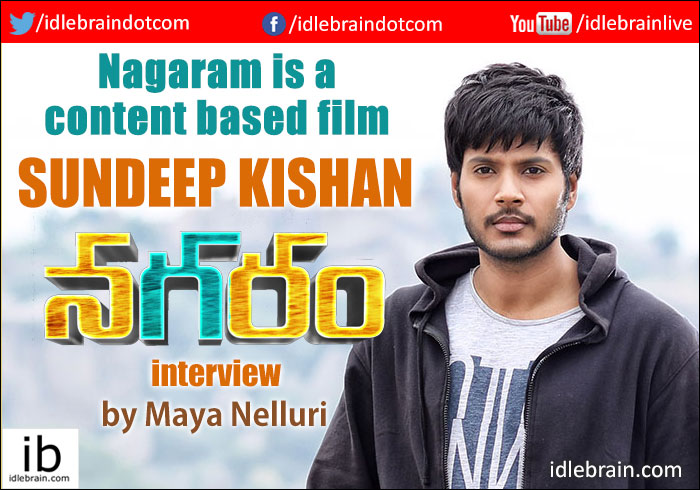 9 March 2017
Hyderabad
Sundeep Kishan is gearing up for a big year with multiple big name releases in both Telugu and Tamil. The handsome boy-next-door has come a long way since his behind the camera days and is now one of the most wanted young actors. Even as he juggles between outdoor shoots, he manages to find time to talk to us about the sudden release of Nagaram and how he dealt with his box office fails. Now that Nagaram has been previewed and reviewed as a sure hit by industry insiders, we might have a great weekend watch on our hands after all!
1. Nagaram has premiered in Tamil with good reviews, what are your expectations for it in Telugu?
It's a great feeling when a film you really believed in is being appreciated by everyone who has seen it, that too at this level. We've had premieres for the Telugu version as well and we have gotten just as much appreciation from the media and critics so far. It is amazing as it's as dubbed film.
2. It is releasing rather suddenly without much promotion, why is that?
It was a planned move by my Produced S R Prabhu to release the film low key. He wanted the film to be a surprise and to run purely based on the merit of its content. It's not a Sundeep or Regina film; it's a script in which we play characters who drive the story. And the film has only montage songs. We are also going for a limited release in Telugu. It is a dubbed film so we didn't want to go all out and mislead the audience. Now we are glad that the film is being spoken about entirely based on the positive response from the preview shows so we have increased the publicity.
3. Tell us about why you decided to do this movie.
It's a beautiful and engaging script, the narration had me hooked throughout and I loved my role. It's about how every human being has a great side to him and highlights how it's important to bring out that side when it's needed.
4. You are paired with Regina again in this film - why do you think you are paired with her so often?
*Laughs* I have no idea! We are bored of it ourselves! The director wanted her as she looks like the perfect girl-next-door and very real. And she loved the script so she came on board.
5. You work in Tamil and Telugu consistently, which language do you feel most comfortable doing?
I'm equally comfortable in both languages but I love Hyderabad as a city and prefer shooting here irrespective of which language the film being shot in is! *Laughs*
6. Right now you are shooting for Nakshatram in Thailand, is that correct?
Yes, we wrap up our song today. Then there are seven more days of work on the film in Hyderabad. Then it's a wrap.
7. Do you get time to do anything other than shoot when you are outdoors like right now?
Yes, I've been exploring the place and the food. I ended up watching Logan here and loved the Multiplex.
8. You've done both solo hero films and multi-starers - how does each experience differ?
Honestly I've never looked at it that way. Every story needs strong supporting roles to carry a film. Take Sai Kumar garu and my own role in Prasthanam for example; or Rahul in Tiger, or Sai Dharam Tej's extended cameo in Nakshatram, I can't possibly want to do everything myself. Also except for the number of working days, I don't see the difference.
9. Your upcoming film Mayavan is with C V Kumar who is known for producing path breaking cinema. How is it working with him as the director?
It's a pleasure and a honour. He is an inspirational figure to many in the Tamil industry and has introduced some of the most talented people in Tamil cinema. I'm glad he chose me for his directorial debut and believed that I would do justice to it.
10. Will it be released in Telugu as well?
Yes, it's titled Mayavi. It's a crime scene investigative thriller with a science fiction element to it.
11. Your previous couple of films in Telugu haven't fared too well at the box office, how do you handle such phases?
Yes, when both Okka Ammayi Thappa and RUN failed it hit me pretty hard. At one point i started questioning my on sensibilities regarding judging a script. It made me sit back and reevaluate things. This process calmed me down a lot as a person. It made me work harder to make sure I restore the faith the audience had put in me earlier. And the response to Maanagram/ Nagaram has been a huge relief; just what I wanted!
12. Where do you see yourself in five years?
No idea at all, at the moment all I want to do is keep working hard and do justice to films I choose.
13. What are your other upcoming films?
Maayavan in Tamil directed by C V Kumar with Lavanya Tripathi. It will be dubbed In Telugu as Mayavi. Then there is Nakshatram with Krishna Vamsi sir. After that a bilingual with the Suseendran sir (Director of Naa Peru Shiva) where Mehreen plays the female lead.
- Maya Nelluri