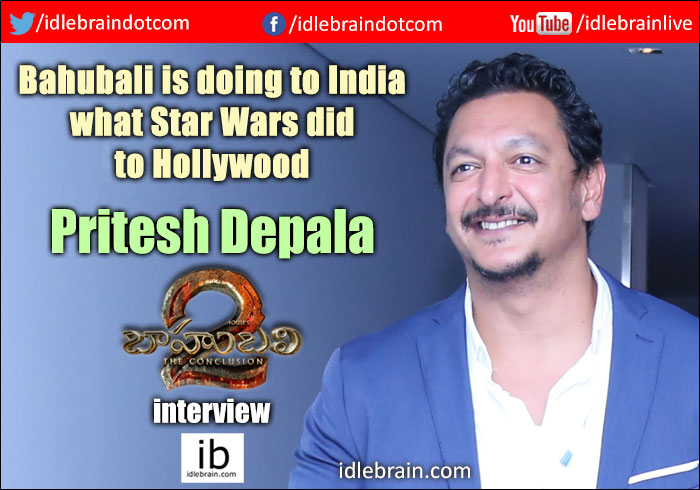 27 April 2017
Hyderabad
Pritesh Depala - CEO of Phars Films, distributor of Baahubali: The Conclusion for GCC talks extensively about the massive release of the film and how Baahubali has broken the barriers in an exclusive interview to idlebrain.com
Tell us about Phars Films?
The Phars Films distribution company was started by Mr. Golchin in 1964. He is the only person who saw future of South Indian films. There was so much of resistance when he started distributing South Indian films in UAE. Being a visionary, Mr. Golchin has persisted and made sure that South Indian films got their own recognition in all sectors of UAE over a period of time.
How is Baahubali changing the perception of Indian cinema?
Lot of expats from various countries don't understand when we tell a film as Telugu cinema, Tamil cinema or Malayalam Cinema. But, they surely do recognise when we say it's Indian cinema. Baahubali is one such film where we promoted it as an Indian cinema rather than a Telugu cinema in GCC. The content is universal and everybody got interested in it.
I would like to compare Bahubali to Star Wars. It was George Lucas vision for Star Wars that changed the way Hollywood works. It erased the boundaries and created new market and franchise. Likewise, Bahubali has erased boundaries of regional language in India and created a new market for Indian films. I feel that a new George Lucas is sitting in Hyderabad in the form of SS Rajamouli.
What are the special efforts you had put in for Baahubali?
Mr. Golchin's dream was to see an Indian film being promoted this way and finally we had that opportunity in the form of Bahubali. Bahubali film is being covered by radio stations of six languages (English, Arabic, Hindi, Malayalam, Iranian and Philippines). We are making a lot of noise through all media outlets. And our effort is getting converted into footfalls. A Hollywood film is advertised in a maximum of 2 languages.
The team of Baahubali has visited Dubai to promote the movie on 25 April. We have hosted the promotion in City Walk, most luxurious and latest destination in Dubai. They have come forward to offer such a high quality location because Bahubali 1 has showcased the quality and power of Indian cinema. I would like thank Dubai tourism and Govt. of Dubai for their wonderful support.
We are always interested in increasing the market. For the first time, we did a massive release of Malayalam film Puli Murugan in Europe through our partner PJ Entertainments. We have released it in 14 european countries in 141 screens and the market has increased multifold in Europe with Puli Murugan.
Tell us about the screen count and pre-sales details of Bahubali 2?
We are releasing in 315 screens across GCC (Kuwait, the United Arab Emirates, Qatar, Bahrain, and Oman) in IMAX and regular formats and in Telugu, Tamil, Malayalam and Hindi languages. This is a record for any cinema in GCC.
In UAE itself, 1,20,000 admissions were sold in advance so far. It will be huge if you calculate it across the GCC. Our aim is to make Baahubali 2 the number one grosser in GCC.