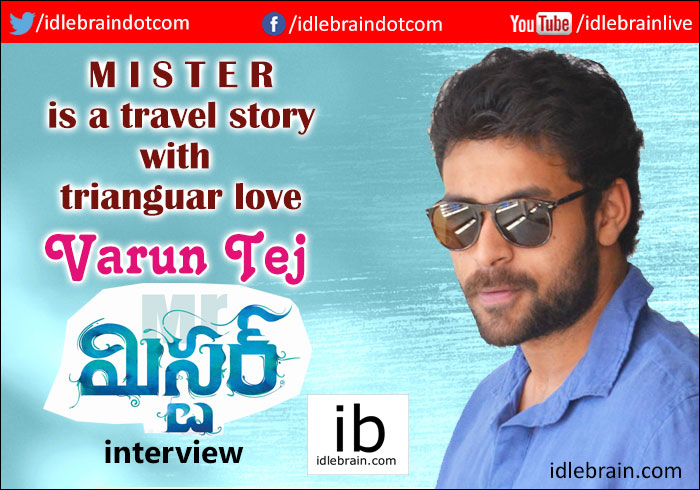 13 April 2017
Hyderabad
Varun Tej is growing as an actor by selecting different characters. His latest film Mister offers a lively character with lot of spontaneity. Here are excerpts of an exclusive interview with Varun Tej -
Tell us about Mister?
Mister film is about the travel of an young and love-giving guy. He is born and brought up in Spain. He comes to India and gets into a trouble while trying to help someone. This story is about how he finds true love of his life. There is a dialogue in Mister teaser - Manam premanu vetukkuntu velithe, preme manalni vetukkuntu vastundi. It forms the baseline of the story.
After his college is over, a girl comes into his life. What happens between them and why he finds another girl? Though it's a triangular love story, there is a good backstory for each of the characters. That is where family element comes into the film. All of our three characters are well-rounded and there are no loose ends.
You played the role of an youngster from Spain. Are there going to be any change in accent and looks?
Director Seenu Vytla designed the character in such a way that the hero is brought up with everybody speaking Telugu at home. When I go to Telugu cultural functions in USA, I find that people over there are more attached to roots and follow Telugu traditions better than us. The same logic is applied here and we have taken cinematic liberty.
Entertainment is the forte of Sreenu Vaitla. Where does it fit in a love story like this?
There is a physical travel involved across Spain and India. Hero had to go to Bangalore by road and he stops in a couple of (fictional) villages in between. The characters in these two villages add a lot of fun. Rajesh plays my buddy from Spain and he is good with comedy. Shakalaka Shankar and Pruthvi also join me in the latter part of story. Comedy is very well blended into the storyline.
Tell us about the locations in Spain and how much of Spain part will be there in the film?
The story is told in a linear fashion. 80% per of the first half takes place in Spain and rest of the story takes place in India.
The story is told in a linear fashion. 80% per of the first half takes place in Spain and rest of the story takes place in India.
After finishing a couple of songs and talkie part in Spain, we went to Swiss to shoot a song. We have also shot a song in Northern part of Italy. I had my first snowfall experience over there. It's a ski resort.
What did you learn as an actor through this movie?
There is a certain amount of intensity in each of the characters I have played in the last three films. All these characters were mature. In this film, I play a lovable guy and a lively person. It took some time for me to get into that zone. The best part of working in Sreenu Vaitla's direction is that he enacts each and every scene. I just have to follow him and it worked. I had to work more on my body language and dialogue delivery to be casual and spontaneous. The comedy timing came along with change in body language and dialogue delivery.
What kind of a person are you? Introvert or extravert?
I am a fun guy with my friends. I take sometime to warm up to a new person. If I like a person, I don't have any mask/filter. I will open up a lot. I had hurt myself in the past because a couple of persons took advantage of me. I realised that they are not genuine people. Since then, I take time to open myself up for new people.
Actors like Lavanya, Hebah Patel and Rajesh became very good friends through this film. They don't have layers/masks while dealing with friends.
You have seen the final product. What's your gut feel about Mister?
When I heard the script, there were few things I had a doubt on. An actor of my status wouldn't dare to question Sreenu garu. I went with his conviction. I found them to be extremely convincing when I saw the film on screen. The climax (last 30 minutes) is well rounded and it's overwhelming. There is a lot of visual beauty in the film. I am very happy with the output.
Tell us about Fida with Sekhar Kammula?
Fida is a love story handled with the sensibilities of Sekhar Kammula. It's a love story of an NRI in USA. I have changed my looks and accent. My aesthetics and body language is going to be completely different. It's a good experience to work for two films at a time and switch between two characters.
Any other films?
Venky Atluri - actor turned writer is going to direct my next film. BVSN Prasad is going to produce that film. Other details are being worked on.