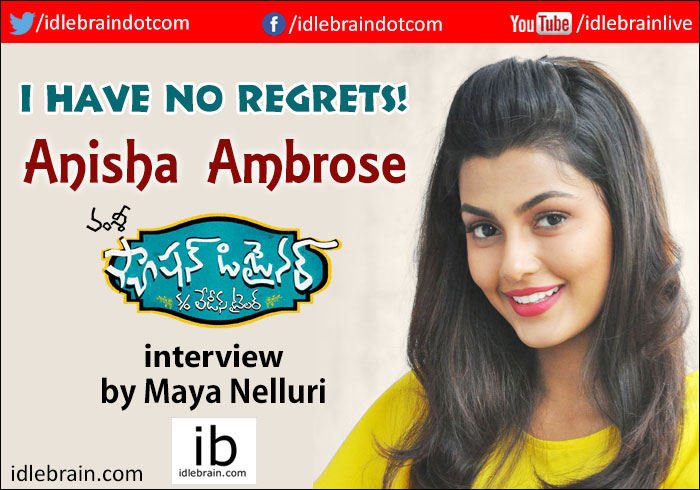 27 May 2017
Hyderabad

Soft spoken and sweet Anisha Ambrose debuted in Telugu and also has Kannada films to her credit. Now she is gearing up for her next release - Fashion Designer: Son of Ladies Tailor. The leading lady talks exclusively to Idlebrain about her upcoming film as well as divulging what really happened with Pawan Kalyan's project. Read on.
 Why did you decide to sign Fashion Designer: Son of Ladies Tailor?
Initially when I heard the script I didn't think I was apt for the character because I hadn't done such a role earlier. I found it very challenging. But when I found out that Vamsy garu was directing the film I thought that I shouldn't lose the opportunity to work with such a legendary director. For actors like me it's a once in a lifetime occurrence that a director like him will approach us at such an early phase in the career. It usually happens to seasoned actors.
How was it to work with director Vamsy?
I asked for a detailed narration of film so I could get into the character. For me it's very important to understand the character I am going to be playing, especially because in this film the role is very different to how I am in real life. Vamsy garu is very clear and particular about what he wants and we were told exactly how each scene should be enacted. That made it easy for us. I didn't prepare too much for this character other than understanding what he wants. He also gave us freedom to improvise if we wanted to pitch something different. We did rehearsals on set before doing the takes so that helped me get into his mind and also understand the character better.
Describe the role you play in the film.
I play the role of Mahalakshmi who is born and brought up abroad. Her parents moved there from a village in India. When they pass away she looks to reconnect with her parents and wants to return to that same village. She desires to relive the life that her parents lived by experiencing the village and interacting with everyone there. She wants to live in the same house that they used to live in, understand their lifestyle, wear traditional attire that she wasn't exposed earlier being brought abroad. She is very curious about how a small village functions. And although it is difficult for her to fit in, she tries her best to do so. She also wants to settle there if possible but whether that happens or not you'll have to find out by watching the film.
What are your expectations for FDSoLD?
With every film I've done I've realised that you can't have too many expectations. You have to do your best and leave it to audience. But from this film I take back so many good memories. It was a great experience and an inspiration to take forward having worked with a legendary director. When you don't have a godfather in industry, with every experience you learn something. I hope the movie does really well not just for myself but for everyone who's put in so much effort. I've seen my co-actor Sumanth work so hard. He would even dub wearing the costume of the character to get into the character. Most actors don't do this. His voice is also very different in real life. Vamsy garu used to sit in the dubbing theatre and tell him exactly how to modulate his voice for the character. He had to change his voice to sound just right. Working with such passionate people is inspiring.
How was it working with multiple actresses in this film?
We didn't have many combination scenes. There was actually just one so we weren't on set together much. But it was nice working with them; they are wonderful, very sweet, grounded girls. It was easy to gel and fun to work with them.
It was in the news some time ago that you were to star opposite Pawan Kalyan – can you tell us about that.
I was acting in Gopala Gopala when Pawan sir asked me to audition for a role. At the time I didn't know what film or role it was for but because it was him I was very excited to audition for any role. Later on I got to know that it was for the lead role. I was surprised but it is not entirely new in the industry for a newcomer to be cast in big films. Sometimes it goes through and sometimes it doesn't. Almost eight months went by after I was selected when I was waiting for it to start. I was asked not to take anything else up so it was a lot of excitement and stress. As a newcomer there was a lot of pressure on me to look a certain way, act a certain way, to talk to the media in a certain way. When one climbs the ladder gradually you would learn the process at a good pace but for me it was very sudden. The weight I had to carry on my shoulders was immense. People used to comment about how I bagged the role or how I don't suit it. So many people had so many opinions about me. Things like that can take a toll on anyone. At that point I was lucky to be surrounded by people like my parents who really encouraged me. Without that support, a newcomer would really go through so much mental pressure.
When I would open Twitter had 200 to 300 messages every 2 minutes. I was scared to even open it. Initially didn't know how to handle it. When you are cast opposite to someone so huge I guess it is expected. But after eight months they decided to go with someone much more prominent and I think that was the best thing that they could have done. She definitely fit the role. She was far better – not because I couldn't act, but at that point of time in my career I don't think I could've have handled that. It was too much pressure honestly. I'm glad I had to take a step back and plan my work. That helped me learn a lot about the industry and have a lot of self realisation about how you can be pushed up or pulled down in this industry. I have no regrets about it and I am very happy. I'm a much better person because of it and now I can handle anything that comes my way now because of it.
Tell us a bit about your family.
My mother is North Indian and my father is South Indian. My dad's side of the family is from Vishakhapatnam but I grew up in Orissa because my parents lived there.
 How did your family react to you changing your career to acting after doing an MBA?
My family wasn't used to anyone being in a profession like this. I was in a stage of life where I was contemplating if I should do 9-5 jobs forever or if I should go for something else like a trainer; there were so many options. I was figuring out what to do when someone left me a message on Facebook saying that they saw my pictures and they wanted to audition me. When I went through their history I realised that the last movie they did was Panja with Pawan Kalyan so I knew they were genuine and not fooling around. Then I told my dad about it and he was supportive but everyone else freaked out. Still, my dad and I went to the audition, just for the experience, because I never wanted to become an actor. I was just too free at the time and wanted to try things. A month later I got a call that I was selected so I was shocked. Then I sat down with my mom and dad and discussed it. I believe that no matter what I do I should not upset my parents because I love them too much. I left the decision with them because I wasn't dying to do it.
My dad was very supportive and said if you want to try it out you should try it out because how else would you know if you like it or not. The rest of my family however were very upset and thought we were doing something very wrong. They laid down a huge written criteria and said that if she does it, then it should be her only film; and they wanted my dad to give the team a whole list of do's and don'ts. For example someone has to be with me every day of the shoot and so on. Surprisingly my producer was very sweet and agreed to everything. Once I did it I loved acting so much that now I can't think of doing anything else. Now I'm of course free to pick my scripts and experiment – they've given me that freedom.
How has life changed for you since you entered the film industry?
My family and most of my friends are from an educationist background. Our days were scheduled and predictable and I was very used to that lifestyle. Movies are not like that so I had to adjust to that. As a person I've started taking life one day at a time. I've understood that you don't have a hold over anything in life so you just do your best and leave rest to God. I'm also more relaxed now. Earlier when I worked for Dell I really didn't like the 9-5 life. That lifestyle is very different. Now some days I work 15 hour days, some days its three hours. But every day I'm inspired. I love my profession. I like the feeling of everyday bringing something new, having something to look forward to; and I've begun to really enjoy it.
What other projects can we see you in the future?
I have another film releasing this year with Manchu Manoj – Okkadu Migiladu in Telugu. I've signed a couple of other projects but I'm waiting for the official announcements. One of them should start in August.
- Maya Nelluri