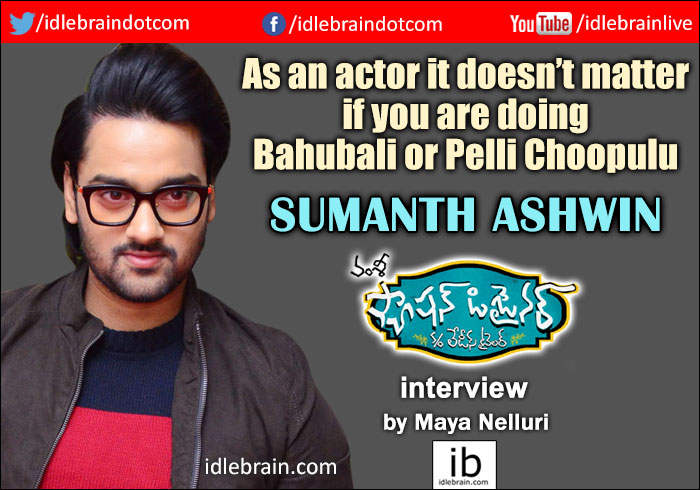 31 May 2017
Hyderabad
Sumanth Ashwin, the leading man of youthful hits like Lovers and Anthaka Mundu Aa Tarvata, speaks to Idlebrain about his upcoming film Fashion Designer: Son of Ladies Tailor. The film's director Vamsy was also the man behind the cult-classic Ladies Tailor. As with other spin-offs all eyes are on the film and eagerly waiting to relive the magic of the original.
When did you first decide to become an actor?
I initially wanted to become a technician, get into cinematography or directing. My plan was to go to New York or L.A. and study film-making. But things evolved over time. I was obese when I was in school. When I met Nicky Master, he trained me in dance. Because of dance and aerobics I ended up losing a lot of weight. And people started encouraging me to get into acting. Since my father is a producer I used to go to the set everyday and observe technicians. One day when I was working as an AD, I went to the photo shoot for the film. The actor couldn't make it that day but the actress had flown down from Mumbai so we had to do her shoot that day. The director asked me to step in and pose with the actress for the test shots. I was a little uncomfortable but later on when my dad showed the pictures to people from the industry including Trivikram Srinivas. He told my father that if I work hard, lost more weight and put in some hard yards I could become a good actor in the industry. My father told me that and when
I heard that someone like Trivikram Srinivas had such an impression on me I thought that I should make it happen. I ended up going to Mumbai to study acting.
And how did you like studying acting?
I went to Mumbai and joined Namit Kapoor's acting course. Parallel to that I studied gymnastics, dance and worked out. After two months I didn't find the course too helpful. It did help me shed my inhibitions but I didn't gain any more knowledge in acting so I came back to Hyderabad. I went to Vishnu sir who is a leading Telugu University Acting Professor. His wife Aruna Dixit who is a classical dancer trained me. She used to give me long dialogues from old films and would get me to perform. I also learnt classical dancing from her. After that I did a few short films with friends which weren't released but gave me a lot of experience. I also prepared a lot for my first film. We had a workshop before the shoot started so that helped too. My second film Anthaku Mundu Aa Tarvatha with the brilliant director Indraganti Mohan Krishna sir made a huge difference for me. He moulded me for the character really well.
What role did your father play in your career?
(Sumanth Ashwin's father is the famed producer M.S.Raju. His Sumanth Art Productions have backed blockbusters such as Varsham, Okkadu, and Nuvvostanante Nenoddantana)
I was bored of studying and when my dad asked me if I wanted to go to the US and study further or if I was interested in films, I chose films. It was essentially because I didn't want to study. I wanted to hang out on sets, have fun with the technicians, eat good food. I had no idea then about how films worked. When I started going to shoots I really enjoyed myself. This was around the time Varsham, Nuvvostanante Nenoddantana, Aata were being shot. I used to observe the technicians and directors and that really inspired me. They asked me to watch French, Japanese, Korean and other films. Watching them motivated me a lot. Back then I shot a few videos with my sister, who is 10 years younger than me. I would shoot music videos with my sister and mother and people really liked them.
Did your father's connections help your career?
Not connections but his experience and judgement have helped me a lot over the years. His judgement is almost always right so I make it a point to take every script I come across to him and ask for his opinion on it. People always ask me why I haven't acted in our banner because this is my eighth film and that's yet to happen.
Why is that?
My dad hasn't found the right script. Also Sumanth Art Productions is known for big films so I need to improve my market in order for me to do a bigger budget film.
Have you changed since your first film?
Yes, definitely. I don't know if I am a great actor but I was always confident on set. When my first film released I thought that's the best job I could've done; same with my next movie. Now when I look back I think did I do that? Why did I give that expression? I've realised that there is always room for improvement. The learning process never stops. Also, I'm addicted to watching films, I watch one every day if I'm not shooting. They inspire me and make me want to improve myself every time.
How did you react to your films which did not do well?
My first priority when I sign a film is the producers satisfaction so when a movie releases I want the producer to get his returns. I also want the film to be really good and the audience to enjoy it. As an actor it is disappointing if it doesn't do commercially well because of all the effort and time we put into it each project.
You have also featured in a web series; was it different to acting in feature films?
It is almost the same thing because the actors, technicians and equipment used were all similar to films. There was no big difference but when the episodes were released it was thrilling. There was no pressure of competition like there is with film releases. I had a great time doing them.
Do you feel that acting in a web series might affect your feature film market?
No not at all because once you see the quality of the web series, you can tell that the quality of it is on par with feature films. The character I play is amazing, the budget was decent, and the technicians were experienced. I'm a huge fan of series like Stranger Things, Sherlock, Game of Thrones. I used to wonder if such concepts would work here. When Yup TV wanted to make a high quality web series and approached me, I took it on because I really liked my character and the script. I love to experiment. I don't mind working in documentaries, short films, web series, or anything as long as I'm satisfied with the character, technicians, script. As an actor it doesn't matter if you are doing Bahubali or Pelli Choopulu. When the director says action, you put in the same amount of effort. You don't put in different levels of effort for different budgets.
Tell us about your role in Fashion Designer: Son of Ladies Tailor.
I play an expert tailor whose goal is to go to the city and become a famous and rich fashion designer. My character's name is Gopalam; he is Sundaram (Rajendra Prasad's character in Ladies Tailor)'s son. In the film my character gets to know that he has a manmada rekha, which is a line that is supposed to exist in real life and makes one very lucky. It makes women fall for him easily.
Why did you decide to take on this project?
Ladies Tailor is a classic and a cult film. The director Vamsy garu himself said that you shouldn't remake or do a sequel to classics. You can't make Maya Bazaar now and repeat the charm even if you spend a thousand crores. But both I and the producer were confident about doing this film because Vamsy garu was very happy with the script and he himself was directing. When I heard the script I really liked the second half and I loved my character. I had never played a role like that. By the time I even signed it Mani Sharma had already composed the music and I really liked the songs as well.
I also was keen on working with Vamsy garu because I feel he is one of the few real directors left in the industry. He is amazing. I am a big fan of his and love his films. I don't know if I'll get another chance to work with a director like that in the future.
Did you feel the pressure of Ladies Tailor lurking over you?
Initially there was no pressure because it wasn't a remake. If it was then I would have to portray Sundaram's character all over again and I don't know if I would've done justice to that character. But I was to play his son in this film so I did not feel the pressure. That was until the last schedule when someone came and showed me an article that raised doubts about whether I will match up to Rajendra Prasad in Ladies Tailor. I first started doubting myself when I read that and realised that there will be comparisons with the original. I asked the director and producer about whether they thought I performed well enough. They told me to not read such articles. *Laughs*
You are born and brought up in the city so how did you manage to get the accent right in the film?
It was mainly because of the food I ate when we shot in the Konaseema area. I would eat the local street food every day. The clothes I wore also helped me lot and so did the environment. We shot in Papikondalu for 16 days and then did the talkie part in Gopalam's house. The location itself had so much character. The house had a stream in front of it and you could see the hills and boats. The house was set up really naturally by the art department with a stitching machine and the works. I felt like I was Gopalam thanks to the food, especially the breakfast, the apparel and the environment. But when we went to dub, it was very difficult for me to get into Gopalam's shoes. So I called up the costumers and asked them to send the outfits to me. I wore them and went for the dubbing to get the accent right so I think there really is something in those costumes.
How was the experience of working with Vamsy garu?
He is a very unconventional director. It was amazing working with him. His thoughts are very different. For example there is a song in the film, Meghale, which we used to call the sound effect song because it had so many different sounds like a door closing etc. When I heard it I visualised it in a particular way but when we were shooting none of us could've imagined that it could be shot like that. I won't be able to judge how the actual story has come out but I can tell you for sure that the songs and the concept of the songs are breath-taking.
What will be your next project?
I will be doing a film with Vijay Bhaskar garu. Currently we are doing the pre-production and we should start shooting in a month's time.
- Maya Nelluri