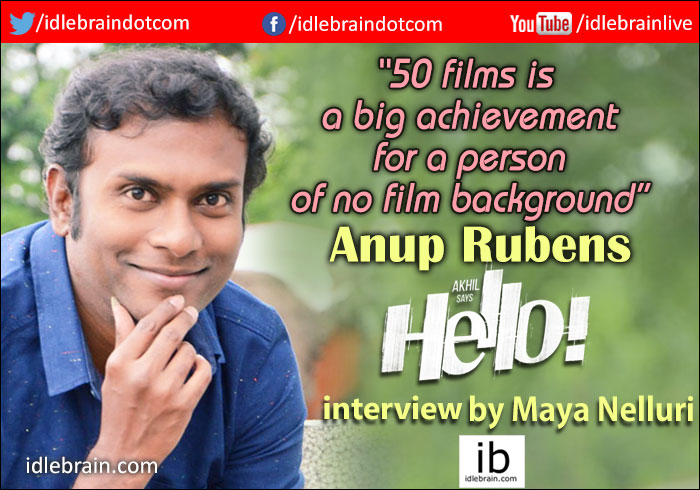 18 December 2017
Hyderabad
Anup Rubens is a music director with such an ear for melodies that he can make us smile, bring us to tears, and induce goose-bumps with his exceptional work. Now with Hello, his fiftieth film up for release, he is back with us to talk about his experiences with Hello's team, as well as revealing to us how he got Akhil to turn singer for the first time.
Hello is your 50th film; how does it feel to reach this milestone?
I'm happy! 50 might just be a number but because I don't have any background in the film industry, I feel satisfied to have reached this milestone. Still, I feel like it's my first film. Actually every film I work on I feel the same tension. Do you remember the emotions of when you wrote your 10th class exams, I feel the same way while working on each of my films. *Laughs*
How has your style evolved through those 50 films?
I keep learning everyday; from when I was a keyboard player to now when I'm working as a music director. I learn something new from each film – working with different heroes, directors and technicians. Each and every movie is a great learn experience because everyone has their own speciality.
What was the brief given to you while working on Hello's album?
The main advantage of working with Vikram sir is that he narrates the story. He will show you the movie while narrating with such clarity that he inspires you. He does not give references; he gives his technicians 100% freedom. He will let you know that it is your film also so you end up doing your best. The only thing he does give you is a narration through which you can visualise the entire film even before it's shot. That is mainly because of his clarity and passion on the film. When he narrates he makes you feel every emotion that will be in the film. He even cries at times while narrating. It pierces straight into your heart. Be it any department or technician, he injects you with the same passion.
How do you feel about the positive response Hello's audio is receiving?
The audio is getting very good response and I've been getting many messages and calls. Some of them have thanked me for giving an audio like this after Manam. They said that they are hearing such good melodies after a long gap. Some even said that the songs have given them goose-bumps, and tears of happiness while listening to the children's song. Such messages gave me a lot of satisfaction because commercial success is important but the ability to connect with people's hearts makes me very happy.
I have to thank all the people who have been involved in my creative process for their support; all the technicians and directors, heroes, singers, musicians, sound engineers, production houses. I hope that they will continue their support in my future journey also because it is not a single man's journey, it's team work!
How is your relationship with director Vikram?
As I mentioned he gives 100% freedom to his technicians. When he believes in you he'll just ask you to do your best. We also share a very good rapport, probably because we think very similarly, we are like-minded. I honestly can't express how amazing it is to work with him. When we sit for composing, the process evolves very naturally. He loves me playing the guitar so all our songs are composed on the guitar initially. And each song has not taken more than 30 minutes to compose till date. I feel that it just happens without trying because of our connection. Vikram sir also feels the same. We just take the guitar and chill for half hour and it's done, by God's grace! I can say that that is how it was for all songs in Hello also, except for the marriage song where we did two to three options. Even during Manam the only song we did two options for was the piyo piyo song; all the rest were composed in half hour and later they were recorded and built up.
Which is your favourite track in Hello?
For me it's difficult to pick a favourite in Hello, just like Manam. I love melodies and this album is full of them but if you make me choose, it would be the children's version of anaganaga song, Hello title track, and Akhil's song.
Speaking of Akhil's song, how did that happen?
This is the first film ever that Akhil sang for. The idea came to me when we met casually once and he was humming some Hindi song. Suddenly my ears perked up. He was singing reasonably well so I said, 'Bro you sing really well; your pitching and tempo are quite good and your voice sounds fresh.' Then he confided that he loves singing and that it was his passion. He said, 'I've always been a bathroom singer.' *Laughs* We sat together a couple of times with the keyboard because he wanted to get trained in singing. We spent quite a few hours with the keyboard discussing what should be done with the voice, perfecting the shruti, following the tempo and other details. When I composed the Hello song, I was about to ask him to try, but he only asked. So it happened simultaneously; we were both on the same page!
Was it easy to get him to sing?
Akhil is very dedicated to everything he does so it was easy for me to make him sing. It took a couple of hours but it made me feel better and like it was easy because he is so passionate about his singing just like anything else he does. The main asset with him was his voice. He has a base voice which is very good. When he sings with that voice it sounds fresh and new. We spent a lot of hours in the studio and his dedication was very apparent. He was on the dot to all our meetings, regardless of the time. He had a full schedule but he would finish his shooting etc. on time and come. He was so serious about singing so it was nice. Also, it feels good when the hero is singing. For a composer it is an added advantage because the song becomes more popular when the hero sings. He already knows the feel of the film. In songs it is more about the emotion than the voice. We all connect to emotion more than singing. It's all about the expression the singer gives. Since Akhil is the lead, when he sings it will obviously connect more with the audience. It was also a lot of fun working with him.
You also seem to have a special association with Annapurna studios; tell us about that.
It is a great production house and it gives a lot of value to its technicians. It is a production house that understands a technicians mind, just like Vikram sir, and gives us freedom as well as trusting us. There is also a special connection for me with Annapurna Studios for me because of the relationship I have with Nag sir. He is very encouraging and we are also very like-minded. And then there is the whole team at the studio, Supriya ma'am, Saibaba garu, everyone, they are all the same, they don't hold you back. They don't impose on you. It is a very cool production house!
We've noticed that you use auto tuning for your singer's voices in some of you songs; why do you prefer that?
I used to do that earlier because I was going with the trend then. It also gives a good feeling to the ear because it refines the voice. But it also depends a lot on the style of the song. Hello is completely a melody album so it was barely used for this film.
Who or what is the biggest influence on your work?
I'd say it's the storyline. The situations in the script inspire and influence me. I feel that once you are connected to the story, you can do the best. For any technician it is the same. That's when they give the best. After that the director and hero greatly influence my work.
What about people in particular, who inspires you?
There are many. If we are talking musically, it is AR Rahman, RD Burman, Ilayaraja. Some celebrities like Amitabh sir, Powerstar Pawan Kalyan, Nag sir. There is a lot to learn from each star. What I believe is that a big star doesn't become that big without some speciality. So working with them I get inspired in their different ways. They influence you also.
We've spoken to you earlier about your entry into the film industry, tell us about how your family reacted to your decision about entering films.
In the beginning they were worried about me entering and working full fledged in films because I'm the first in my family to enter the film industry. They were worried but later on they got confidence after seeing my growth. My parents have also been very encouraging and supportive. I'm happy about the way they support me because without their support it's very hard to keep going.
You've mainly worked in Tollywood; will you be venturing into other languages?
I'd like to work in other languages also because music has no language! It only connects with the feeling.
What are your future commitments?
There are quite a few projects that I'm looking forward to. One of them is Teja sir's movie with Venkatesh sir.
- Maya Nelluri