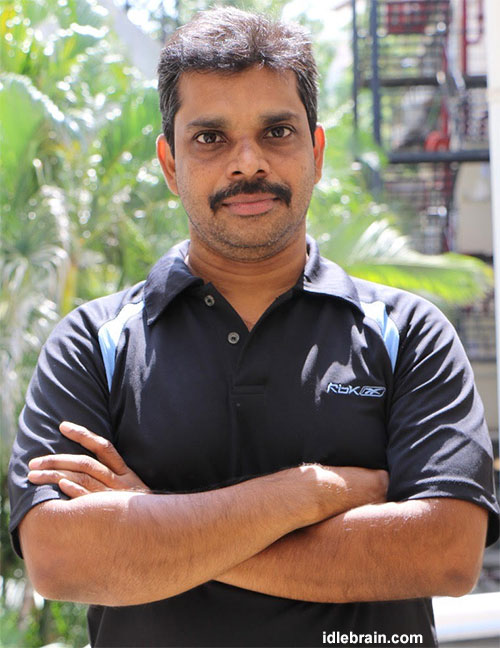 7 October 2019
Hyderabad
Basava Shanker, debut director of Evariki Cheppoddu, talks to Idlebrain about the film and his journey in the industry.
Why did you choose this to be your debut film?
I've been writing scripts since I was an AD but I was never this excited about any other idea. Evariki Cheppoddu is a love story which faces the caste problem. The hero comes up with an interesting idea, to set it up as an arranged marriage, to overcome the issue. I thought it's interesting because there isn't something quite like this in our films and it is an issue that a lot of people face. I've seen many couples who are really into each other but separate because of caste. My best friend went through the same thing and he reacted to it like it was like an accident. There were a lot of changes in him during and after the event. Like any couple they too fought once in a while and on one of those occasions she went to her home town. A week after she left she sent him a message that she's engaged. He hated all girls after that. I felt that he's missed out wonderful things in life because of that. She was someone who couldn't stand her ground and stay with her love. She took the easy way out of the problem; she didn't fight for the relationship and that's the struggle that I and many people who watched the film connected to. The issue of caste is one of the most unfortunate problems that exist in our society but no one talks about it and I want people who see this film to at least discuss this issue.
You mentioned that the caste issue isn't shown in our films, but there are a lot that dealt with the issue.
I can think of only one film that dealt with issue in recent times; that's Sairat. Most of the other films that bring up the topic get diverted into other themes and this becomes a peripheral point. With Sairat, although it's a lovely film, it ends in a very horrible way. The central subject there is honour killing not the caste problem. So I feel that there is a mental blockage in our people that doesn't let them address this issue. I'm not so intelligent to differentiate articulately between honour killing and caste differentiation. But I'm smart enough to know that there is a difference and when you see the film you will feel the difference.
If we go back further there were films like Saptapadi which talk about the issue but leave it at there is no solution. We are not offering a solution either but we deal with a 'what if' scenario. We had showed this film to a few people and one certain critic wrote that many aspects of the film were great but he deliberately wrote that the writer and director, meaning me, did a bad job. I wondered why he felt so and realised that the person hates me because I raised the issue of caste and him being a caste freak, he was made to reflect upon himself and he doesn't want to be questioned about his beliefs.
It seems as though you've taken a very comic approach to a serious topic.
I don't like the film to be dark. I like films to be engaging and give the audience energy rather than take away their energy at the end. I'd like to make my audience happy so I dealt with it in a funny way but still made it so that people can see what's wrong with that type of thinking. With other films like Sairat you'll be very upset at the end. That's the technique of filmmaker; he wants to shock people into change. I feel the only way we can make someone with a psychological barrier look at the other side of the argument is by talking to them without offending them. That's the only way to communicate it through film, through a light-hearted comedy.
Did it take you a long time to release this film?
In fact compared lot of other small films we found it a lot easier to release. I've worked with many small films where we really struggled a lot to release but because we dealt with a serious issue in a humorous way everyone who watched it enjoyed it. It was a hit even when distributers saw it and we were ready three months back with the final copy but we didn't want to release it with big films so we waited it out through June, July, August and September. We were totally free those months. That was a bit of bad luck but it was a far easier and faster process than what some of my other filmmaker friends went through.
Can you tell us about your experiences as an AD?
I worked for five films as an AD. Although we worked equally hard on all the films only two did well among those - Run Raja Run and Pelli Choopulu. In the beginning days, when I entered the industry about 15 years ago, I used to ask everyone I knew and didn't know for help. Of course people won't trust a random person asking for an opportunity because there's no reference. This happens a lot because people come with enthusiasm rather than resumes to the film industry. I finally got into one film and then it was easy because from there your network increases, someone recommends you for the next project and you keep working. Like that I did five films. In between each film I used to write scripts and narrate them to producers. They would either like it or not or ask me to give the script because they can't take a chance on a newcomer.
So how did you get a chance to direct?
Finally I wrote this script and when I wrote this I was sure this will be made. Once I finished 70% of the work and I knew that if we did two more reviews we'd be done, I felt extremely confident that it will go to shoot even without a hero or producer. I knew that by hook or crook I wanted it made. It gave me a bigger goal and started motivating me more. Earlier the motivation was to be successful but with this, it is a story that had to be told. I realised it was my responsibility to get it out into the world. Of course I didn't lie, cheat or do anything wrong to make it and I'm glad it's made.
Tell us about how you decided on Rakesh for the lead.
I only knew him as an actor from other films. I used to think that all our villains are North Indian so I thought he was too. Also he looks like he's from the north. When one of my friends came to me and said that I should meet Rakesh and that he's also struggling like me, I said but he's not Telugu. My friend persuaded me that he is a local boy; in fact he was his senior. I had my reservations because Rakesh was a complete new comer so he has no market plus I didn't know if he could act. But when we met, we ended up speaking for long and I realised that he is very hard working, organised and talented. He met directors like Sukumar, Rajamouli but he didn't do it off the cuff. He would put together and do a relevant short film and then go show it to them. He did 50 videos like that and I saw them. I thought it was really very professional of him and I was convinced that he is a good actor. After that we tried to pitch it to producers but they didn't see our vision. In the end Rakesh himself said he'll fund it and that's how we started. Dil Raju garu is our distributer.
How did you feel about the struggle you faced in your early years?
I entered the industry more than 10 to 15 years ago. I don't see it as a struggle. Of course I wasn't happy that I hadn't made a film still but at the same time I think about the story I didn't have. For example when I wrote a script after my first film as an AD the producer wasn't too happy. It happened again after my other films, and then I'd also lose interest in them because I saw that they weren't scripts that I'd cherish forever. I had more pressure because I didn't have the right script in hand rather than not being able to direct. Sometimes I had doubts that maybe I'm in an illusion that I'm a filmmaker. Not having the perfect script was proof that I'm not smart enough so that used to bother me. Having my name on screen never fascinated me. I wanted a worthwhile story because I'm basically a storyteller. Now that I have the right script I'm very happy that I didn't make films of my earlier scripts. They wouldn't have made me work so hard and motivated so many people to give so much themselves to it. I don't want to raise expectations but this is what I feel right now about it. When I was struggling as a writer and director and I would watch Hollywood films like the Matrix, I'd think that if I could bring out a script like that, I'd rule the industry. I used to feel bad that I couldn't write such amazing stories. In Telugu there were great films as well. In Pokiri the way Mahesh Babu tells Ileana, 'I'm the wrong person for you but I chose the right girl to fall in love with' or when in Matrix the protagonist tells Keanu Reeves, 'You are the One because I'm in love with you and the Oracle told me that I'd fall in love with the One', I'd have goose bumps. These scenes are what cinema is about. I wanted that feeling. Now I have a good script and since any passionate filmmaker needs a good idea, I understand that all the years were worth it.

- Maya Nelluri