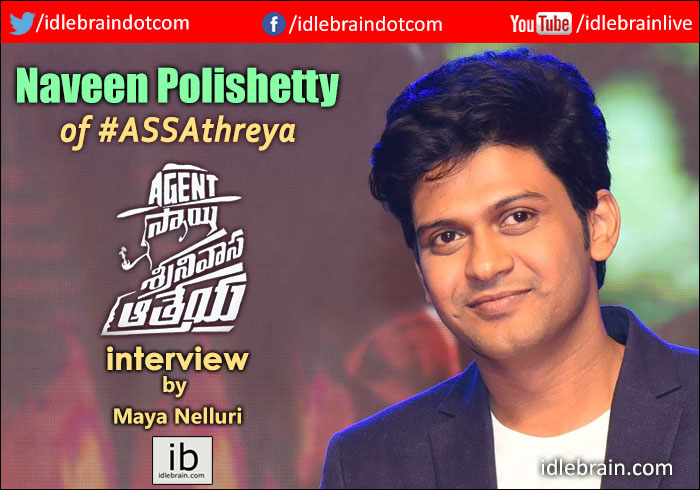 19 June 2019
Hyderabad
Telugu boy Naveen Polishetty of AIB fame is ready to debut as a lead with Agent Sai Srinivasa Athreya. His multiple talents, wit and charm are known to all his followers; but for those of you who are just getting to know him, get ready for the latest Telugu star in the making. He seems to have figured out the formula to go viral, on account of his many rib-tickling life experiences. While we would love to share all those stories with you, this particular interview is about his equally entertaining journey from theatre actor to YouTube sensation, and now Telugu hero.
Tell us about your childhood.
I should start with the boys school torture. When I was in my fifth class I wrote the entrance to HPS and Little Flower and got through to both. But my father said he couldn't trust me with co-ed so he put me in an all-boys school. *Laughs* There one of my teachers was planning a play. She asked me to come up and smile. I did and of course I have dimples, and that's the face she wanted playing a woman in that all-boys school. I had just two dialogues and the character was of a woman crying over her lost child. Nevertheless that was my entry into performance arts. After that she kept putting me into her plays. By my tenth I was sure I wanted to be an actor.
So did you persue it immediately?
After that my dad made me write IIT and go to Bhopal. He said get your education first. There I realised that for a full six months there isn't anything to do; you can pass by studying just one month before the exams for Engineering. That's when I started a theatre club called Kshtig. We used to put on plays there in a 800 seater but only about eight, nine people would show up. *Laughs* Then we put together a band but even less people were interested in our English songs so we decided to dress up in our Linkin Park t-shirts and sing Kishore Kumar and Anu Mallik songs. Those four years of my college drew me closer to acting.
So did you decide to follow your passion after Engineering?
Actually I got the best of all the things I didn't want. For me I was clear that I wanted to be an actor. But every time I kept getting into good colleges and jobs. Even when I cleared IEEE I was thinking 'oh no' whereas my friends didn't and they were so upset. Even when I got into NIT I didn't want to get in. The same thing happened when I graduated. I got a job immediately and in the third week of job I was already placed in London. This is of course every traditional guy's dream. Everyone around me was very happy and my dad was telling everyone about my accomplishments. But once I started working I had extreme clarity.
So you left London?
Yes. Job, money, comforts, these are the things our parents want for us. My mom was the only working person in my family so we didn't have that. I had all those things once I grew up but was extremely unhappy. I figured that anyway I'm not happy so even if I quit my job and my acting career doesn't work I wouldn't loose anything more. So I took the risk, quit and came back. I told my family that I came for a vacation and that I'll be working from home. Eventually my father started getting suspicious so I had to tell them of course. *Laughs*
Why did you not start with Tollywood?
There was a lot of pressure. You remember the last 20 minutes of Bommarillu? It was repeated between me and my dad at that point. *Laughs* He said do whatever you want in the next one year but it's impossible to make it in this industry with no prior connections. I decided to move to Mumbai after that because I didn't want to stay in Hyderabad and keep listening to people tell me all the time that I'm not going to make it. I started with plays in Bombay.
And then you debuted on big screen!
At that time they were auditioning for Life is Beautiful. They saw me in a play with Evam. I got into the film to know how films operate. In theater you exaggerate and it's a different game. Once I got that experience, I realised how cinema works. Then I thought I shouldn't do a film unless I get a great script. That was in 2011. After that went back to Bombay.
How did One happen?
Sukumar garu saw me in Life is Beautiful called me for One. I was obsessed with Arya back then, so I was glad to have that opportunity. Even before that happened I was going through auditions in Bombay for two years. That process helped me understand the industry. I was frustrated because people would always tell me I'm a great actor but the compliments weren't converting into lead roles. Then I did a stand-up routine at an open mike event where the winner was to work with AIB. At that I told people what happens to actors in auditions and won. That's how I got into AIB.
Did going viral help your career?
The engineering video was the first to go viral for me. It got some 50 million views in just four days. By then I was looking for good scripts. That's when Swaroop contacted me in FB and told me the name of the movie, that the hero is a detective from Nellore who runs a detective agency called FBI. It got me interested. I lost my mind when he narrated fully and I heard the scenes etc. I said if we will do this film then we both have to work on the final version together. By then I already had worked as a writer for four years. He said OK so I join him in Hyderabad. We worked on the script for eight months. We finalised the script in January 2018. In February we pitched to our producer first and he immediately agreed. The shoot started in August and we finished a couple of months later. We waited till now because the producer didn't want to compete with the big releases in April.
Coming to the movie at hand. Tell us about your character.
Even though he is from Nellore he doesn't have the typical local accent. We felt using it will alienate a certain section of the audience. But the finnese of the character is is justified in the opening ten minutes of the film.
You've mixed comedy and murder mystery in this film.
Yes, even before I came on board, it was a brilliant thriller. When we both traveled together we wanted to make it engaging and unpredictable. In the first half we set up the character of a comical detective that people haven't seen as much recently. The audience will see a very humourous world of the detective and as the movie progresses we see how he eloves. It is an intense investigative thriller with a funny character at the centre of it and an undercurrent of humor.
Do you feel it will connect to a wide range of audiences?
This isn't a technological film. We were sure it has to be simple enough to connect to everyone. He is very Indian and relatable.
What are your upcoming projects?
I've almost finished shooting for Chhichhore. It's a Hindi film about five friends, Sushant Singh, Varun Sharma, and the rest of us are debuting in Bollywood. It will be out on August 29. Once these two come out I will decide what to do next.
You've done writing, stand-up, YouTube, Telugu films and now Hindi. Do you feel so many areas will dilute your focus?
For me it's finding a way to get to my goal. Writing and comedy were the detours I had to take on the way to get here. Initially I wasn't good at writing but instead of sitting at home and waiting for someone to call me I decided to go out and do something to make it happen. Also, when I looked at some of my favorite actors overseas, their first big break was in a project that they wrote and made happen. In India it's not as common so it seems different. If it doesn't work also at least you don't have to regret just sitting at home and waiting.
Going forward will you concentrate on Telugu or Hindi projects?
Mentally I don't look at things based on language. That's incidental. I want someone to write with me in mind, regardless of language, that's what increases the shelf life of an actor. The actor is always at the mercy of writers, producers, directors, so I wanted to develop enough skills to be able to last longer and make it happen. I'm used to the fluctuating nature of the industry. I've understood that I'm a commodity and it's a business.

- Maya Nelluri