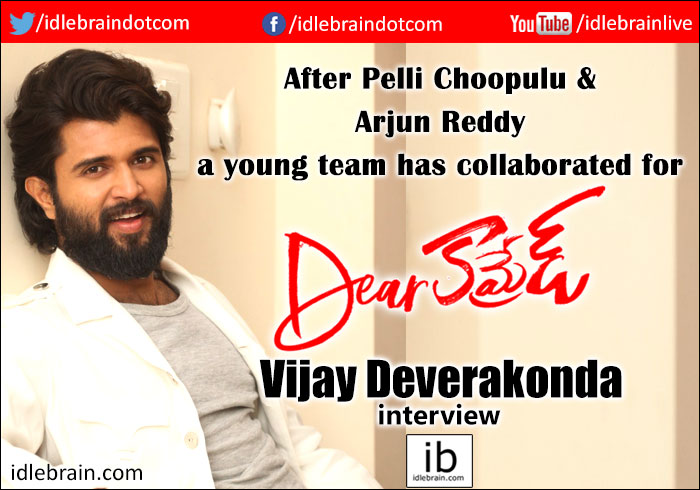 24 July 2019
Hyderabad
Vijay Deverakonda is different from the rest of the heroes. He devices an extremely personal and effective campaign to take his films to the public. Listen to what he has to say about 26 July release Dear Comrade -
Tell us how did Dear Comrade happen?
I have known Bharat Kamma from my struggling days prior to Evade Subramanyam. During that period I was looking to collaborate new age directors after watching their short films. That's how I came across Tharun Bhaskar, Sundeep Vanga and Bharat Kamma. When Bharat narrated the story of Dear Comrade, it's like Iranian film or Hollywood film.
Bobby character is very relatable to everybody and I got personally connected to it. He is aggressive, vocal and a confrontational person who doesn't have self control. Lilly is cute and ambitious. 8 out of 10 women I interacted with in my real life are similar to Lilly.
Dear Comrade is a love story that travels for 4 years. It's an emotional and sensitive film. I am extremely happy and satisfied with my performance.
Student politics have become irrelevant as most of the students study in private colleges now?
Though it deals with student politics, it's a subtle layer. It's more about love story and journey and less about student politics.
How different is Dear Comrade from other films you have been doing?
Dear Comrade is a product that comes from a bunch of young and enthusiastic people. I felt the same kind of passion and teamwork during the days of Pelli Choopulu and Arjun Reddy. The only difference is that we had a solid production house that took care of the budget for Dear Comrade.
You are known to be a good publicist to your films?
I am not doing it to change the trend. I work hard to publicise because this film means a lot to me. As we are doing it in 4 languages, we designed music festivals where I can sing, dance and perform. Only the hero and director understand the premise of the film and then create a strategy to promote the film. The concerts in Bangalore, Chennai and Kerala have been a huge success where the people who attended have become emotional.
You have been doing films at a fast pace. Why?
I had three releases in last year. But, I am having only Dear Comrade in this year. You might have come to that conclusion on hearing announcements about my future films. As my stature goes up, the budget and number of working days have also increased. Pelli Choopulu was done in 40 days. Arjun Reddy was done in 80 days. But Dear Comrade took us 108 days.
Now I am consciously trying to slow it down. I don't want to burn out. There are so many scripts and directors. I want to take one month break after finishing Kranthi Madhav's directorial.
Since your stature has gone up, are there any chances of you doing small-budgeted concept films like Pelli Choopulu and Taxiwala in between the biggies?
The script has to excite me. I don't do reverse engineering by keeping openings and collections in mind. I want to do films which anybody can't do. They should be challenging.
Most of your films are directed by debutante or directors with minimum experience. What is the reason?
It doesn't matter to me if the director were a debutant or a senior. The script has to excite me. Since I am a budding actor, I have been approached by new directors.
You have seen Dear Comrade final output. What are your thoughts?
It has a nice story telling. You will walk out of the theatre with nice thoughts/feelings/emotions. I am waiting for audience feedback and critics response as it refuels us.