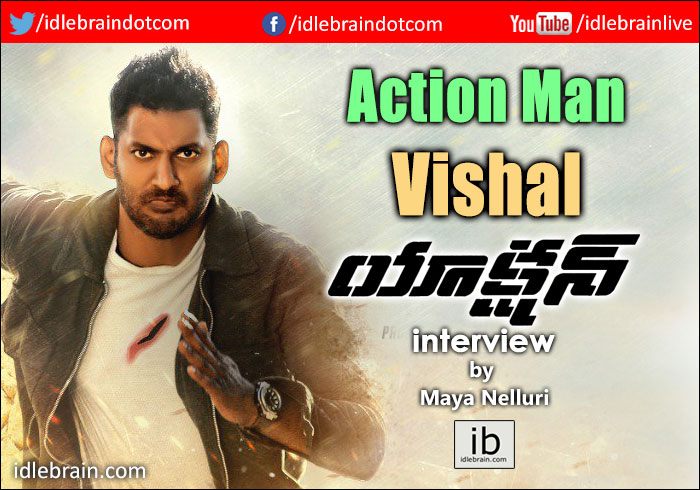 14 November 2019
Hyderabad
Who immediately comes to mind when we hear the words daring, dashing, and oh-so-delicious?! Ladies, you guessed it right! Speaking to us exclusively from all the way across the world in London, Vishal Reddy let us into his mind by answering some very out-of-the-box questions with his trademark spunk. He's had over a 100 injuries while shooting, loves romantic films, and it turns out that he does actually get some shut-eye amidst his multitude of professional and philanthropic works. His next film Action, which looks like one of the biggest action films of recent times, is all set to release tomorrow. Make sure you getting booking to watch this Sundar C. high-voltage entertainer with the glamorous Tamannaah, Akanksha and Aishwarya Lekshmi in leading roles. And of course keep reading to find out all about our man of the hour!

You are famous as an action hero – do you have any favourite action stars/ fight masters or directors from the past?
Action king Arjun. I actually worked under him so it rubbed off on me. I used to watch how he choreographed action sequences and observe him. That's where the seeds of action were planted. At the time I wanted to become a director, not an actor, but it helped me on the path.

You do your own stunts – do you enjoy them?
I do. It gives a rush when you come clean out of it. I'm now numb to injuries. It's a good and bad thing for me. It's like every action film has to outdo the previous release, otherwise it becomes redundant so injuries also increase each time. It's actually a task for the action choreographer to get the most out of me. It could be anything from bike chases to different types of martial arts. We have to do something new every time.

You must've had a lot of injuries – anything major that stopped your shooting schedule?
Over a 100! There were a few major ones but they didn't put me off my schedule. I was shocked when I had a one ton bike fall on my hand and I could still make it to shoot the next day. I thanked my genes and everything because it was unnatural. This was actually the second time. The first time I worked with Sundar C. I landed on my head from a fall. Everyone had their hands on their heads. He was stumped; he thought my career would be over then. That's why you really need to be fit as an actor, to be able to deal with everything.

Do you have any dream roles that you'd like to do in the future?
I always wanted to do super hero genre and the films I've been doing lately are almost in that space. Take for example if I play a vigilante who's fighting for injustice and the real identity is revealed only later. The only other thing on my bucket list was to do a negative role which I did with Mohanlal sir.

You do so much work apart from acting and producing – what prompts you to do so much for others?
You need to do that. It's not about managing many things. It's just like brushing your teeth or doing your chores. To give back to society is a part of life; it should be forth coming and not just a hobby. Also you don't choose to do these things, they choose you. And I guess I've learnt the art of multitasking.

Do you sleep at all?
*Laughs* I do. I'm a light sleeper but I need sleep. Otherwise I can't go on. Once you touch 40, you need to look good, even better in fact.

Action looks like it was tailor made for you – but what made you initially say yes to the script?
Sunder C. and his vision. Not many films like this will come by for everyone. We've put in as much hard work as you would into three films for Action. There's just so much imagination. You'll be on the edge of your seat the whole time. There's actually more action than dialogues. It's also a universal genre that'll connect to children, teens, adults, everyone. When he told me about the film, he didn't actually say it would be totally action; he focused on it being a commercial entertainer. I totally believe in him and his vision.

It looks like the film has a massive budget already but if you could have an unlimited budget, would you have added anything else?
We probably need to brush up on the commercial activity post release and the visual grandeur could be enhanced. Sunder C. was very particular that only our local boys should do the CG work. He didn't want any foreigners; he wanted the glory for our boys. For every film I always have a pre and post release analysis to make sure it's better next time. We should have a promotional plan like Bollywood. I'm in awe of that because it makes a big difference. There the theatres are totally booked for the next two years. The edit, cut, everything is done early and about three months of promotions are planned. In Telugu it's happening more now but it really needs to happen full-fledged in Tamil industry.

You look super fit in the film, what's your fitness regime like?
Eat fish, salmon and work out. *Laughs*

Do you worry at all about maintaining your image as an action hero?
Sometimes. Off late in the last two years my way of working has changed. If I feel something is wrong then I just wait for it to be sorted. I don't just go shoot because of deadlines. We shouldn't rush it. Creativity should flow. We don't think exactly the same everyday so it's natural to improvise with time. Off late I'm into that.

You've done films in other genres as well like Avan Ivan. Are you open to branching out into different genres in the future?
Yes, Detective 2 is underway in London. The film looks very international and it'll be a trilingual release for the first time in my career. This is a film I'd love to have in my library and show to people. It'll be on top of my list.

What genres do you like watching? Are you a secret romance buff?
Yes. I love Korean films which are completely romantic and make you cry. I'm not ashamed to say I cry when I watch an intense love story. I wish I could see myself in that.

Anything you're binge watching online at the moment?
The Spy. I loved it. I've been watching a lot of films I didn't get to see in theatres like Saaho and others in Tamil whenever I get time.

Do you do anything else for fun like playing video games?
No no. The best fun is to hang out with friends!

What exotic location would you want to be stranded on and with whom?
Koh Samui. Probably with an unknown person that I just met.

About the cast & crew:

Who's the fittest: Akansha & Tamannaah. For both it's a part of their lifestyle. Also Kabir who's the villain is extremely fit. Most are in fact in the film business but in this film the girls are really fit!

Who's the funniest: The brat 0 Aishwarya Lekshmi. If it was any other heroine, she might have been annoyed with all our jokes on her. It was her first so we were pampering her all through the shoot.

Who's the most serious: Vishal

Did anyone play pranks on set: I did. I cannot be without doing something every day.

Tell us something only you know about Tamannaah: She's single!

What's unique about your director Sundar C.: The way he matches things. If you have a scene in London and you miss out shooting something because of rain he'll match it exactly while shooting in Chennai. It'll look like we've done it all in one place. He's a producers' director.

Lastly, what are your upcoming projects?
My next is Chakra; tomorrow is the launch of its first look. Then Detective 2. And another film with Anand Shankar the Tamil director.

- Maya Nelluri