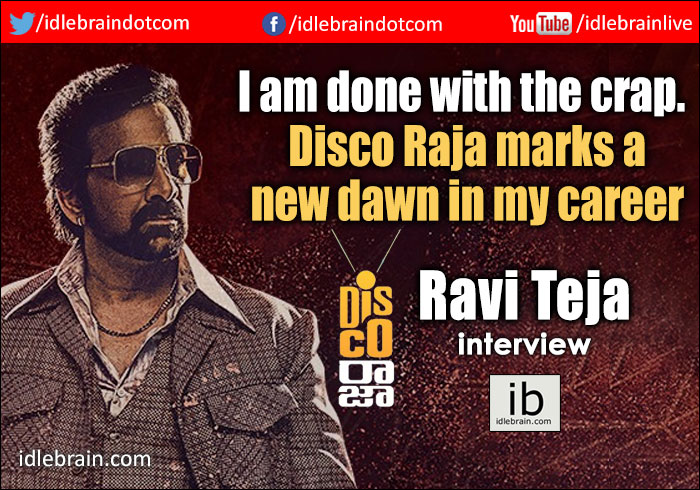 23 January 2020
Hyderabad
In an exclusive interview to idlebrain.com, Mass Maharaj Ravi Teja says that he has selected Disco Raja has his comeback film because of new script/screenplay which is laced with humor and commercial elements. Read on -

There is a small gap after Amar Akbar Anthony?
After the release of Amar Akbar Anthony film, I have made a conscious decision not to act in films that I don't believe in. Henceforth, you see only good films from me. It took time for Disco Raja to come in my way.

Tell us about Disco Raja?
When VI Anand approached me, I was skeptical as to why he wants to cast me. I was thrilled when I listened to the script. I never expected VI Anand to have such a sense of humor. He has impressed me with characterization and humor along with a different concept. He has done a very gripping screenplay for this film. I play the role of a musical gangster.

3 heroines
Payal Rajput plays a heroine against don in the film. Her role is strong and sincere. Nabha Natesh plays an emotional character that values relationships. Tanya Hope does the role of a scientist.

4 chartbuster songs
Thaman is in the best form of his life as a music director. He has got introduced in Telugu through my film Kick. He had always given good/popular songs for my films irrespective of quality of my films. There are four songs in this film. SP Balu has sung for one of the most nostalgic songs in recent times (Nuvvu Naatho Emannavo). Incidentally, this song has a length of more than 5 and a half minutes (a rarity these days). Dilliwala is a contemporary song with high technical music. I love disco music. Having disco music as theme and as an aid for the characterization gave a high for me. Rum Pum Bum song sung by Bappi Lahari is another highlight. And there is a half song called 'FreakOut' which I am also in love with.

Producer is not here for money
Ram Talluri has said that he wanted a different script and this is a kind of film that he would be proud of producing. And it will give him profits too. At the same time, this film is not a small film. It's a big budget film that has been shot for over 100 working days.

Final word
I am done with the crap. I have made a decision to make films with good scripts. They may work or may not work. But my intention is going to be sincere and pure. Disco Raja is a different commercial film and will work at the box office too.