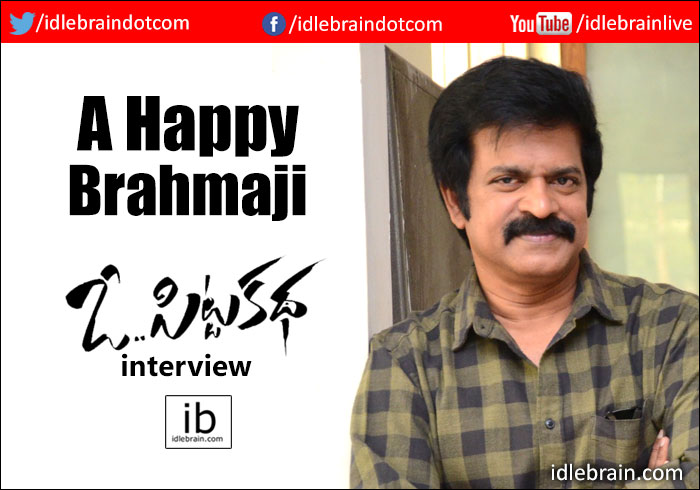 4 March 2020
Hyderabad
Brahmaji is one of the most successful and familiar actors on Telugu screen today. He talks about what made him so successful. He also talks about the debut film of his son (Sanjay) - O Pitta Katha..

You are seen in important characters in all important films in recent years. What's the secret?
Last few years have seen the birth of new production houses like Mythri Moviemakers, 14 reels and Haarika Hassine. These 3 production houses are most prolific filmmakers in last few years These producers are like personal friends to me. For example, the producers of Mythri have recommended me for Rangasthalam. I have never worked with Sukumar in the past and he cast me because of that recommendation. I have known all the top directors of Telugu cinema since the days they have worked as assistant directors. I always maintain a good relationship with everybody in sets irrespective of their position. It helped me in the long run. Having talent is important, but it's more important to have good interpersonal skills to be successful.

Why do you think the audience like you?
They like me because I have been doing good roles. And most of the roles are different. If you see Brahmanandam or Vennela Kishore, the audience will laugh the moment they are introduced on screen. But, when they see me, they don't come to a conclusion about which type of role I play. 4 out of 6 characters I play are different.

Tell us how the O Pitta Katha film happened?
Sanjay (my son) was working in the Navy and he expressed his willingness to venture into acting around 3 years back. I was surprised at his newly found interest. Krishna Vamsi asked him to join his team so that he can observe how the films are made. Working with Krishna Vamsi helps a lot. Sanjay has worked with Krishna Vamsi as AD for Nakshatram film. Allu Arvind has suggested that I should get a demo (showreel) done so that it can be shown for the prospective producers/directors.

Chendu Muddu is from Amalapuram and he grew up in a place called Kamakshi Peetham. He has also worked with Pedda Vamsi in the past. He narrated a story to me. It's like the story of the Bollywood film Race that is set up in a backdrop like Amalapuram. I loved the story. This kind of screenplay has never been seen on Telugu screen before. It has three perspectives. One each from the two characters and then what really happened. Chendu made a short film using this story with Sanjay as the main lead. Merlapaka Gandhi loved it and he wanted to produce it as a feature film. Then Hanu Raghavapudi also wanted to produce it. Then both their films flopped (Krishnarjuna Yuddam and Lie) and I didn't want to trouble them. That's when I noticed Bhavya creations and approached them. They wanted Chandra Sekhar Yeleti to give a go-ahead. Chandra Sekhar Yeleti loved the story and asked Bhavya Creations to produce the film. That's how O Pitta Katha film came alive.

You have used all your might to get superstar and megastar into promoting the film?
I am just the father of the hero. I have no financial benefits about the film. I am an honest person. I wouldn't misuse them to blindly promote a film. I requested them to be involved in promotions only after I became confident that the film is very good. If the film is bad, I can't face them in future as they might have thought I used them to promote a bad film. The main reason why I am so much involved in this film is not because of my son. It's because of the director. He is talented and worked very hard to come to this level.

Looks and fitness
I sleep for at least 8 hours a day. I eat healthy food. I am happy. The main reason why I look younger is because I chant. I recite a Buddhist chant - Nam Myoho Renge Kyo. It helped a lot to keep myself happy all the time. It also gave me a lot of positivity. I do chant it for others too. It makes the world around me a happier place.

Do you have any other plans in the film industry?
No. I want to die as an actor..



Other Interviews
• Subbu Vedula (director)
• Aberaam Varma (actor)
• Laksh (actor)
• Saahith Mothkuri (director)
• Ravi Teja (actor)
• Cherry (Chiranjeevi) (producer)
• Anil Ravipudi (director)
• Maruthi & Sai Dharam Tej (director)
• Sri Simha (actor)
• Ritesh Rana (debut director)
• Jaikumar Sampath (debut director)
• Ravikiran (debut director)
• Vishwanath Maganti (debut director)
• Vishal (actor)
• Sree Vishnu (actor)
• Tharun Bhaskar (actor)
• Aadi (actor)
• Rakesh Varre (actor)
• Ayanaka Bose (DOP)
• Basava Shankar (director)
• Naveen Polishetty (actor)
• Harish Shankar (director)
• Nani (acttor)
• Adivi Sesh (actor)
• Prabhas (actor)
• Adivi Sesh (actor)
• Sudheer Varma (director)
• Regina Cassandra (actress)
• Rahul Ravindran (director)
• Anil Kadiyala (producer)
• Kartikeya (actor)
• Madhura Sreedhar (producer)
• Charmme (actress)
• Allu Sirish (actor)
• Sudheer Babu (actor)
• Sudhakar Komakula (actor)
• Gowtam Tinnanuri (director)
• Sai Dharam Tej (actor)
• Kalyani Priyadarshan (actress)
• Shiva Nirvana (director)
• Pranit and Niharika (director, actress)
• KV Guhan (director)
• Priyadarshi (actor)
• Prashanth Kumar (director)
• Mahi V Raghav (director)
• Anil Ravipudi (director)
• Varun Tej (actor)
• Satya Dev (actor)
• Sankalp Reddy (director)
• Hanu Raghavapudi (director)
• Sumanth (actor)
• SKN & Rahul Sankrityan (director)
• Ayodhyakumar Krishnam Setty (director)
• Jakes Bejoy (music director)
• Hariteja (actor)
• Sudheer Babu (actor)
• Raj & DK (directors)
• Phanindra Narsetti (director)
• Parasuram (director)
• Sushanth (actor)
• Lakshmi Manchu (actress)
• Mohan Krishna Indraganti (director)
• Divakar Mani (actress)
• Keerthy Suresh (actress)
• Vakkantham Vamsi (director)
• Koratala Siva (director)
• Vamsi Koduri (actor)
• Nani (actor)
• Anupama Parameswaran (actress)
• Megha Akash (actress)
• Krishna Chaitanya (director)
• Sharan Koppisetty (director)
• Prasanth Varma (director)
• Manjula (director)
• VI Anand (director)
• Allu Sirish (actor)
• Sriram Venu (actor)
• Anup Rubens (music director)
• Naveen Chandra (actor)
• BVS Ravi (director)
• Nara Rohit (actor)
• Goverdhan Gajjala (actor)
• Vishal (actor)
• Praveen Sattaru (director)
• Pooja Kumar (Actress)
• Ram (Actor)
• Sharwanand (Actor)
• Mahesh Babu (Actor)
• Jr. NTR (Actor)
• Anil Paduri (VFX)
• Nivetha Thomas (actress)
• Neha Bhasin (singer)
• Kranthi Madhav (director)
• Mahesh Surapaneni (director)
• Krishna Marimuthu (director)
• Yakub Ali (director)
• Raj & DK (directosr)
• Sandeep Reddy Vanga (director)
• Mahi V Raghav (director)
• Taapsee (actress)
• Hanu Raghavapudi (director)
• Bellamkonda Sai Srinivas (actor)
• Krishna Vamsi (director)
• Sekhar Kammula (director)
• Catherine Tresa (actress)
• Shiva Nirvana (director)
• Harish Shankar (director)
• Pattabhi R. Chilukuri (director)
• Anand Ranga (director)
• Mohan Krishna Indraganti (director)
• Adivi Sesh (actor)
• Vamsy (director)
• Sumanth Ashwin (actor)
• Anisha Ambrose (actress)
• Sudheer Varma (director)
• Ritu Varma (actress)
• Rahul (actor)
• Srinivas Avasarala (actor)
• Pritesh Depala (CEO of Phars Films)
• KK Senthil Kumar (director)
• Sreenu Vaitla (director)
• Varun Tej (actor)
• Nischay Niyogi (stylist)
• Lavanya Tripathi (actress)
• Anup Rubense (music actor)
• Sundeep Kishan (actor)
• Raj Tarun (actor)
• Vamsi Krishna (director)
• Vijay Devarakonda (actor)
• Sai Dharam Tej (actor)
• Rana (actor)
• Satish Vegesna (director)
• Shriya Saran (actress)
• Devi Sri Prasad (music director)
• Sree Vishnu (actor)
• Kruthika Jayakumar (actress)
• Punarnavi (actress)
• Ram Gopal Varma (director)
• Vishal (actor)
• Ram Charan (actor)
• Saloni (actor)
• Ram Charan (actor)
• Poorna (actress)
• Sivakarthikeyan (actor)
• Nikhil (actor)
• Nandita Swetha (actress)
• Hebah Patel (actress)
• Allari Naresh (actor)
• Sumanth (actor)
• Manjima Mohan (actress)
• Karthi (actor)
• Rajeevan (Art director)
• Trisha (actress)
• Kalyan Ram (actor)
• Puri Jagannadh (director)
• Jagapathi Babu (actor)
• Prakash Raj (actor)
• Priyamani (actress)
• Ram (actor)
• Raashi Khanna (actress)
• Virinchi Varma (director)
• Nani Majnu by Jeevi (actor)
• Nani Majnu by Maya Nelluri (actor)
• Nagarjuna (actor)
• Kriti kharbanda (actress)
• Srinivas Avasarala (actor)
• Nara Rohit (actor)
• NTR (actor)
• Koratala Siva (director)
• Allu Sirish (actor)
• Venkatesh (actor)
• Chandrasekhar Yeleti (director)
• Vijay Devarakonda (actor)
• Ramaraju (director)
• Nani- Gentleman (actor)
• Sundeep Kishan (actor)
• Nithin (actor)
• S Radha Krishna (China Babu) (producer)
• Mahesh Babu (actor)
• Suriya (actor)
• Boyapati Srinu (director)
• Sundeep Kishan (actor)
• Manoj Manchu (actor)
• Nandini Reddy (director)
• Adivi Sesh (actor)
• Satish Kasetty (director)
• Bellamkonda Srinivas (actor)
• Bheemaneni Srinivasa Rao (director)
• Sharwanand (actor)
• Nagarjuna (actor)
• NTR (actor)
• Merlapaka Gandhi (director)
• Sravanthi Ravi Kishore (producer)
• Sudheer Babu (actor)
• Allari Naresh (actor)
• Gopichand (actor)
• Varun Tej (actor)
• Sampath Nandi (director)
• Nanditha (actress)
• Nikhil (actor)
• Anushka (actress)
• R. Rathnavelu (cinematographer)
• Swathi (actress)
• Chinnababu (producer)
• Raaja Kiran (director)
• Naveen Chandra (actor)
• Ohmkar (director)
• Kalyan Ram (actor)
• GV Prakash Kumar (actor)
• Varun Tej (actor)
• Sreenu Vaitla (director)
• Ram Charan (actor)
• Nani (actor)
• Teja (director)
• Vishnu Manchu (actor)
• Deva Katta (director)
• Maruthi (director)
• Bunny Vasu (producer)
• Ravi Teja (actor)
• Mahesh Babu (actor)
• Koratala Siva (director)
• Mahesh Babu (actor)
• Kalyan Koduri (music composer)
• Allari Naresh (actor)
• Anil Sunkara (producer)
• Prabhas - Baahubali (actor)
• Sundeep Kishan (actor)
• Yogesh (director)
• Srinivas Raga (director)
• Lagadapati Sridhar (producer)
• Sai Kiran Adivi (director)
• Nara Rohit (actor)
• Raj Madiraju (director)
• Gopichand Malineni (director)
• Sudheer Babu (actor)
• Lakshmi Mancu (actress)
• Ravi Babu (director & actor)
• Nani (actor)
• Pradeep Nandan (actor)
• Nikhil - Surya Vs Surya (actor)
• Havish (actor)
• Madalasa Sharma (actress)
• Varun Sandesh (actor)
• Madhura Sreedhar (producer)
• Sundeep Kishan (actor)
• Nikitha Reddy (producer)
• Suhir Ponncchamy (director)
• Aadi (actor)
• Rajesh Touchriver(director)
• Dasari Narayana Rao (director)
• Sai Dharam Tej (actor)
• Sundeep Kishan (actor)
• Allari Naresh (actor)
• Sai Korrapati (producer)
• Mahi V Raghav (director)
• Ram Charan - GAV (actor)
• Chiranjeevi- 2014 (actor)
• Lagadapati Sreedhar (producer)
• Aadi (actor)
• Neelakanta (director)
• VV Vinayak (director)
• Venkatesh (actor)
• Sundeep Kishan (actor)
• Anil Jason Guduru (director)
• Srinivas Avasarala (director/actor)
• Prakash Raj (actor)
• Nagarjuna (actor)
• Gangaraju Gunnam (producer & director)
• Aadi (actor)
• Raja Sekhar (actor)
• Allu Sirish (actor)
• Sekhar Kammula (director)
• Charmme (actress)
• Sai Rajesh (director)
• CV Kumar (producer)
• Krishna Madhav (actor)
• Tirthankar Das (producer, director, music director)
• Raj Pippalla (director)
• Raja Goutham (actor)
• Nani (actor)
• Vaani Kapoor (actress)
• Veena Ghantasala (singer - dubbing artist)
• Puri Jagannadh (director)
• Ayodhya Kumar (director)
• Sumanth (actor)
• Sukumar (director)
• Ram mohan (producer)
• Melanie kannokada (actress)
• Venkat (actor)
• Sundeep kishan (actor)
• Nagarjuna (actor)
• Vishnu Manchu (actor)
• Singeetam Srinivasa Rao (director)
• Lagadapati Sridhar Sirisha (producer)
• Sesh Adivi (director)
• Sai Kiran Adivi (producer)
• Mohana Krishna Indraganti (Director)
• Kalyani Koduri (music director)
• Eesha (actress)
• Sushanth (actor)
• Kalyanram Om (actor)
• Chandra Sekhar Yeleti (Director)
• Gopichand (actor)
• Ramaraju (Director)
• Gopichand Malineni (Director)
• Anil Sunkara (Director)
• Allu Arjun (Actor)
• Raj - DK (Director)
• Ashok G (Director)
• Nagarjuna (Actor)
• Venkatesh (Actor)
• Boyapati Sreenu (Director)
• Sirish (Actor)
• Nithin (Actor)
• Nikhil (Actor)
• Pratap Kolagatla (producer)
• Govardhan Krishna (director)
• Madhura Sreedhar (director)
• KS Rama Rao (producer)
• Lakshmi Manchu (actress)
• Sunil (actor)
• Vikram (Race/Manasara) (actor)
• Nandini Reddy (director)
• Prabhas (actor)
• Koratala Siva (director)
• Mahesh Babu (actor)
• Bommarillu Bhaskar (director)
• Sharwanand (actor)
• Kajal Agarwal (actress)
• Samantha (actress)
• Gowtam Menon (director)
• Rana Daggubati (actor)
• Krish (director)
• Praveen Sattaru (director)
• Sundeep Kishan (actor)
• Vishnu Manchu (actor)
• Ravi Babu (director)
• Sekhar Kammula (director)
• Amala Akkineni (actress)
• Ajay Bhuyan (director)
• Nagarjuna (actor)
• Allu Arjun (actor)
• Trivikram (director)
• Jr. SVR (actor)
• Kranthi Madhav (actor)
• Lakshmi Manchu (producer)
• Life is beautiful actors: Abhijeet | Sudhakar Komakula | Naveen | Vijay Devarakonda | Kaushik | Zara | Sriram
• Sai Korrapati (producer)
• Harish Shankar (director)
• Sravanthi Ravi Kishore (producer)
• SKN (producer)
• Teja (director)
• Sampath Nandi (director)
• Manoj Manchu (actor)

• Kiran Meegada (director)
• Amala Paul (actress)
• Siddharth (actor)
• YVS Chowdary (producer)
• Nagarjuna (actor)
• Sesh Adivi (actor)
• Prasad V Potluri (poducer)
• Krishna Vamsi (director)
• Seenu Vytla (director)
• Rana (actor)
• Dil Raju (producer)
• KL Damodar Prasad (producer)
• Veerabhadram (director)
• Varun Sandesh (actor)
• Sai Kumar (actor)
• Praveen Sattaru (director)
• Vishnu (actor)
• Dil Raju (producer)
• N Shankar (director)
• Nandini Reddy (director)
• Ravi Babu (director)
• Kalyan Ram (actor)
• Bharat Thankur (producer)
• Saloni (actress)
• SS Rajamouli (director)
• Madhura Sreedhar (director)
• Sundeep Kishan (actor)
• Satya Tatineni (director)
• Nani (actor)
• Lakshmi Manchu (producer)
• Manoj Manchu (actor)
• Aditya Babu (actor)
• Chandra Siddhartha (director)
• Ram (actor)
• Deva Katta (director)
• Ruby Parihar (actress)
• Anita Galler (actress)
• Priya Anand (actress)
• Shruti (actress)
• Arun Singaraju (director)
• Naga Chaitanya (actor)
• Suman Pathuri (director)
• Sekhar Kammula (director)
• Richa Gangopadhyay (Actress)
• Seenu Vytla (Director)
• Krishna Vamsi (Director)
• Srikanth (Actor)
• Sravanthi Ravi Kishore (Producer)
• Ram (Actor)
• Chaitanya Dantuluri (Actor)
• Chakri Toleti (Director)
• Nara Rohith (Actor)
• Senthil Kumar (Cinematographer)
• Ram Gopal Varma (Director)
• Anand Ranga (Director)
• Marthand K Shankar (Director)
• Siddharth (Actor)
• Raj Pippalla (Director)
• Nani (Actor)
• Deva Katta (Director)
• Raj & DK (Directors)
• Surya (Actor)
• Shraddha Das (Actress)
• Mahesh Shankar (Music director)
• Lakshmi Manchu (Actress)
• Siddharth (Actor)
• Sushant (Actor)
• Sharwanand (Actor)
• Jagapati Babu (Actor)
• JD Chakri (Director)
• Tamanna (Actress)
• Kishore Kumar (Director)
• Rahjul Nambiar (Visual Effects Supervisor)
• Deepa Chander (Cosumes designer)
• Anushka (Actress)
• Hari Charan Prasad (Director)
• Colors Swati (Actress)
• P Ravi Shankar (Dubbing artist)
• Anushka (Actress)
• Sonia (Actress)
• Usha (singer)
• Anish Kuruvilla (Director)
• Gowtam Menon (Director)
• Genelia (Actress)
• Kamal Kamaraju (Actor)
• Kishore (Actor)
• Harsha Reddy (Director n producer)
• Bindu Madhavi (Actress)
• Shweta Basu Prasad (Actress)
• Dil Raju (Actor)
• Santhi Chandra (Actor)
• Teja (Director n producer)
• Jeevi (Critic)
• Lakshmikanth Chenna (Director)
• Manoj Manchu (Actor)
• Ajay Sastri (Director)
• Sekhar Kmmula (Producer)
• Ravi Krishna (Actor)
• Sunitha (Playback singer)
• VN Aditya (Diector & Producer)
• Nallamalupu Bujji (Producer)
• Uday Kiran (Actor)
• Chandra Sekhar (Actor)
• Raahul (Actor)
• Dil Raju (Producer)
• Gopichand (Actor)
• Siva (Souryam director)
• Venkatesh (Actor)
• Mamata Mohandas (Actress)
• Lakshmi Lahari (Actress)
• Ramesh Varma (Director)
• Samudra (Director)
• Yogesh (Director)
• Neha Thota (Child actress)
• Srinivas Avasarala (Actor)
• Uday Kiran (Actor)
• Kanmani (Director)
• Ram Gopal Varma (Director)
• PG Vinda (Cinematographer)
• Madan (Director)
• Bhavana (Heroine)
• Bhargava (Producer)
• Hari Yelleti (Director)
• Krishnudu (Actor)
• Kishore Ganji (Producer)
• Ram Mohan (Producer)
• Salim Panda (Actor)
• Surekha Vani (Actress)
• Manjari Fadniz (Actress)
• Vishal (Actor)
• A Raja Sekhar (Director)
• Sridevi (Actress)
• Sayaji Shinde (Actor)
• Viswa Tej (Actor)
• Geetha Madhuri (Playback Singer)
• Namitha (Actress)
• Sneha Ullal (Actress)
• Prem Kumar Patra (Producer)
• GV Prakash (Music director)
• Mohana Krishna Indraganti (Director)
• Bharat (Child actor)
• Malini Dasari (Cinematographer)
• Rama Jogaiah Sastry (Lyricist)
• Venkat (Hero)
• Uday Kiran (Hero)
• Sharwanand (Hero)
• Ram (Hero)
• Aditi Sharma (Heroine)
• Nagur Babu (Mano) (Singer)
• Sekhar Suri (Director)
• Sindhu Menon (Heroine)
• Vinu Thomas (Music director)
• Nihal (Music director & Singer)
• Nitin (Hero)
• Smita (Pop singer)
• Sonal Chauhan (Actress)
• Raghu Kunche (Singer)
• Udaya Bhanu (Anchor)
• Meher Ramesh (Director)
• Rao Ramesh (Actor)
• Gopi Mohan (Writer)
• Ajay Sastri (Director)
• Vara Mullapudi (Director)
• Bhumika Chawla (Actress)
• Jagapati Babu (Actor)
• Vijay C Kumar (Cinematographer)
• Sekhar Kammula (Director)