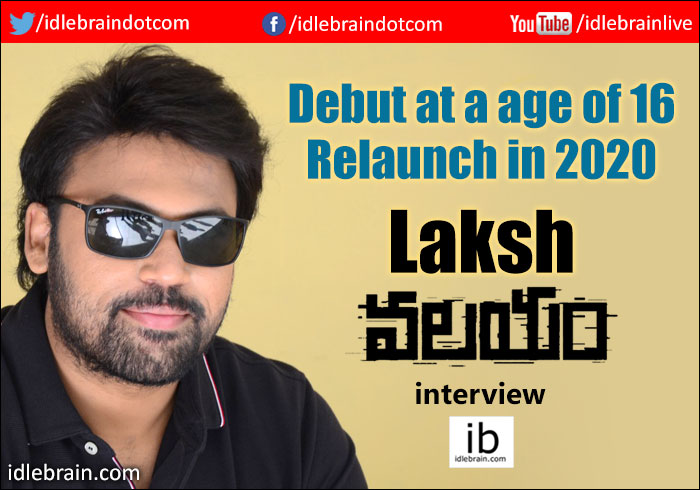 20 February 2020
Hyderabad
Laksh made his debut as a hero in 2003 at an young age of 16. He has voluntarily quit after a few films and is getting relaunched with a content film Valayam. Here is our exclusive interview with Laksh

Background
I belong to a business family which also produced several films in the past. I have acted in 3 films as a child artist. I made my debut as a hero at the age of 16 with a film titled Neetho Vasta (2003) with the screen name Sashikant. I did 3 more films - 786 (Khaidi Premakatha), Mesthri and Shankar. 786 did commercially well. I was launched as per the wishes of my parents. They stopped my education and made me a hero. I was not liking the way my acting career was going on. I had voluntarily retracted from my acting career. I wanted to complete my studies. I have gone to Singapore and finished my MBA. I came back to Hyderabad and took care of my parent's business.

However, I still had passion for films as an audience. I came across a film by Vijay Antony in 2016. I liked the trailer and we bought the rights. We have seen the Tamil version in Prasad labs. I am floored by the concept and songs. It was a sensible movie. We have bought the rights for Rs. 45 lakhs. We retained the original title and named it Bichagadu. We have added the tagline 'The Billionaire'. We spent around Rs. 2 crores for publicity and release. We cut the promos to show message and comedy in the movie. It opened with good openings and the word of mouth did the trick. It went on to collect a share of 9 crores though the film was released in single screens only.

Then I dubbed another sensible film titled 16 - Every Detail Counts. This film has run well in multiplexes. Then we did Jayam Ravi's Tik Tik Tik. Though it is a hit in Tamil, it tanked in Telugu.

I have also noticed the shift from commercial to content films in the Telugu industry over a period of time. I wanted to relaunch myself as an actor with a content film. My parents were happy when I told them my decision. I had decided to do it in my way without any script/logistical support from the family. I wanted to explore a current affair as the basis for my film. That's when Ramesh Kudumula narrated me the storyline of this film. We worked on the script for 6 months and started shooting with a bound-script. We have cut the trailer of the film mostly from the 1st half. Second half would be more tense and will have action sequences as well.

Disha angle
The character name of the heroine in this film is Disha. We have done the dubbing by October. Disha incident happened in November. Lots of people have asked me if I changed the heroine's character name to Disha after the incident. It was just a coincidence. I am not the kind of person who piggybacks on tragedies to get some mileage out of it.

Gut feel:
I will be watching the final product along with the audience in the theater. I have seen the rough version. I feel that background music and editing worked a big time in the movie. I have two more stories ready and will be doing one by one.

Pastine
Though I am passionate about films, I have cultivated sports and travel to keep me content in life. I have travelled to over 31 countries. I have my own team and we play cricket regularly. I also play Tennis and Badminton very regularly.