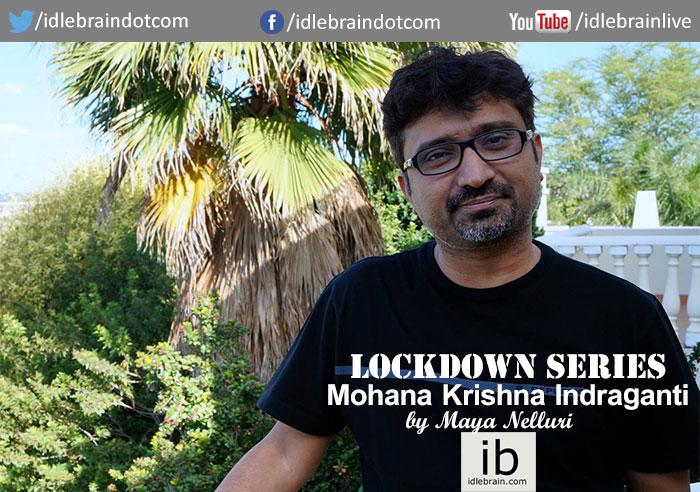 24 May 2020
Hyderabad
The much loved director of the much awaited movie 'V' spoke to us about his experiences with the lockdown! Mohan Krishna Indraganti has introduced some amazing films and actors to Tollywood. And he has some more masterpieces up his sleeve as we found out.
Anything interesting you realised during the lockdown?
I actually started the social distancing a week earlier because I was almost done with the post production work and had a break. So I've been in lockdown for almost 2 months. During this time it's become clear how little we need to live and the beauty of simplicity. We would like certain luxuries being city bred. But surprisingly my personal life has always been simple. My only weekess is cars since childhood so I miss driving around. Because of the lockdown we can see that we don't need to move around that much. I'll probably continue that. Diesel and petrol are useless if you don't travel as much leading to lesser green house gases. It's become very evident that we have to consume less than what we have been doing. We are destroying the planet by running after productivity and wealth. Going forward I think it's important to figure out what is really important and cut what's unnecessary.
What have you been spending your time on?
Actually even as a prisoner in a small space we can create a livable routine. We as humans are very adaptable. I myself have been catching up on music, films, reading and writing. You can live a reasonably happy life with these. If we have the bare minimum with a nice family around it is a pretty good life.
Do you have any memorable moments from this period?
The best thing that happened is me, my wife and 2 kids have started playing Tennikoit every evening around 6. Noone really plays thay these days so we had to create the ring out of cooker gasket. Hope we get to play afterwards too. I've also finished treatments for 3 scripts during these weeks, read really good books that were pending and have been keeping busy within these walls.
What do you want to do as soon as lockdown is over?
I'm dying to finish V and get the film out to audiences. The film is in its last stretch; I've only to double check everything which will take 3-4 days. Other than that may be go out and meet friends and chat about films. Have a black coffee with my crew. I live in Sainikpuri so even generally I go out once a week to meet people during summers. I prefer to write scripts during these months because shooting during summer is really an uphill battle. After Golconda High School I decided not to do it.
V was up for release just before the lockdown started so how did that feel for you?
We were just a week away from release so it's disappointing but we were also happy that it didn't start right after our release because that would've been disastrous. Not only was this Nani's 25th film, but it was my 3rd with him. It also turned out to be much anticipated and we were confident it looked good. I definitely wanted a theatrical release so I'm holding out for the right time. There's been offers from top OTTs but I myself am not a fan of watching movies at home on TV. I believe watching a movie is a life experience that should be shared as a group at theatres. Things seems to b getting better in India. We haven't yet peaked but we are doing better than other countries in recovery and containment. Fingers crossed that by the end of the month we should know what is in store for the future.
- Maya Nelluri