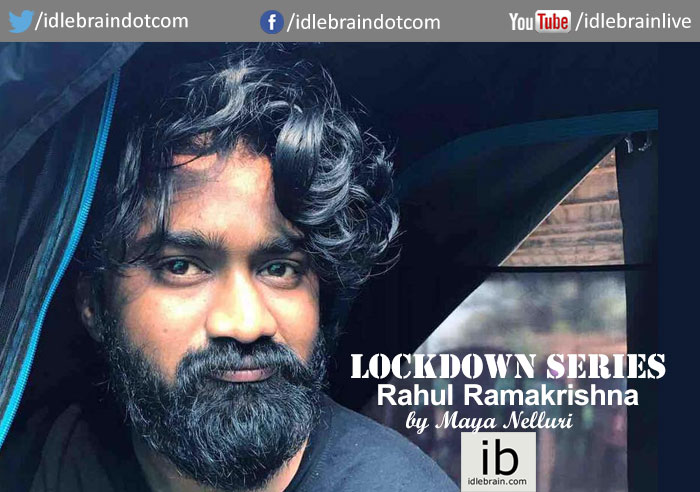 1 July 2020
Hyderabad
Breakout comedy star Rahul Ramakrishna has been on a shooting frenzy over the last three years. The blockbuster Arjun Reddy shot Rahul's visibility through the roof and everyone fell in love with this dream best-buddy. Since then he has appeared in numerous films and has proven his versatility. What many of you don't know however is that he is a man of depth, is alluringly well-read, thoughtful, intelligent and yet grounded. Read on to get to know Rahul a little bit more.
So you've moved to your farm recently?
Yes, I am here at Domakonda village, Kamareddy; to breathe in a lot of oxygen because the city was getting claustrophobic. It's a much needed break for me. It was a very stressful lockdown; shifting houses and a lot of other stuff. Here there's nothing to do, except de-weeding a lot of plants but I think I'll let them grow - I like greenery.
What have you been doing there?
Chilling, detoxing, playing cricket with friends and staff who work and manage the farm here.
What were the "other" stressful things you were hinting at?
Just some stuff on the personal front – differences with people professionally and personally. I realised that I have a fantastic capability of placing trust in strangers. It's definitely worth writing about in my memoir. I need to make better life choices regarding relationships, finances. In the last three years I've not had time for friends and my personal life took a beating. I realised I have to prioritise a lot of things going forward.
Also, being stuck at home for three months after three years of hectic work took some getting used to. After Arjun Reddy I was hijacked with work. Initially it was a good break but it quickly becomes very frustrating with nothing to do and so much uncertainty regarding the future of films. I've finished reading every book in my bookshelf. I thought of taking up fitness but decided that life is much better without taking up such extra stressful activities. I have high metabolism so I end up putting on weight mainly on my belly. I've never tried to get rid of it till now but I've heard it's tough. My trainer actually gave me list of exercises to do here but there's so much good mutton, natukodi biryani, fresh fish; so it's a bit hard to follow.
What were your favourite parts of lockdown?
The binge eating! For the first month and half it was good to chill and not think about work. It was good to think about myself; I discovered my old recipe books and cooked, watched many films and series. But then it reached a saturation point.
Any books you'd recommend?
Recently I read Kachitamga Naku Telusu by the director of April 1st Vidudala - Vamsi. It was a collection of very credible short stories. Also, Soul Circus by Venkat Siddareddy was good. Edward Said's writings about anthropology, orientalism, and the western civilisation's perceptions of other cultures like the Middle East were fascinating. Siva Sagar's poetry is also a must.
Any film recommendations?
I really liked the French film maker Agnes Varda's movies. She's crazy. On the Indian side I watched Panchayat which I liked. It kept me hooked watching actors like Neena Gupta and Raghubir Yadhav. In the summer I was into Jandhyala and EVV Satyanarayana's films while eating mangoes, curd rice, and lots of sweets. I put on so many calories.
You were a reporter in your earlier days?
Yes for three years I was a freelancer for newspapers. I also worked as a fixer and translator for journalists abroad, and for NGOs dealing with public policy, implementation of laws etc. I did some work for the Aadivasi communities in AP and Telangana; policy research for central government regarding the implementation of rights to information and so forth. It was heavy duty work.
What are you hoping for in the rest of the year?
I am hoping for a vaccine to come out as soon as possible. The world is also hoping that. My work and entire career is dependent on the vaccine which can help us get back to normalcy. I want to get back to shooting and getting theatrical releases. Everything is quite jammed. If there was a successful vaccine then I'd be one of the first to try it because I'm sick of this!
- Maya Nelluri