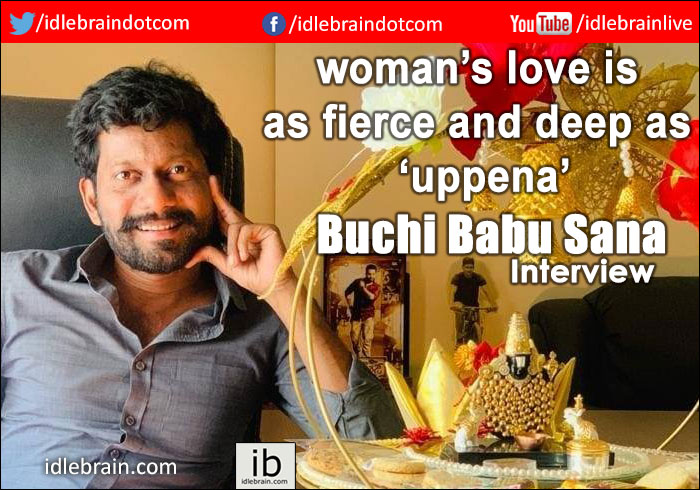 5 February 2020
Hyderabad
Uppena's debut director Buchi Babu is nervously excited as he speaks to us about today's release. There's a lot of buzz around this film considering it is the debut of another Mega hero Vaishnav Tej and has the impeccable Vijay Sethupathi playing the negative lead. Read on to find out what brought the director to this particular Friday.
How did your journey in the film industry start?
I started off as Sukumar sir's AD from Arya 2. I worked with him for many projects including 100% Love, Kumari 21F, One and so forth. During Rangasthalam I narrated the idea of Uppena to sir and he really liked it. He asked for a full narration. After that he asked me to narrate to Mythri Movies Ravi sir and Naveen sir.
Why did you decide to go with Vaishnav Tej for the lead?
I was certain that this movie had to have a new comer because an established actor would not fit this character. When someone showed me Vaishnav, I immediately felt like he was perfect for Uppena. Once Sukumar sir asked me to narrate to Vaishnav, he liked it as well. He then asked me to narrate to Chiranjeevi sir.
How was the experience of narrating to Chiranjeevi sir?
To even just meet Megastar is a massive accomplishment so when I was told to narrate to him I was overwhelmed. I didn't know if I should be excited about meeting him or nervous about narrating to him. I prepared for an entire week like it was my ICET or EMCET exam. He did end up liking it and asked me who would play the villain.What made

you zero in on Vijay Sethupathi for the villain?
Even when I was writing the script I didn't think of anyone other than Vijay sir for this role. I mentioned him regardless of whom I narrated to. Everyone was apprehensive of whether he would accept the role because it is of the heroine's father. But somewhere I was sure that he would accept it, and he did. I used all my MBA skills while putting together this project. I was very keen on having a pan India puller and I was certain that Vijay sir would be it.
So you've completed your MBA?
Yes. I studied Inter MPC, Degree in BSc Computers and eventually ended up doing my MBA in Pragati Maha Vidyalaya. I scored one of the top ranks in ICET in fact.
How did the idea of an MBA come about when you ended up getting into films?
Sukumar sir was actually my teacher in Inter. I didn't know anyone else in the film industry. When he ended up making Arya, I felt like I should get into this field too. I told my parents that I wanted to go to Hyderabad to do my MBA because I was sure they wouldn't agree to me moving for cinema. I was studying in Kakinada till then. My parents agreed for me to pursue MBA so I came to Hyderabad but my main purpose was to assist Sukumar sir.

Coming to Uppena, the film seems to be the regular boy-meets-girl story. What do you feel is different about this film compared to others?
Although it is a love story between a fisherman's son and a girl of a higher caste, I took a very realistic approach to the film. Nothing was added just for cinematic liberty. The only commercial elements were added around Vijay sir because if I made it into a complete art film, not many people would end up watching it. Also, the climax of the film is entirely unique. I tried to answer the question of what is love?!
What are you expecting from this film?
The entire reason I came to films was to make a good name for myself and to uphold the name of my guru Sukumar sir. While I was writing this script and throughout the making, all I wanted was for people to think that I made a good film. Uppena is a film from the female protagonist's point of view. I tried to show that a woman's love is as fierce and deep as 'uppena'.
Do you have any memorable moments from your film career that you would like to share with us?
Working with Sukumar sir was wholly memorable. Apart from that to work with Vijay sir was amazing.
How was your experience with Mythri Movies?
Without Mythri Movies Ravi sir and Naveen sir there would be no Uppena so I am very grateful to them for their support. I'd like to send out a massive thank you to them.
And working with Vaishnav Tej?
The Panja Boy, as we lovingly refer to him, is a sweetheart. He's like a brother to me and I learnt a lot from him even though he is much younger. Working with him is going to stay with me for a long time to come.
What's coming up for you post Uppena?
Discussions are under way for my next project. There is a fantastic script which needs a big star. It remains to be seen what happens post the release of Uppena.