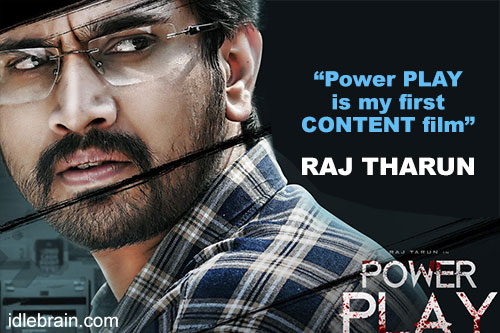 3 March 2020
Hyderabad
Raj Tharun who is known as a hero with a lot of entertainment quotient in his films is trying for a content-based film for the first time in his career with 'Power Play'. Here is an exclusive interview with Raj Tharun -
You started off your career with three consecutive hits. And the quality had gone down later. What is the reason?
I had always felt that each film of mine had potential at the box office when I accepted them, but some of the films failed during execution. I agree that some of the films didn't satisfy movie lovers, but I made sure that I had always done subjects with different content each time. I have also not repeated the same mistake again.
Can you tell us about Power Play film? Though it's cricket jargon, this film is more about political power?
Yes. Kota garu played the role of CM of the state. Poorna played his daughter. The main lead gets entangled in the whole scheme of things without any knowledge. The film is about how he comes out of it successfully.
All of your films had entertainment quotient through hero characters in the past. Power Play looks like a serious thriller with no entertainment from your side?
Yes. This is a pure content film. The idea of this film came to the director Vijay Kumar Konda during the lockdown period. Once the story line is okayed, he has completed the script in a month. We went to shoot right after the government gave the permission to shoot. It's a pure content film and the story revolves around prime characters. There are no songs. This is the first content film in my career. The audiences have started accepting content-based films if made well. This movie is an honest attempt to dish out engaging film without deviating from the main subject.

Tell us about the main characters in the film?
All the characters are important in this film. Hemal, Dhanraj, Poorna, Kota, Ajay, Madhunandan, Ravi Varma, Prince, Raja Ravindra, Bhoopal etc acted in it. Madhunandan who is known for comedy roles has done a serious role in this film. Kogta garu played a vital role in a Telugu film after a long gap. Poorna has done a negative role. Ajay had done a very good role.
Tell us about first time producers?
Mahidhar and Devesh are good friends to the director Vijay Kumar Konda. They loved the subject and made their debut with this film. It's a risky proposition to decide to make a film when covid is scaring the entire world. I am sure that they will be happy once the audiences like the film.
Tell us about the music director?
Since this film doesn't have songs, we didn't need a music director during the shooting of the film. The director has asked Suresh Bobbili to compose music for the trailer. He was impressed by the work and then offered Suresh Bobbili to do a background score for the film. It turned out to be the right decision.

Tell us about your future projects?
I am currently doing two films
1. Annapurna studios film with Naga Chaitanya as the producer. This film is being directed by 'Seetamma Andalu' director Srinivas Gavireddy.
2. I am doing a film in which I play the role of a standup comedian. It's a new concept for Telugu films. It's directed by Santo. I am a huge fan of standup comedies. I learnt about stand up comedies and did a lot of research. I have written two sets too. I am looking forward to the occasion to do open-mic.