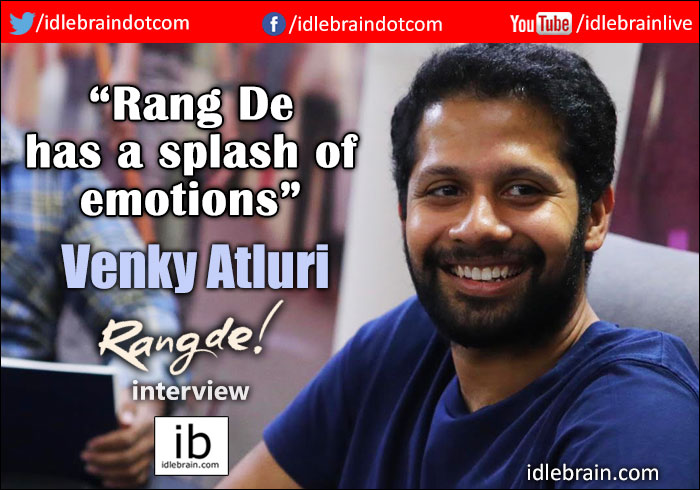 25 March 2020
Hyderabad
Venky Atluri has an interesting journey in Telugu film industry. He has become a hero immediately after completing engineering in 2007. Then he transformed into a writer and worked for a couple of films. It took him almost 12 years to taste the success with the Tholi Prema film. Here is our exclusive interview -
You made your debut as a hero in 2008. Please elaborate about your journey so far?
My father is in the real estate business. After I completed engineering studies, a friend of my uncle asked me if I was interested in films. My parents wanted me to continue studying. I have been interested in films since childhood. I got my portfolio done. They liked it and cast me as a hero in the Gnapakam film. The only condition they had was that I should have a passport ready as they need to shoot the film in Salzburg, Austria for 15 days. I was thinking that I had done a decent job as an actor till the screening happened in Prasads multiplex. Only then I had realised that I failed as an actor as I couldn't deliver a single proper expression.
I wanted to stay here and prove myself though the audience has rejected me with the first film. I struggled to get any roles. That's when Happy Days was released. It has become the trend to do films with newcomers. And my one film work experience has worked against me.
Madhura Sridhar was making his debut as a director and Lagadapati Sridhar was planning to produce a film titled Sneha Geetham. Kishore Tirumala was the dialogue writer and Sai Dharam Tej asked me to go and meet him. I did an audition and they cast me one of the actors. During the scripting stage, Tirumala Kishore left and they tried another writer and it didn't work out. I asked Sridhar if I could write dialogues. He gave a few scenes to try out and was satisfied with my dialogues. I ended up pennung dialogues for Sneha Geetham in addition to acting in it.
I started writing stories as well. I narrated the story to Usha Kiran movies. They asked me to make a choice between acting and directing. I choose to be a director. They asked me to be prepared for a long wait as it takes a lot of time to become a director. Then I penned dialogues to Madhura Sridhar's next film It's My Love Story.
Dil Raju has liked my writing and asked me to work for Kerintha film for some time. That's when I had narrated the story of Tholi Prema to him. The project has got delayed and I associated myself with Bapineedu. They liked the story and Tholiprema was made with Bapineedu as the producer.
What made Tholiprema work at the box office?
The story is original. It's a true love story with a lot of innocence. Songs were a huge asset. They didn't expect such fresh melodies from Thaman who is known more for commercial music. Raashi Khanna has got a meaty role which gave her a scope to emote well. Varun Tej has lost weight and looks very good. Varun Tej, Raashi Khanna and Thaman together brought a lot of freshness to the film.
It took you almost 12 years to taste success in the Telugu film industry. What was your reaction after the success of Tholiprema?
I have the habit of moving to the next project irrespective of the result of the previous film. Tholiprema was released on Saturday and by Monday, we confirmed our next project with Akhil as the hero. I moved onto Mr. Majnu project.
What do you think has gone wrong with Mr. Majnu?
I am a huge fan of Nagarjuna. And I was thrilled when I got an opportunity to work with Akhil. I got carried away and put a lot of focus on characterization and neglected the writing part of the second half. We shot Tholiprema in London during winter and we had magical colors and freshness in locations during that time. We had shot Mr. Majnu in London during summer. Light was harsh and we had to use the same locations (as only those locations are given out for shoots in London). It was so hot that Akhil got tanned during the London schedule.
Tell us about Rang De?
I wanted to depict the pain of a girl. We have seen the pain in a love story earlier. I want to explore the girl's point of view intensely in this film. It also deals with unconditional love. I have done treading on a thin line. Nithin has handled his character gracefully. I haven't expected Nithin's to do comedy and emotions at such an ease. Keerthy has given a great performance in Mahanati film. She has given a different kind of performance (emotions) in this film. It's about how an innocent neighbor girl gets him into trouble. The conflicts/fights between boy/girl and parents/kids are naturally handled. I have titled this film Rang De as it has a splash of emotions just like the splash of colours in a rainbow.
Tell us about your next project?
My next film is going to be produced by Naga Vamsi on Sithara Entertainments banner in association with Dil Raju. It's going to be a social issue based subject. I really like my producer Naga Vamsi. He has paid salaries to my staff for 8 months during covid time though he had to bear the interest around 3-4 crores due to covid. We need more responsible and caring producers in the Telugu film industry.