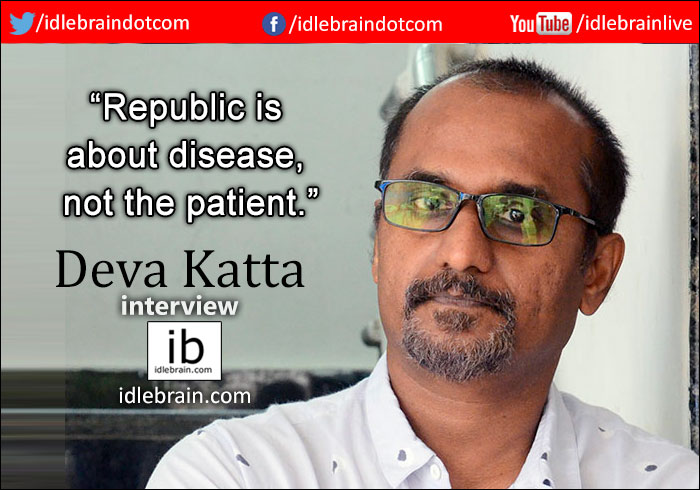 29 September 2020
Hyderabad
Devva Katta is coming to Telugu films again after a gap of 5 years with Republic. Here is our exclusive interview with this well-read and honest filmmaker -
your last Telugu film dynamite was released 6 years back. Why did it take you so long for the next Telugu film to be made?
Dynamite damaged my credibility as a sincere filmmaker. It takes time and effort to gain back that credibility. Though 3-4 projects went to the signing stage, they fell apart for unknown reasons. While at it, I got an opportunity to write and shoot Bahubali Web Series which followed Prasthanam Hindi remake opportunity which I signed in 2012 before Sanjay Dutt went to prison. Coming back from those two projects and the lockdowns due to COVID all put together became a six year gap all of a sudden if i look back.
The trailer of the film is so true to the content that it's self-explanatory about the story and treatment of the film. What can we expect about the film?
We presented the exact tone of the film in the trailer. If you love the trailer, we are all confident you will definitely love the film.
Your journey of film making right from Vennela has been fraught with hardship. Is the Republic the first film where it was all smooth-sailing for you?
Yes. According to me, the process with which we made Republic is an ideal way of making any film.
I heard that you had Pawan Kalyan as protagonist in mind while writing the film and it eventually fell into the lap of his godson Sai Tej?
When the idea was in it's primitive stage 7-8 years back, I thought it will have maximum impact with Pawan Kalyan gaaru. But I was and am still not sure if I will be able to handle his mass image and satisfy the fans expectations. When I bounced the idea with Tej casually one day in gym, he clung onto it and fell in love with it immediately.
Ramya Krishna's character looks like the face of an evil political establishment in the film. Is it a film where the hero fights against the system or against an individual?
In REPUBLIC, even the politician is a victim of the vicious cycle we are living in. We are all victims of the system we devised without a basic understanding of how a democracy functions for everyone. Republic is about disease, not the patient.
Tell us about the casting of leading ladies Aishwarya Rajesh and Ramya Krishna?
I am a huge fan of both. They are the best of the best. In our first draft of the screenplay, Ramya's character was a 70 year old man. But Tej suggested thinking about a female so that it balances the gender aspect and adds more depth to the casting. When I thought of Ramya gaaru, the character became much more poetic and meaningful.
Everybody is anxious about the health status of Sai Tej. Pls tell us how he is doing? Also his thoughts of release of the film while he is in the hospital.
Tej is very safe and recovering towards normalcy. When I had a small rib injury (just a bruise) while doing a recce for Republic, it took me ten days to breathe without pain. Tej has no threatening injuries and all we need to do is give him time to heal naturally. We also need to protect him COVID kind of infections. The family is monitoring regularly and keeping him protected. We should all respect and understand the recovery process in depth. Tej fixed the release date and he wanted us to stick to the date even after the accident. That's why we are all going forward as a team.
It's been 16 years since your debut Vennela was made. What are the considerable changes you see in terms of how the film industry is functioning and how audiences have matured?
Audiences have matured leaps and bounds especially within the last 5-6 years with lots of new wave storytellers. Now novelty and matured narration gives more assurance to succeed at the box office also. I feel the tables have turned to the exposure of international content and it's going be progressive further.
Honesty is a virtue that most filmmakers fail to keep up once they enter the commercial world. You have also tried to be commercial with a couple of films and got back to honest writing for Republic?
Yes Republic is as honest as I can get on this subject matter without any biases or prejudices. Contaminating an honest subject matter with commercial elements only guarantees commercial failure. If you are honest, your product lives the test of time even if it fails momentarily to grab the audience's pulse. As an ardent fan of Megastar, of all his 153 films, I rate Rudraveena on top though it was a commercial failure at that time. The chances of success or failure are the same no matter what genre or kind of a film we make…it's only a matter of engaging the audiences in the theatre.
Tell us about the making? How many days it took to write/shoot/post-production.
It was just an idea for a long time but the characterisation, plotting and screenplay took 4 months. We did pre production for 3 months and shot the entire film in 64 days within budget.
Tell us about the future projects?
Have about 8-10 stories/ideas in different shapes. Will pick whichever makes me feel fully charged depending on the resources available after REPUBLIC release.