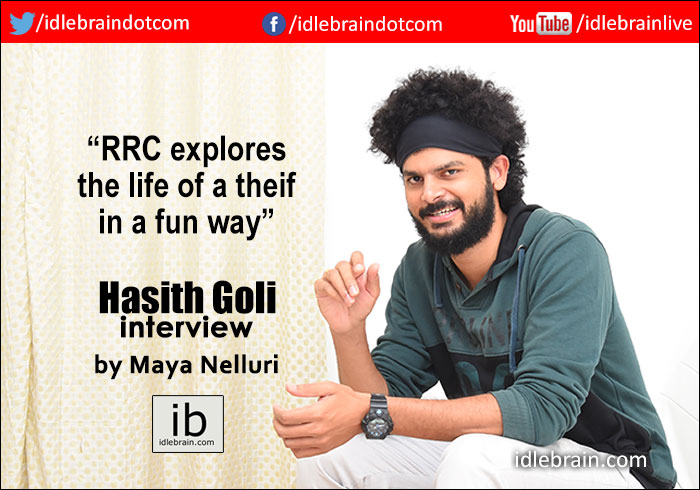 18 August 2020
Hyderabad
Debut Director Hasith Goli speaks about Raja Raja Chora starring Sree Vishnu and Megha Akash in lead roles. This BITS Pilani graduate took a chance on his creative urge with the dramatic comedy and is hopeful that it does the trick this Thursday.
What prompted you to enter the film industry?
Everyone is into films since childhood. I was more connected to it because of my interest in Telugu and Sahityam due to my father. It just kept growing from there.
Tell us about your educational background.
I studied BCom honours from BITS Pilani. There we get wholistic knowledge and we are able to pursue our interests. So I was very active in student organisations and so on.
Which was your first project in Tollywood?
When Vivek Athreya started working on Mental Madhilo he asked me if I wanted to work on it. I started off assisting him. During that film I developed more of an interest and felt it was possible to enter the industry. It is a medium where you can express and bring your thoughts to life.
Did you enter the film industry immediately after college?
I worked in Map My India for a year after BITS. Then I worked at a startup which built apps. When that was acquired by Snap Deal, I worked there in marketing and sales for about 2.5-3 years. But when the opportunity for working on Mental Madhilo came up I felt that it was the right time to pursue my creative urge. I went for it.
You also worked on Brochevarevaru.
Yes. During Mental Madhilo I struck up a connection with Sree Vishnu garu. We synced well and got along so I was able to pitch my ideas to him since then. When Brochevarevaru started I worked on that too so I could learn and understand the craft further. It was during this time that I pitched the line of exploring a thief's life. That became Raja Raja Chora.
Looking back do you feel you should've come into films straight from school instead of studying, working and so forth?
I don't think anything went in vain. It all helps even now. Even the short films that I worked on, they taught me the craft at some level. Now everything is at a different scale, the stories, the writing, the people we have to convince. Even my marketing and sales background helps.
What prompted you to explore the life of a thief?
The idea came about organically. It suited the timing I enjoyed with Sree Vishnu garu. The character was built to suit him. Also, comedy has always been the go-to genre for film lovers, alongside story and drama. We felt that with this script the fun angle could be explored while telling a good story.
How different is it from working as an AD to being a director?
Definitely the decision making is the biggest aspect. It is completely on you. As an AD even when I would make some decisions there was someone else to fall back on. For this project, I had Vishnu but I also had to deal with the managerial aspects more.
Comedy seems to be a hit genre post pandemic, do you see it working in your favour for the release?
When we started the project we didn't know the pandemic would happen. We arrived at this genre because it is a fun way to tell an important story. After pandemic the value for comedy and entertainment has increased multifold so we are hopeful.
Do you want to be seen as a commercial director or an award-winning director?
*Laughs* Noone starts with the tag. It's an external outcome. They pursue stories and choose roads depending on their interest. I just want to get better.
What are your plans post the release?
For the past 1.5 months I've been in peak post production zone. After this release I will sit back and polish things with the experience I gained. I feel there is more of a connection/ reciprocation to drama so I might look at presenting day-to-day things dramatically. Explore more deeper and novel ways to present it. Also, why not action?
-Maya Nelluri