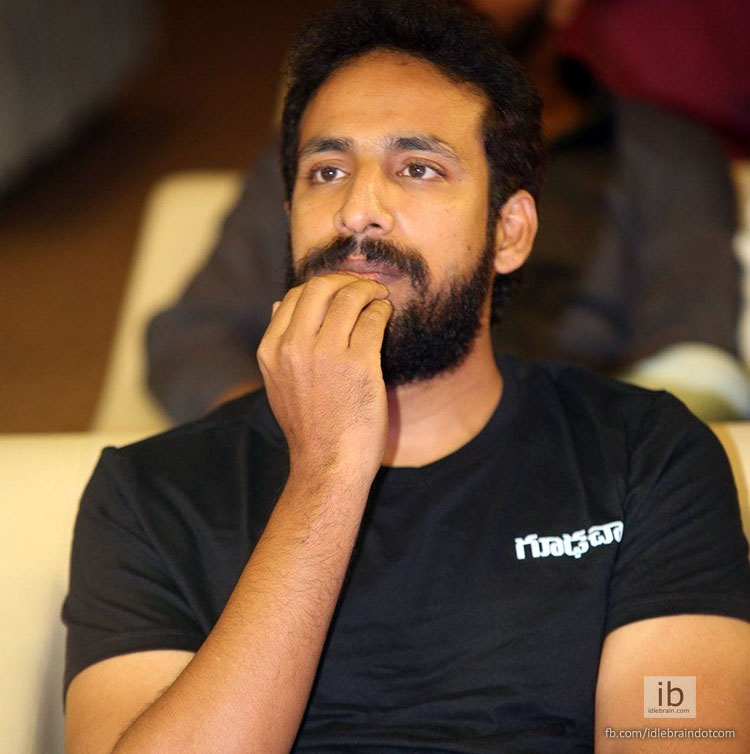 31 May 2022
Hyderabad
Sashi Kiran Tikka was attached to do a film for Sithara Entertainments after the success of his maiden directorial Goodachari. He pitched a few storylines to the production house and as he was working on them, his good friend-actor Adivi Sesh rang him up and informed that Major is mounting together with big names like Mahesh Babu and Sony coming together. Then there were his friends Anurag and Sharath Chandra from Chai Bisket as well. The project, which sees Sesh playing Major Sandeep Unnikrishnan, a National Security Guard commando, who had led the Black Tornado operation to save hostages in the 26/11 Taj Hotel attack in Mumbai, started falling in place faster than the actor imagined. He was updating Sashi about it. Naturally, the director was chuffed to bits for his friend. But it came as a surprise when Sesh asked him to helm it. "I told him that I'm with Sithara and on a completely different track. I don't think it's possible," Sashi recalls in an exclusive conversation with idlebrain.
Sesh, however, convinced him to think about the offer by insisting that the content is right up his friend's alley. "He started narrating to me how he conceived the story. I soon started thinking about it. In the process of doing my research, I realized that it's a story that the world needs to see. I understood why Sesh was adamant on me directing it. I met Sandeep's parents in 2018-19 and their memories of Sandeep were still fresh. The emotion they carried for him was pure. It touched me and I decided to take up the project no matter what. I felt it should be told on a priority basis. I took consent from Sithara and came out," Sashi explains, adding that Sesh has been nursing ambitions about telling the story of Sandeep Unnikrishnan since 2010. "A couple of months after Goodachari opened, his dream started taking shape. Most of the people around him know about Major being his passion project. I, however, never thought I'd be directing it."
Convincing the parents of Sandeep to tell the story of their son on the big screen proved to be the most difficult task for the team besides the pandemic which delayed the shoot multiple times. "Basically, they are not connected with films at all. They don't even watch films in the first place. Any parent will be apprehensive if someone wants to pen a book or make a film on their son to begin with, right? They would want to know about the people who want to tell the story of their son. I think some other filmmakers approached them but they were not sure how serious they were. Similarly, uncle couldn't understand how serious we were initially. It took some time. In the beginning, he hung up when Sesh rang him, saying he's not interested. We got a girl in our team to call him and it gave us a little space. He wanted to know what it was about. We sat and explained the blueprint of the film we envisioned. In fact, this happened much before I entered the scene as a director. Aunty felt that Sesh had similar facial features to that of her son. 'Ye mere beta lag raha hai', she said. Then uncle said, 'Okay. I believe you people 10 percent but let us see'. Slowly he started trusting us before giving his go-ahead," Sashi reminisces fondly.
The team sat with the parents, friends, teachers and colleagues for hours, recording the conversations. The research was not in a particular order and there were many things they loved about Sandeep and including of all it meant that they were looking at a five-six hour film. "We had to condense it and put the cream of what we've discovered," Sashi states.
As a part of his extensive research, Sashi found out that Sandeep "lived a beautiful life" and that is what he captured in the film. The material was so much that they had to sacrifice some breezy and humane moments from his life. "When he was in VII Bihar regiment serving at the border, he used to tune into a radio which used to catch the frequency of a Pakistan radio channel. He used to listen to Sufi music of Pakistan. Some of his favorite songs were often played on that frequency. When the station stopped playing those songs, he somehow got a friend in New Delhi to mail to the Pakistan station to request them to play those songs," Sashi smiles.
After a pause, he continues, "In general, the impression one gets of an army officer is that he is strict and extremely disciplined. While being all that, Sandeep was the most chilled out person with a great sense of humour. He was an animal lover. He used to take care and rescue animals which were in distress. I do the same in my life as well. Only people with a sensitive heart can do such things. We all know him as a hero but the film is about a human that we don't know."
Sashi admits that it was quite challenging to balance both the modern times and the period era for the film. "In the run up to the 26/11 attacks, we had to recreate his life from his childhood, teenage, to his stint in NDA and NSG. So there was quite a journey we covered in the film as we had to show the '80s, '90s, mid of 2000 and 2008. To recreate the era he lived in was not that easy. A lot of effort went into it in terms of production design and costume design. We were very clear on how the film should look in a particular era," he points out.
Major is that rare Telugu film which was shot in Telugu and Hindi simultaneously, making it a proper bilingual. It came with its own set of challenges but Sashi was up to the task. "As a teenager I travelled all over India as my father was a businessman. I may not be fluent in terms of speaking Hindi but I'm familiar with it. I speak Hyderabadi Hindi. I'm aware of the dialects of Hindi across the country. I'm also familiar with the way the army speaks Hindi. So I was quite clear on how the Hindi version should be. If you watch both the versions tomorrow, they have a certain charm about them. A lot of effort has gone into how the film sounds culturally in both Telugu and in Hindi respectively. Similarly for casting, we needed actors who are equally good in both the languages. So we got Prakash Raj, Revathy, Sobhitha and Murali Sharma who are known names in both the languages. We've got the cast right. Saiee Manjrekar is the only non-Telugu speaking actor in the film but she is a north Indian in the film. So we got her on board. However, she dubbed for her own role in Telugu," he informs.
For the action which transpired at The Taj Mahal Palace hotel, Sashi had to conceive it in such a way that "it was realistic and yet stylish". "This battle was peculiar as it happened inside a vast seven-star property. On a normal day, once you get into it, you'll not find a way to get out. I've met with some NSG commandos who served with Sandeep, and also the hotel staff at The Taj to obtain all the information I could. There was action but it was vague. NSG commandos are the nation's elite forces, so they are slick. And so are the terrorists. We designed the action interestingly. Sunil Rodriguez, who worked on a number of films with Akshay Kumar and Shah Rukh Khan, was roped in for the purpose. Working with him and designing the action was next level. As much as we worked on the script, we worked even harder on the action part and that is speaking now from the premier shows. Especially in the second half, there is a particular sequence which will keep you glued to your seat," he exults.
Sashi and Sesh received accolades for making Goodachari on a moderate budget whilst not losing out on the splendor and finesse that one usually associates with an espionage thriller. With Major, the budget shouldn't have been a problem with some heavyweights behind the production but Sashi insists the film is not a big budget one. "It had its own limitations in terms of budget but it's definitely better than that of Goodachari. The dream of Major was beyond the market of Sesh and mine if you do an equation. Again, we had to fight for many things. We have seven-eight sets and each one was costing us a lot. So we had to squeeze in some things… do the maths again to make sure the quality was not compromised. It was quite a task again. For the movie, it requires more than what we spent (smiles). The stretch was still there. But Mahesh sir was a force behind us. When the pandemic was raging and we got OTT offers, he said let's wait for the theatres to open as the film is best experienced on the big screen. Those words were a shot in the arm for everyone. Money doesn't give you that boost," he raves.
Next up, he will be honouring his commitment to Sithara Entertainments, while simultaneously keeping a tab on Goodachari 2. Although there is no word on who is directing it, Sashi says the film will be happening pretty soon. "I will be there with Sesh… I will be listening to the script and maybe I will go to the edit table. At the end of the day it is my baby as well. Probably, in the future I will direct the further franchise of the film," Sashi ends.
-NAGARAJ GOUD