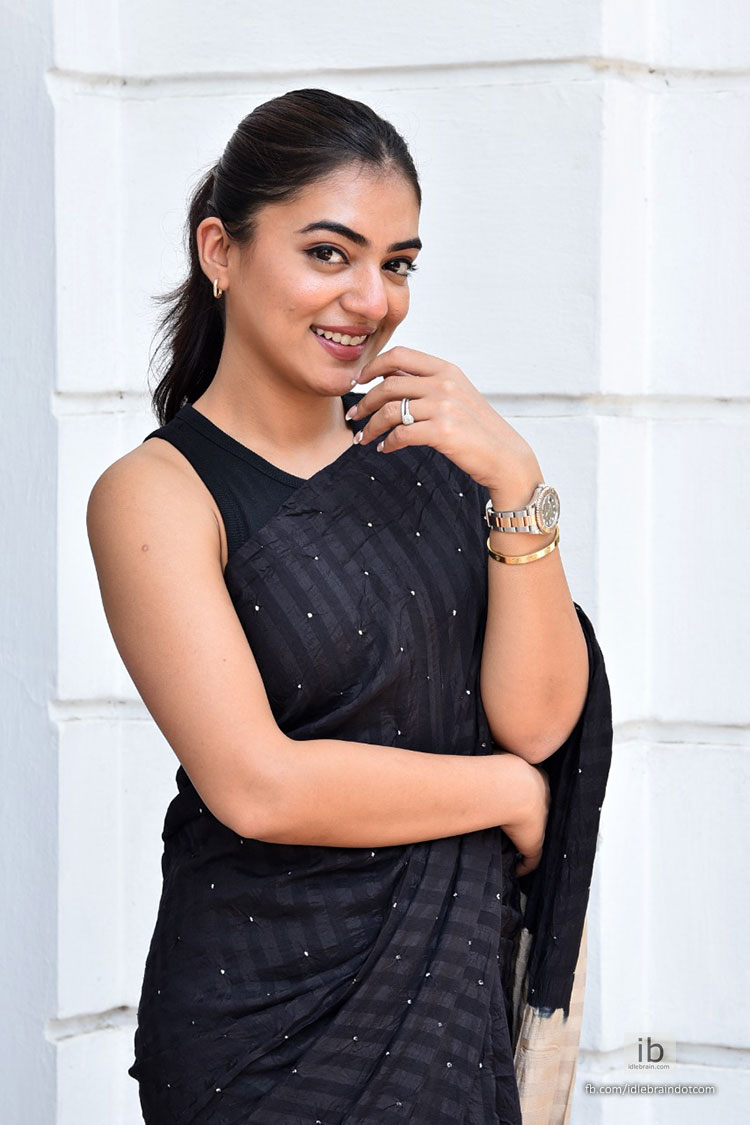 9 June 2022
Hyderabad
Nearly six months after her husband Fahadh Faasil made a sparkling debut with Pushpa: The rise, now it's the turn of Nazriya Nazim to woo the Telugu audience. She calls it a "beautiful coincidence", smilingly saying that one should ask Mythri Movie Makers on how they planned it. "I was approached for Ante Sundaraniki first and after a while Fahadh committed to Pushpa. We did discuss this at home. In fact, we began shooting for both the films at the same time," Nazriya reminisces fondly in an exclusive conversation with idlebrain.
While Ante Sundaraniki might be her T-town debut, Nazriya has her own set of admirers in Telugu, courtesy her cute little acts in both Raja Rani and Bangalore Days. She admits she was offered some Telugu scripts in the past but "something or the other didn't work out". "After a point, people started assuming that I will not do Telugu films. But it was never the plan," she clarifies, adding that after marriage to Fahadh, she took time to settle down while travelling frequently. The sabbatical wasn't a planned one and she didn't know how the four years have gone by. "I never planned to become an actress. It started off with me trying to bunk school. I did a music video when I was 16 and it changed my life literally. Overnight, I was flooded with film offers. It was all overwhelming to begin with. Even when I started doing films I never realized that acting was my passion. Along the way, I really fell in love with the process of filmmaking. So by the time I got married, I was clear that I was not going anywhere. The break thought post wedding never crossed my mind."
Continuing in the same vein, she goes on, "For some reason I was always confident that I was going to come back and stand in front of the camera again. I don't know if it was confidence or something else but I always knew this is where I'm going to be."
It was the script that drove her to green-lit Ante Sundaraniki. "Director Vivek Athreya narrated it to me on a video call during the lockdown. The narration had me in splits. From the start, I was curious to know what unfolds next. It was thoroughly entertaining. The way he narrated, I was sure that I had to crack something open and we could do something better than what's on paper. While being funny and commercial, the film has heart, soul and emotion. It's a rare combination. After so many big, intense and dark films, this is the kind of the film that I would want to go and watch in a cinema hall," she explains.
In the film, Nazriya plays Leela Thomas, a Malayali Christian woman who falls in love with Sundar Prasad (Nani), who is from an orthodox and superstitious Telugu Brahmin family. Their love story amid religion and cultural differences dots the narrative. Shedding more light about Leela and how she prepped for the part, the actress adds, "She is unlike me. She is strong mentally but at the same time vulnerable. Playing her was a little challenging because it's a layered role. Before the shoot kicked off, I had script reading sessions with a translator. I used to go through the dialogues of my co-actors as well. Even if you asked me in my sleep, I would've reeled out my dialogues. I had to think a lot before I played her."
Effusive in her praise for Vivek, she describes him as one of the most honest directors she has worked with so far. "He is not someone who is keen on writing comedy for a comedy scene. It comes organically to him. I've never seen him angry on sets for once. While doing a commercial comedy film, you can, sometimes, steer away from reality, but he kept the film absolutely real. If the performances are lauded tomorrow, the credit for it should go to him as he brought the best out of everyone. He is crystal clear in what he needs from you as a performer, and he communicates it very well."
Nazriya loved doing Ante Sundaraniki and is "looking forward to do more Telugu films". "The Telugu people have given me so much love even before I could make my debut here. I was overwhelmed and I feel responsible now. My experience on Ante Sundaraniki has been wonderful. Nobody treated me as a new face. Everybody accepted me as their own. I was most comfortable doing the film," she states.
The nine months shooting experience meant that she can understand Telugu completely now. She explored a lot of places whilst shooting in Hyderabad, gorging on Gongura mutton biryani and some traditional dishes. "I tried everything," she declares laughing. So what's her pick? Thalassery biryani or Hyderabadi biryani? "I will not be able to say as I have a weakness for all biryanis."
-NAGARAJ GOUD