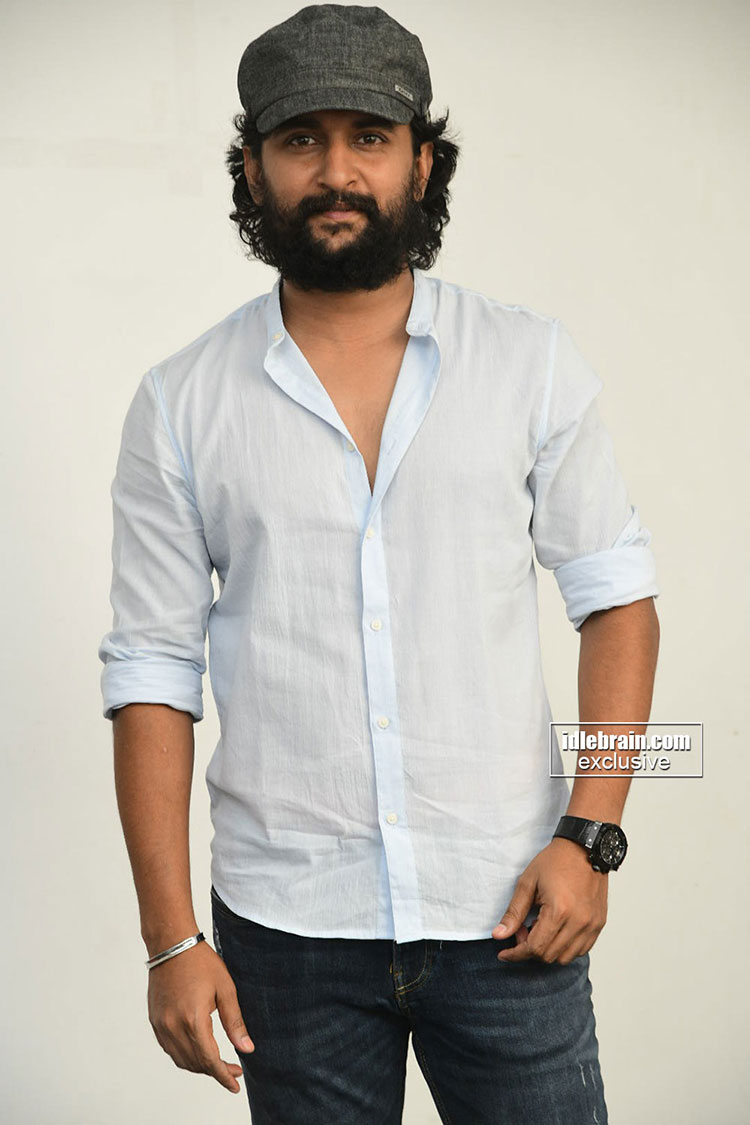 9 June 2022
Hyderabad
Ahead of the release of Ante Sundaraniki, which debuts on the big screen tomorrow, Nani is a picture of calm and composure. He is content with what he has achieved with the film, saying his heart is full. In a freewheeling conversation with idlebrain, he spoke about a wide variety of topics from doing a film like Shyam Singh Roy to learning from his statements on ticket pricing last year, which took political colour, to upping the stakes and why he hasn't signed his next after Dasara.
Shyam Singha Roy was an experiment…
I didn't consider it as an experiment. It was definitely something new, with Bengal backdrop etc. I felt it wasn't a regular Telugu film. It had a strong emotion and a commercial one at it. Many blockbusters have been made on reincarnation themes, so I didn't feel we were taking a risk.
But it has got a class touch to it.
Yeah. We dealt it very realistically. Unlike Karan Arjun or Magadheera, which had mass tones, we went for a realistic approach with proper explanations.
You seem to be back to your strength with Ante Sundaraniki. Ever since the title was announced, there was a certain positive vibe about the film. Even after the trailer was dropped we didn't know what 'Ante' was?
We want to reserve the surprise element for the premier. But the advantage with the film is that it is not just for premier watching guys alone. People who watch it will not be able to explain it. It is the way it is told on screen. For some films if we say that 'this is the idea', it's over. But Ante is not just one small thing. The surprise factor is the way Vivek dealt it. If you want to tell it, you should explain the complete screenplay but nobody can tell it. So I think the surprise element will work for later shows as well.
Vivek has directed a couple of films with entertainment and emotion. What is the takeaway factor in this film?
I think Ante Sundaraniki is his best and most complicated work. In Telugu cinema to try such a narrative pattern, one has to have guts. We generally make our screenplays simpler so that everybody can understand the film. Sometimes we question the intelligence of the audience. The best part of Vivek is that never questions it. When he gave me a four-hour narration with a back and forth screenplay, I enjoyed it and wondered how he would present it on screen. But after watching the film, you'll understand that 'Oh! This guy planned something else'. He will not give you space to even check your phone occasionally. You yourselves will not do that because this is a film that needs your engagement and you will understand that after the first 10 minutes. The amount of hard work he has put in, the time he took and the prep he undertaken… it didn't happen for his first two films. Ante Sundaraniki is the answer what if it happened.
The characters reminded me of Jandhyala's films
Jandhyala's films always had that stamp of Telugu-ness to them. From the way his characters spoke to their jokes, they reflected the words spoken in our daily lives. In this generation, I think Vivek Athreya tops the list when it comes to liking and giving respect to Telugu.
After watching Nazriya seven-eight years ago, we felt when she was going to act in Telugu. She walked down the aisle later and stopped acting. What made you pick her for this project?
I thought the same as you. I felt the Telugu audience would like her because of what she had done in Raja Rani and Bangalore Days. She is the perfect fit for stories that are relatable. In fact, we considered her for Krishnagaadi Prema Gadha but it didn't work out back then due to various reasons. For this story, Vivek and I thought about a Nazriya-kind of actress. Then we felt why not her? We wanted to try for one final time. Luckily we approached her. She got super duper excited after the narration. She is now not just an integral part of the team, but also the most pampered collectively.
It seems she dubbed for her role. How did she go about it?
She did it very well. During lockdown, she used to attend Telugu classes daily for one and half hours on Zoom. I never saw any actress doing such a thing. When I and Vivek used to connect on Zoom, she would show her notes. She made it a point to learn 10-15 Telugu words daily back then. When other language actresses perform on sets and if they err with the pronunciation part, we could rectify it during the dubbing phase. With her, she never pronounced even word one incorrectly on sets. It was a rare occurrence for me. Maybe Malayalam actors prep like that before shooting for every film of theirs… I felt it was amazing.
Who are the other important characters of the film?
It's not just a film of Sundar and Leela. It belongs to Naresh garu, Rohini garu, Nadiya ma'am, Tirumal sir, Harshavardhan, Tanvi and small kiddos as well. Then there is a small cameo, which we kept as a surprise. Generally, a frame with hero-heroine is filled with supporting actors in the background to make it look complete and colourful but whereas every actor in Ante has a purpose. Casting wise and performances wise, I don't think one has watched a film like this in a long time.
Vivek Sagar's songs tend to become popular after the film releases.
Same thing will happen with this film as well.
The trailer gave me a feeling of anticipating a pucca Telugu film.
Watching the film will give a feeling of 'it's been a long time since we watched a proper Telugu film'.
Shyam Singha Roy, Ante Sundaraniki and Dasara are quite distinct to each other. Is that a plan?
My intention is not to repeat myself. If a story has to excite me, it has to be something different from what I've done. So I'm trying to explore genres and simultaneously explore the actor in me as well. Luckily, I'm getting different scripts and because I'm doing such scripts, more such stories are coming my way. It's a cycle.
So, what's next after Dasara?
I know how Ante Sundaraniki is and know how Dasara is going to be. The general expectation of something shocking or exciting will be strong in the minds of my audience, so I'm not going to rush with the decision of the next project. There are a couple of scripts which are in the pipeline but I'm not sure… So I think after Dasara, I will get a break.
During Majnu time, I used to ask you why you are not scaling up but from Shyam Singha Roy onwards, you seem to be scaling up?
I think the time has arrived. I had to get to a certain point to scale it up and I'm doing it now. The budgets, set ups, people trust in me… Only after reaching a certain point did I know I can start thinking about scaling it up. I think it's time now. Also, scaling it up is not for the sake of it. It's just to tell bigger stories. It's not for myself; it's to reach out to the people more.
Last year in the run up to the release of Shyam Singh Roy, you were embroiled in a political controversy....
In fact, I didn't. Now we are in a generation where anything we say is twisted and turned. I've clearly said that I don't have political knowledge but that part was conveniently edited out. I'm a cinema man. If you are dragging me into a political slugfest what can I do? I got clarity though. Even if I think I'm right, I've realized it's better to shut your mouth. Whatever we say—even if it's with good intentions, there will be someone who will twist it and turn it. Then it gets copied, pasted everywhere. Nobody sees the source material. It's better to be silent but again if we think about something strongly and if we don't say it, we will lose our sleep, right?
Last time when Pawan Kalyan attended a film event of other hero, it took a political colour. He is the chief guest of today's pre-release event. Will it be a film event or..
It will be a pure film event. He has a friendly relation with Mythri Movie Makers. They went and asked him. It was so generous of him to have accepted the invitation. When Ravi garu (producer Ravishankar) told me about it, I felt happy. Only after I checked my social media, did I realize that there will be another angle to it. Until then I was like, 'For Ante Sundaraniki event, Pawan Kalyan garu is coming'. And I was happy about it. If we keep on thinking about other things, there will be no end at all. I'm happy I'm going to meet him. I've never met him even though I'm in the same industry. I'm super excited to meet him. It will be such a positive presence.
Ante Sundaraniki seems to be the film which will attract the patronage of family audiences.
Totally! Audiences of different age groups can watch the film. It's a clean and fun film. Also, it's been a long time since a film has been awarded 'U' certificate.
What is your gut feeling about the film?
I'm proud of it. We are content with it but we want it to be a super duper hit as well. Yes, people will decide about it but as an actor I'm content, my heart is full and very happy.
Dasara is coming for Dasara?
No, it's not. It will come towards the end of this year.