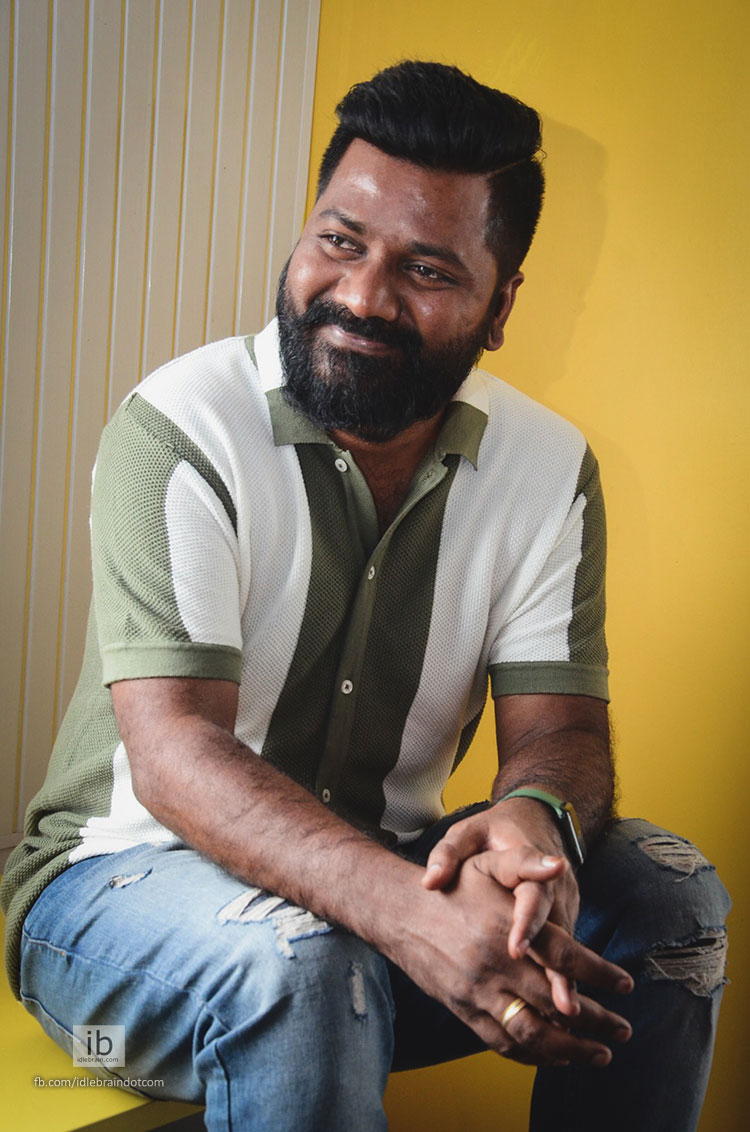 14 June 2022
Hyderabad
Multiple delays, a pandemic and two lockdowns later, filmmaker Venu Udugula is a relieved man as his labour of love, Virata Parvam, opens in cinemas this Friday. In an exclusive conversation with idlebrain, he states he is delivering a 'finest product' and is not worried about the box-office as he believes he has already made the winner
Filmmaker Venu Udugula is soaking in all the appreciation he is receiving for Virata Parvam from the preview shows that are being held at Ramanaidu Studios for the past one week. Sources from the corridors of the studio inform us that from established names like Trivikram, Sukumar and Krish to new-age filmmakers like Tharun Bhascker, Rahul Sankrityan and Gowtam Tinnanuri, everybody went gaga over the film. Some like Nikhil Siddhartha, Lavanya Tripathi, Raashi Khanna and Swapna Dutt took to Twitter to sing praises about the period love story fronted by Rana Daggubati and Sai Pallavi. While Venu doesn't want to disclose what the likes of established names told about the film, saying it doesn't look good if he speaks about what they felt about the film, he sure believes that the extremely positive word-of-mouth from previews will translate into box-office success as well. "Just because people who've watched it so far termed it as a classic doesn't mean that it is a slow-paced festival kind of film. It is poetic as much as it has commercial dynamics," he tells us.
To a question on the film's genesis, he shares, "In Telangana region, defeats burn out like fire flames, while deaths take rebirth as epics. One such death occurred in '90s. There was a lot of political history behind the death and it pained and moved me. It was the Sarala incident. Based on it, I added a magnificent love story and made the film. I got to know about the incident from a friend. The late human rights activist and lawyer Balagopal also wrote on it. As a part of my research, I've also met some Naxal leaders and human rights activists."
Before Sudhakar Cherukuri was on board to shepherd the project under his Sri Lakshmi Venkateswara Cinemas, another production house was attached to produce Virata Parvam but they backed out, citing that it wouldn't work out commercially. "Despite my best efforts in pursuing them that it is commercial, they didn't yield. Later, Sudhakar garu approached me. He handed over an advance cheque to me after hearing the three-minute storyline," Venu recalls, adding that it was Sudhakar who sent him to Suresh Babu who joined the project as a partner later. In the industry circles, there is a whisper that Suresh is a tough man to impress but Venu got his nod on the second day of narration itself. "Initially, I narrated the mood of the story and the next day I gave an eight-hour narration. He was interested in the atmosphere and the politics of the story, so he asked me in detail about many things. For instance when the topic veered towards the French Revolution, he got to know about it in detail from me. Like that, the narration went on for eight hours. He felt that if we project the way it was narrated to him, it will end up as a great film. He didn't propose changes at all. We did sit with him for discussions, which helped us to develop the story further."
Venu has lived with the film for a long time now, battling occasional delays and the pandemic. What is he going through now as it lands in cinemas later this week? "I've sacrificed three years of my prime time for the film. Not just me, my producers were also stuck with the project for three years. We were in the same boat travelling (including Rana). I was a little sad in the beginning because of the setback due to COVID-19 as my career just started. On the flipside, the breaks due to pandemic helped me to write a couple of new scripts besides helping me to shape Virata Parvam better. I'm delivering the finest product. Right now, I'm curious and excited to know where I stand in the industry after release. I'm not bothered whether the film will work or not at the box-office because I'm certain it will. It will not just inspire the viewers but also the technicians," he exults.
Set against the backdrop of the Naxalite movement in the Telangana region in the 1990s, the film chronicles the story of a young lady Vennela (played by Sai Pallavi) who falls in love with comrade Ravanna (Rana)—also a revolutionary poet. Shedding more light about it, Venu says it focuses on the conflict between the cops and Naxals at that time. "The conflict serves as a catalyst for the love story. There is political commentary in the film. It debates the conflict between authoritative and alternate politics. Back then it was not clear who was a friend and a foe and the film depicts that as well. The greatness of love is portrayed through Vennela who has epic values. Zarina Wahab who plays Ravanna's mother represents the martyrs who lost their lives in encounters. You can see the pain of martyrs' mothers in her."
Venu hails from Warangal, which once was a hotbed for Naxal activity. Recalling his memories of seeing Naxals, he adds, "When I was studying IV, I still remember them punishing a villager for a mistake he committed. They used to organize Gram Sabhas to inflict their punishment. Later, they used to seek food grains in a cloth and leave the place. They used to look like heroes to me. The Naxalite movement lasted till 2004. In fact, my poetry started with revolutionary ideas. Later, the Asthitva movement gave me a vision for the kind of films that I want to make."
So, what was the biggest challenge he faced coming to Virata Parvam? The writing part or the execution part as both came with their own set of challenges? He points out, "For a director who wants to do meaningful cinema, he faces challenges at every stop from the moment the project materializes to the day before its release. I don't know the hurdles a commercial director faces but at every step I have to convince the producers, technicians and actors that 'this will work out' when it comes to meaningful cinema. It's a big process."
Venu believes the action part of the film will thrill and resonate with the viewers. "At least in the mainstream Telugu movies I've seen, there aren't instances where an encounter was shot naturally. As we are telling a story in a realistic zone, we were keen on action to be real. We hired Stephen Richard (from Germany) and Peter Heins for the purpose. You will see the output tomorrow on screen. In every shot, you can see my stamp. The story moves forward in the action part as well," he asserts.
Most directors who have worked with Sai Pallavi have a story to share about her dedication and hardworking nature. Revealing his, Venu says, "The climax part required Vennela to not eat food for a couple of days. Sai Pallavi didn't take food for real for those two days to bring that exhaustive face on screen. Her dedication was truly shocking." Venu is grateful for the support his producers Sudhakar and Srikanth extended to the film. "They gave me what all I wanted for the film, a reason why I could make the film on a grand scale like this. Then there is Dani Sanchez-Lopez who is an extraordinary cinematographer. He depicted my poetic temperament fittingly on screen. Composer Suresh Bobbilli, as well, took the film to a new level with his music. I promise a new sound with the film," he concludes.
-NAGARAJ GOUD