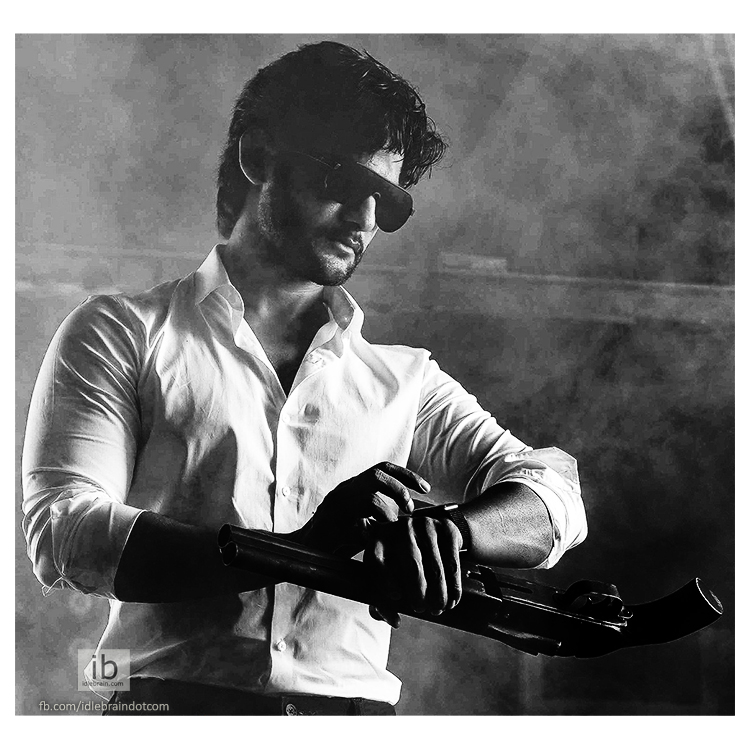 18 August 2022
Hyderabad
In an exclusive conversation with idlebrain.com, Aadi Sai Kumar gets talking about the reception to Tees Maar Khan's (TMK) trailer, his lean streak, learning from his failures, his advice to directors and getting into shape for TMK
The trailer of Aadi Sai Kumar-fronted Tees Maar Khan has received good response and understandably he is jubilant over it. In the run up to the release tomorrow, he believes the response is quite a confidence-booster. "The response has been extremely positive. I received a lot of feedback, saying that I'm looking fresh and new. The compliments ranged from my performance to the cinematography. In fact, a lot of people from the industry who have not been in touch with me for a long period rang me and lauded the trailer," Aadi begins.
The actor has been going through a lean patch for several years, with none of his films lighting up the box office. He explains that the revenue of his first six films, irrespective of where they stood at the box office, was good. "Films like Pyaar Mein Padipoyane and Rough fetched me good openings. After that, my theatrical revenue has taken a beating. Later, I experimented with Gaalipatam; while it did receive good reviews, the talk didn't translate into footfalls. Another film released on the same day as it did. It was a super hit. A week before, Run Raja Run opened. So, it got sandwiched. I agree there were some misses. Chuttalabbayi did well in Guntur and Nellore. After that, in a dilemma of what to do, I did a complete experimental flick, Operation Goldfish. I didn't understand what was happening (with my career) at that point of time.
"After Next Nuvve, I took a break. During the waiting period, I landed Samanthakamani. My performance in it was raved and I thought it'd be a blockbuster. But a week before it, Fidaa released and a week after, Ninnu Kori released. We got sandwiched again. There were mistakes from my end as well as I believed in some people blindly. In fact, I warned some of my directors (over some decisions) but they convinced me, saying their version was good. The problem is when you are not successful, they will say, 'Who are you?' I'm not someone who gets into arguments. At the same time, I don't want to defend some of my decisions. Whatever happened has happened… I'm planning to rediscover myself now," the actor asserts.
He admits that he learnt his lessons the hard way and doesn't want to repeat the past errors. "Even though I get new offers regularly, I don't want to hurry now. I want to see, access and start fresh again. I want to wait and associate with interesting stories that will help me. Everybody has their own way of learning. Some learn fast, some slow. As I've understood the craft slowly, I want to bide time, make sure that everything is in place before I green-lit my next," he states, revealing that bad Fridays did deprive him of his energy, with self-doubts too creeping in. "I was like, 'Should I do films or not?' What's the situation? But then a lot of people who met me told me only one thing: 'If you land one good film, you'll reach a good position in the industry.' I have derived energy from such comments to go forward."
He also has some pearls of wisdom, especially to directors. "If they make a film, they should understand that it's not just about them. 24 crafts believe in their vision and work for them. They should be responsible. If they aren't, it affects the film's prospects. If they think everyone's life depends on a film, they will make better films," he suggests.
At this juncture of his career, he believes Tees Maar Khan is his most important film. "It has a good craze and a lot of people are talking about it. When I went out recently, there were people who addressed me as Tees Maar Khan. I believe the film penetrated into the masses. But then there are some tensions as we are not getting the number of theatres we desired because of the successful run of the recent releases. In fact, we reconsidered our release date but then our options were limited. Also, our buzz would've got killed. So we had to come tomorrow."
In the film, a commercial action entertainer with dollops of comedy, romance and drama, Aadi is playing a role with multiple shades. He will be seen as a student, rowdy and a cop and while he doesn't want to disclose more about the role, he assures that the opening childhood episode will establish Tees Maar Khan's character strongly. "From there on, the audience will travel with him. It's a character-driven film. There are a couple of emotional sequences in the film, which challenged the actor in me," he insists.
The film is director Kalyanji Gogana's latest attempt after films like Natakam and Sundari. Effusive in his praise for his director, Aadi raves, "He knows his craft well and is very clear in what he expects from his actors. If he asks for one more take, the actor knows why. I've enjoyed working with him. His skills are the reason why energy is oozing out of my performance. He extracted a lot from me. Irrespective of what the result is tomorrow, one thing I can say is that he has enhanced my performance. Plus, he shares a great sync with cameraman Baal Reddy. Within our budget restrictions, they both ensured that the film looks rich."
Aadi's character in the film required him to get into a certain shape and the professional that he is, he obliged by sweating it out. Smiling, he adds, "I was a little out of shape in the last two-three films. Like everyone, I did put on some weight due to the pandemic. After I signed TMK, I went back to my trainer Kuldeep to add a little body muscle. From there on, I was acting and visiting the gym simultaneously. I could see a change after one month. After a point, I've achieved the look that the film needed. But right now I'm in much better shape."
-NAGARAJ GOUD